One of the most important things we can do in our homeschooling is to pray! Sometimes it helps to have a resource that can guide us through that, though, or it will slip through the cracks of our oh-so-busy days.
I hope you find the following resources to be as much of a blessing to you as they have been to me!
The Prayerful Homeschooler is a 70-page eBook that takes you through 8 areas of your family and homeschool life and helps you pray for them.You'll also find worksheets to help you pinpoint areas that need prayer the most, a 12-day homeschool mom's prayer journal, 8 beautiful scripture coloring pages, and a 30-day prayer calendar! This is the product that is right from my heart. Prayer really turned out homeschool around, and I want the same for you!
Download these FREE prayer scripture cards! These cards started me on the journey of praying for my homeschool and were like a lifeline for quite some time. Laminate them and put them on a book ring, then tack them to the wall! Or tuck them into your Bible for quick prayers each morning.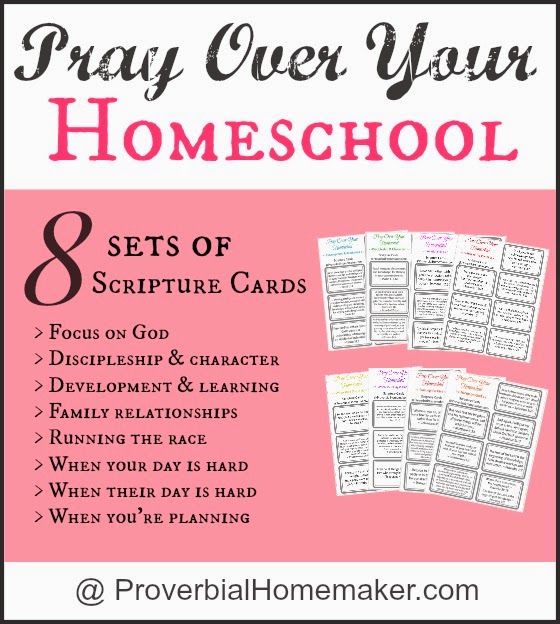 Get MORE for a Peaceful and Prayerful Homeschool
You will love these additional resources and tools for your homeschool! The Relaxed Mom Homeschool Planner & eCourse AND the Loop Scheduling Workshop have been so helpful for me in getting good, flexible routines in place.
FB Live Session Posts, Printables, and Freebies
Prayerful Woman 5-Day Challenge with Custom Scripture Art Prints
Read, Pray, Love (52 weeks of scripture cards to pray for your family)
Loop Scheduling Printable Templates (more templates and how-to's are in the Loop Scheduling Workshop)
Articles You'll Enjoy
Our 4-day week year-round schedule
Ways to make a habit of prayer (guest post on Thinking Kids)
Join Our Facebook Group!
Join our Facebook group, Homeschool Successfully: Perfection Not Required!