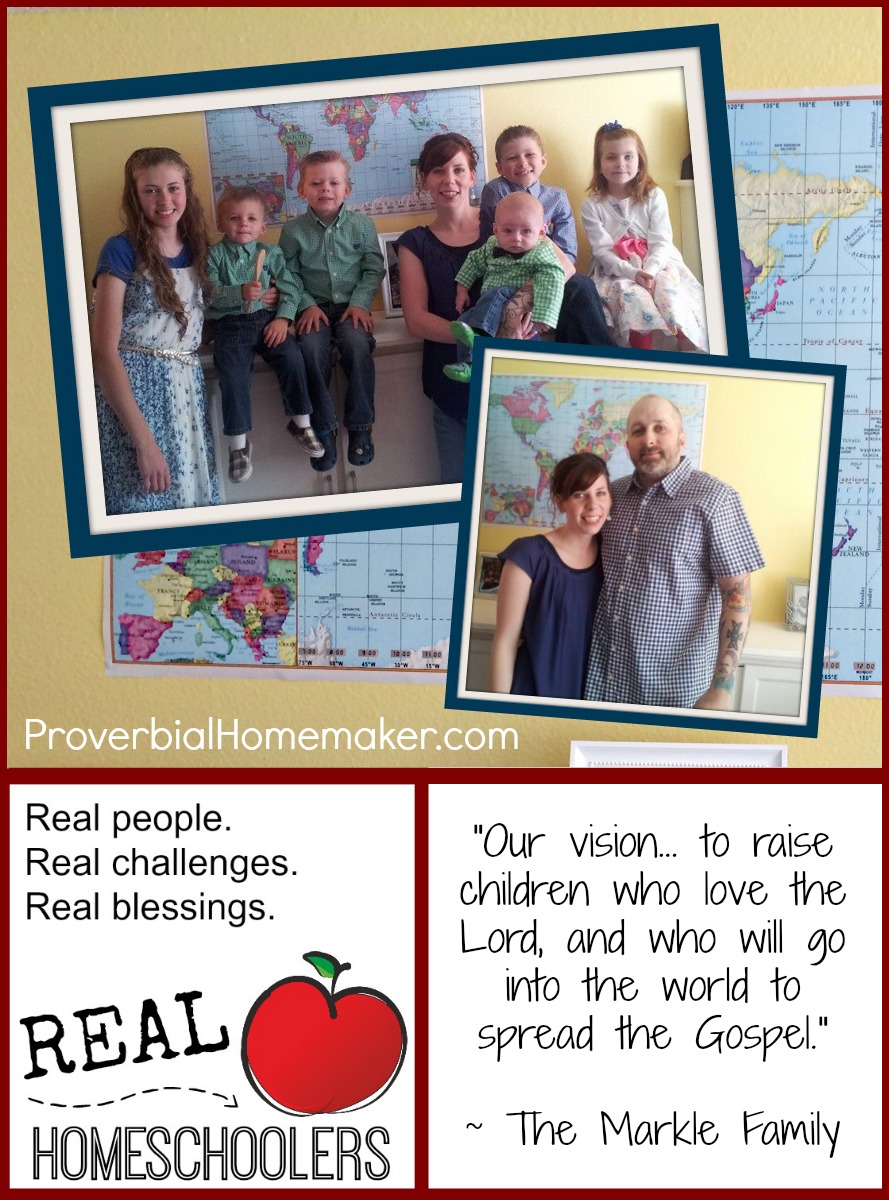 Disclosure: *This post may include affiliate links. As an affiliate, I earn from qualifying purchases. Read the disclosures and terms for more information.
Welcome to the first interview in the Real Homeschoolers series! Feel free to ask questions. I hope you are as blessed by Sallie's encouragement and advice as I have been. Frank and Sallie, thank you for allowing us to catch a glimpse of your homeschooling life!
Frank and Sallie live in Florida and homeschool their six kids, ranging from 13 years old and down, and are expecting another blessing around Christmas. I had the privilege of meeting Sallie while she still lived here in Oregon. She is where the inspiration for this series came from. She has such a heart for homeschoolers, especially those that need encouragement and support – and don't we all?
*** Posts may contain affiliate links. See Terms and Disclosures for details. ***
---
The Markle Homeschool
Our vision/priority has been to disciple our children. That has been our number one reason for homeschooling from the beginning: to raise children who love the Lord, and who will go into the world to spread the Gospel.
My method is Charlotte Mason/ eclectic. I really don't like to hold myself to just one style because I just don't know what will work for each child, I'm open to trying everything, but I really love the living books in the Mason style.
Our Basic Routine
Everyone wakes up at random times-anywhere from 3am-10, however on a good day it's between 6-8. I always make sure everyone is up by 8 on school days. They eat at different times because everyone is not always ready to eat right away while others need food immediately! 🙂
Older ones will get dressed and do their morning chores. My oldest usually helps me get the littlest ones ready after she is dressed. I get to go shower, and they finish morning chores while that happens (dishes, general pick up of the house, make beds).
School Time:
I start school with Zeke (4yr – pre-K) by 10-10:30 depending on how well everyone is moving along with everything.
While I do Zeke's school, Raven (13 yrs – 9th) will be working on her work, and Aiden (8 yr – 3rd) and Francie (6 yr – 2nd) will be finishing their chores and helping play with Judah (very active almost 2yr old!)
The baby is either napping or hanging out in the same room as me.
Zeke's school lasts about 30-45 min. depending on his attitude.
After that we all break for lunch, everyone does their lunchtime chores (dishes, sweeping, quick house clean up), and Judah will go down for a nap.
Raven will continue with her schoolwork, and I begin school with Aiden and Francie while Zeke goes to play. Their school will usually last a few hours and we finish about 1:30-2.
After that the children play, or maybe watch a tv show until dinner.
While I prepare dinner they will pick up the house, and help get the table set.
After dinner, everyone helps do their part to clean up.
Aiden will usually practice his violin.
Then pj's and in bed to read for a while, lights out by 9:30 for the 3 oldest
My Biggest Challenge: Friends
My biggest challenge is finding friends. Friends for myself, and friends for my children. I am not the co-op type of homeschooler, so that limits contacts for us, and having a large family limits us too, although you wouldn't think it would. With such a large age range there aren't a lot of things we can [all] participate in.
I'm not complaining at all, we still have fun, and we get to spend a lot of time together. It would be really awesome if we could meet some other families like ours though!
My Biggest Blessing: Involvement
My favorite thing about homeschooling is being able to be a part of every detail in my children's lives. I think it's great that I'm the one who gets to share in the moments when they finally catch on to reading, or get that math problem, or seeing them spend time with their siblings and enjoy it. I just love that I get to be with my kids all the time.
My Best Advice
My advice to newbies would be to go to your state conference, join a homeschool support group that actually has monthly mom's meetings so you can get encouragement, make friends, and ask questions.
Don't be afraid to stop using something if it isn't working no matter how much you've spent on it. I went into homeschooling with the idea that I knew things weren't going to be perfect and I might need to change things up. It's new territory and you don't know how you will teach or how your child will learn, so there's a lot of trial and error. You can always sell your stuff that isn't working at a used curriculum exchange (usually at your state conference!) or even within your homeschool group.
Also, organization is key! [Note that Sallie's organization rocks. I learned a lot snooping around in touring her home.]
My Favorite Resources/Curriculum
Other homeschooling moms/families whether new or veterans
Annual state homeschool conferences
Home Educating Family magazine, website, and planner (Well-Planned Day)
Free Homeschool Deals and other helpful blogs
Pretty much anything from Queen Homeschool. I wish I would have found them earlier in my schooling, but I just love their style, and you can't beat the price! You can join [their Facebook group] and ask questions to which Sandi Queen will answer very quickly, as well as other people who are using the curriculum.
The Christian Heros Then and Now books from YWAM. There's nothing better than reading about the lives of real Christian missionaries, how inspiring, and what great history!!
Our Preschool and Kindergarten
My approach to preschool is to keep it simple and short, but to get them in the habit of school time and doing work. 30-45 minutes of school and we are done. I also have found that Pre-K through 1st grade need one on one school time. They are learning so much and really can't do independent work, so I make sure they have my full attention.
I have used all sorts of different things over the years. Right now I am using:
Advice for High School
Since I am only in my first year of teaching a high schooler I don't have that much advice. The I just think of it the same way I've always thought about every other grade.
One thing I have noticed is that people really freak out a lot when they're coming up to high school, or even decide they won't be doing it at all. It's just another year. If there's a subject that might be too hard for me to teach I know I can always find outside assistance. I've just taken it one step at a time. I know I'm doing the best I can, and I'm not going to screw up my kids because I love them and I'm relying on the Lord to guide us.
One thing I do with my high schooler that holds her accountable and lightens my work load is to have her explain or show me her work immediately after she finishes it and before she moves on to the next thing. I may have to pause what I'm doing momentarily with my other kids, but I know that if I have to go back to check her work I will just end up with a huge pile that… could result in laziness and incomplete work. Plus I won't know if she is actually understanding what she is doing.
Managing the Home
Homeschooling while managing the house is hard, but my opinion is that managing the house is life, school is extra. We all live in the house, so we all take care of it. As long as you can walk and make a mess you get to help clean that mess.
To keep from things becoming overwhelming, we clean many time throughout the day. I think the most important thing to do is make sure the house is clean before you go to bed.
To help at meal time (so that I'm not cooking for hours) I make a lot of crock pot meals, and almost every meal I make is what we like to call 2-nighters. I make enough food so that we eat it for 2 nights in a row, none of us seem to mind eating it for 2 nights and it really saves me a lot of time.
Managing Little People
Schooling with littles is difficult, but not impossible. I utilize older ones to occupy little ones while I need to focus on other children. I keep babies with me either attached in the Ergo or in some sort of seat next to me.
I school in the main area of the house so that we are still all together and I can keep an eye on everything going on. If needed, I am not ashamed to use a tv show or a game on the tablet to calm and quiet little ones if things get a little too distracting for the other ones.
---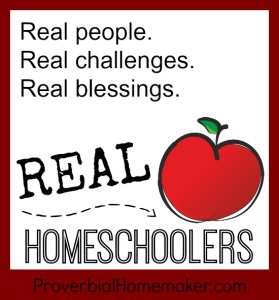 Check out all the interviews in the Real Homeschoolers series as well as a complete list of the questions that were asked. I have been careful not to change anything about their answers other than grammar and structure for the sake of presentation.