Disclosure: *This post may include affiliate links. As an affiliate, I earn from qualifying purchases. Read the
disclosures
and
terms
for more information.

Calendar Area
This is where our day starts and where things relating to current lessons are posted.
Pocket chart calendar

Maps

Posters from current studies

Memory verses

Reward sticker charts

Dry erase magnetic board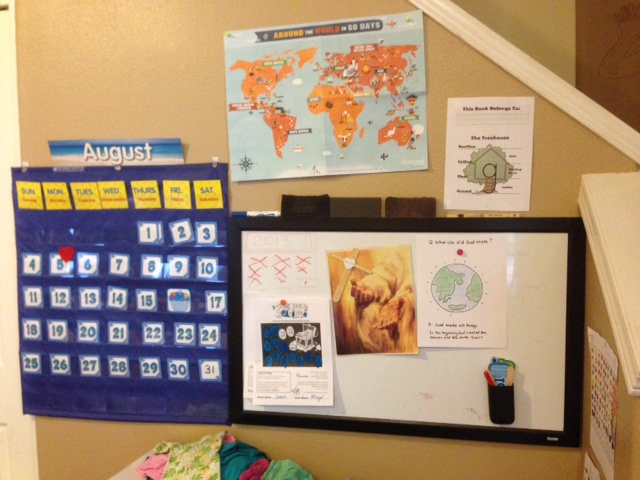 Kitchen Table
We replaced our fancy dining room set with a fairly worn and very cheap kitchen table and chairs. We knew it would be our kids' main school and art area, so we didn't want to worry about damaging it! Much of our school day happens here.
Kitchen Bar
We have an kitchen island, so we took the stools away from the dining side and put in some areas for learning, play, and storage.
Kids' boxes: drawers for their special toys and found treasures

Art area drawers: flannel pieces, smocks, etc.

Toy table: We rotate creative toys for this space, like trains, blocks, dollhouses, etc.

Baby toys like the cube shown

Character charts from Doorposts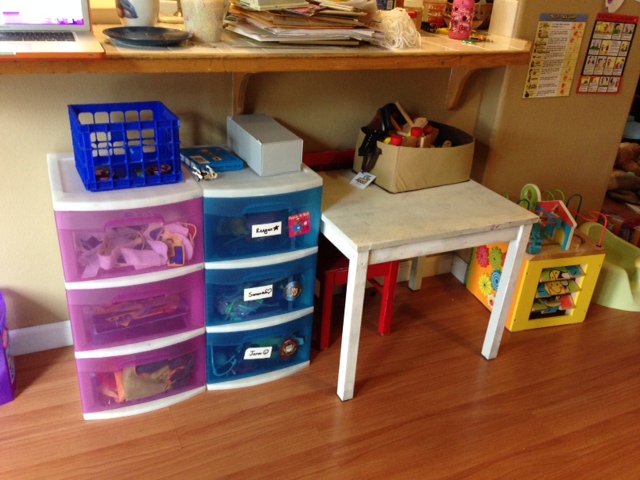 Homeschool Bookshelf
This fantastic Ikea entertainment center is our homeschool bookshelf. The bigger center area is perfect for displays and, like every other homeschool mom, I love the cubbies. 🙂

Bottom Row: Cloth bins with the kids' socks, baby clothes, and seasonal wear.

Second Row: Puzzles and games (behind that chair), baskets to organize our work each day as well as a basket for coloring books and one for drawing supplies, and a cubby with my planning materials.

Middle Two Rows and Display:
1)A basket with crayons and pens separated in pencil pouches for each kid. Below that are our personal Bibles.

2) The display has our globe, a basket with stickers, cards and miscellaneous supplies, our devotionals, our job jar and prayer sticks, and various posters.

3) One cubby has reward items, calendar items, and manipulatives we're currently using. Below that are the kids' individual magazine files for storing saved work. That work will later be stored elsewhere or put into a notebook.

Top Row: My journals, planning materials and personal reading books are in the first cubby. The next two are for curriculum and books we're using. The wicker basket holds random things like glue, scissors, pens, and other things we use often. The last cubby is a long bread box that holds cups of crayons, markers, colored pencils, etc. I also store paper cutters and hole punchers there.

Top of Bookshelf: The bins on the top are art supplies and busy bags. The flannelgraph is on the far right.

That is a lot of learning with small space homeschooling! It has changed over time but works pretty well for us. When the kids need to get away from the business, they can retreat to their rooms where music or learning CDs play, or sit in their "peace chair" and read a book.
Small Space Homeschooling was featured as a Top 100 Homeschooling Post!