Sound Words for Kids: Lessons in Theology
The Sound Words for Kids curriculum is a theology-based curriculum that teaches the essentials of the Christian faith to children. It can be used for family devotions, homeschool curriculum, or in Sunday schools and co-ops. The curriculum follows a catechism style, meaning it uses a questions and answer format to help kids memorize each lesson's main point.
Read more about the hows and whys of teaching theology to littles.
Testimonials
Clarissa from Counting Our Blessings reviewed Sound Words with her kids up to 10 years old!
As a very busy mama to 7 young children, I needed a curriculum that offered structure and guidance, creativity and ideas to make it engaging, but that also was flexible, not too time consuming, not full of crafts I would never have time for, and could be used with our Bible version of choice. I have found that Sound Words fits our needs nicely.
Gabby from Mama Gab reviewed Sound Words and demonstrates how simple it can be to teach profound truths to little kids!
Sound Words really is a simple curriculum that teaches deep truths, truths that are like tiny deposits into the bank. One day, the interest gained on these truths will be invaluable. In many ways, it already is.
Penny Lane from Sisters Raising Sisters talks about using a catechism in classical homeschooling and shows how she uses Sound Words with her kids!
All those extra, hands-on activities is why I love this particular catechism so much, and why we have switched to using it exclusively. It works great for both my pre-reading/writing 3-year-old and my budding reader/writer 4-year-old… Honestly, this is something every family, whether homeschooling or not, should think about doing together.
Annette from In All You Do explains how she scaled Sound Words to use it with her 4th grader as well as her younger kids!
What I love about this curriculum is the simplicity of it all. The lessons are simple, yet biblical. The lessons do not require hours of preparation or study time from me, yet they are full of doctrine that I want my kids to know! They really teach the core of our faith so simply. The crafts are simple and quick with very few supplies, most of which I had on hand – another plus!
Units Available for Sound Words
The complete Sound Words for Kids theology catechism curriculum will be comprised of nine units with a release scheduled every month. Here is a schedule of the units with availability indicated.
All About God

Available Now!

All About Creation

Available Now!

All About The Fall

Available Now!

All About Salvation
All About Christ and His Work
All About God's Word
All About Prayer
All About The Ordinances
All About Christ's Return
Sound Words for Kids Lessons
Each Sound Words for Kids unit includes several lessons. Each lesson corresponds to a question and it's answer, and includes the following:
Lesson plan
Devotions
Copywork and notebooking pages
Memory verse poster/coloring sheet
Bible story and/or additional verses
Discussion questions
Craft and activity ideas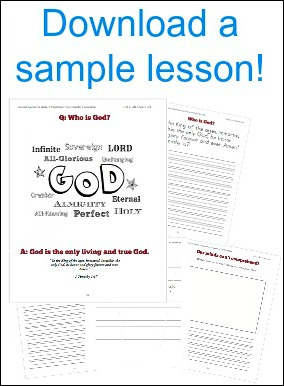 Download a sample lesson of Sound Words for Kids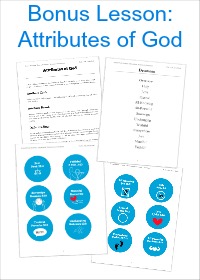 Download the FREE Bonus Lesson: Attributes of God

Unit 1: All About God

Bonus Lesson: Attributes of God
Who is God?
Who Made God?
Has God Ever Had a Beginning?
Will God Ever Die?
Are There More Gods Than one?
In How Many Persons Does This One God Exist?
Who Are The Three Persons of God?
Where is God?
Can You See God?
Does God Know All Things?
Can God Do All Things?
Unit 2: All About Creation

Who Made You?
Why Did God Make You?
What Else Did God Make?
Why Did God Make All Things?
How Can You Glorify God?
Why Should You Glorify God?
Who Were Our First Parents?
How Did God Make Adam and Eve?
What Did God Give Adam and Eve Besides a Body?
Do You Have a Spirit as Well as a Body?
What Were Adam and Eve Like When God Made Them?
Unit 3: The Fall

What is a Covenant?
What was Adam's Part in the Covenant?
Did Adam Obey God?
How Did God Punish Adam's Disobedience?
Who is Satan?
What is Sin?
Who is Stronger: God or Satan?
What was the Sin of Our First parents?
Who Tempted Adam and Eve to Sin?
What Happened to Adam and Eve When They Sinned?
What Did Adam's Sin Do to You?
What Does Every Sin Deserve?
How Sinful Are You by Nature?
Can You Go to Heaven with a Sinful Nature?