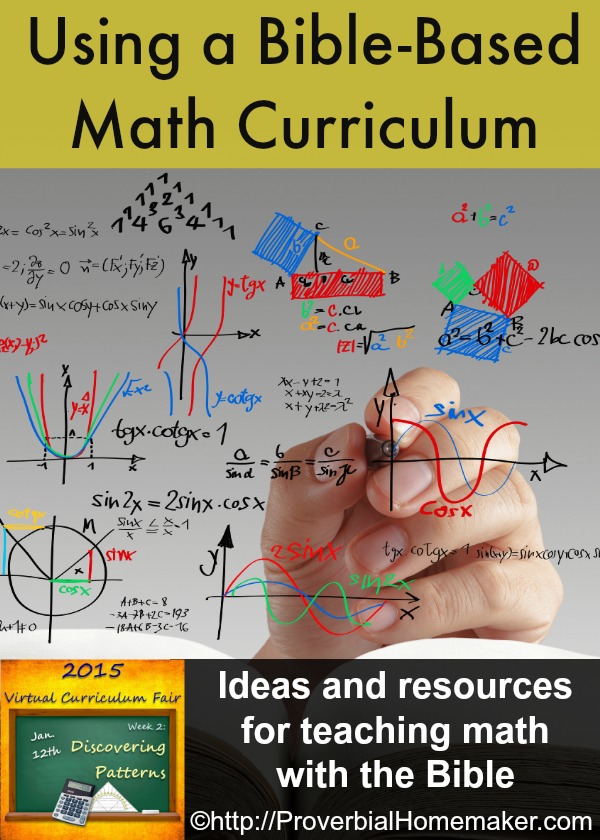 Disclosure: *This post may include affiliate links. As an affiliate, I earn from qualifying purchases. Read the disclosures and terms for more information.
Last week I shared on our Bible-Based Language Arts program and shared some resources for you to consider. Today's post is all about using the Bible for math and science!
This month I am joining the annual Virtual Curriculum Fair. This is a fun and helpful series hosted by Susan @ Homeschooling Hearts and Minds and Laura @ Day by Day in Our World. The VCF is a month-long weekly series where a group of homeschool bloggers are sharing what's working for them! Stop by every Monday for the rest of January and browse these topics:
Playing with Words: the Language Arts
Discovering Patterns: Mathematics, Logic, and Science (this week's post)
Exploring Our World: Social Studies and more Science
Seeking Beauty: the Arts and Everything that Brings Beauty to Our World
I am excited to find out all the great ways homeschoolers around the world are doing school in real life. I hope you take the time to scroll to the bottom of this post and hop around to see what they have for you!
———————————————
Can you use the Bible to teach math? YES!
There are many ways you can use the Bible in your homeschool for math. There are very few strictly Bible-based curriculum out there, but tons of lessons and resources that you can incorporate into your existing curriculum.
Generally, you'll want to check out these resources:
Bible-Based Math
There are a few different ways you can use the Bible to teach math. The first is using a unit study approach, incorporating math lessons into your day as you come across opportunities to do so in your Bible lessons. When studying Noah's Ark in our Bible Road Trip curriculum, for example, we were prompted to go outside and measure and draw the length and width of the ark on the street. Depending on the ages of your kids, you could do many different calculations with this exercise.
In our home, we use Life of Fred and Christian Light Education's Sunrise LightUnits as our main math curriculum. We enjoy them for several reasons, one being that they are presented from a Christian worldview. In the Light Units, as we work through the problems we'll come across scripture as well as Bible story examples to reinforce what we are learning. It's a good fit for us!
Other Ways to Do Bible-Based Math: You can also use Bible-based math games or study Christian mathematicians of the past. Simply look up "Bible math" or the name of the Bible story and "math," and you will find some great examples of math for different Bible stories. When you see math in the Bible, call it out and spend some time exploring the concepts behind it! Here are several resources that are also worth checking out:

Follow Tauna Meyer (ProverbialHomemaker.com)'s board Bible Lessons / Family Discipleship on Pinterest.


Learning about Patterns in Our World Through Math and Science by Laura @ Day by Day in Our World
Relaxed Homeschooling: Mathematics in the Early Elementary Years by Brittney @ Mom's Heart
Using a Bible-Based Math Curriculum by Tauna M @ Proverbial Homemaker
Math, Science and Logic for 2015 by Chareen @ Every Bed of Roses
Playing with Numbers by Sarah @ Delivering Grace
Unschooling Science by Kristen H. @ Sunrise to Sunset
Logically Speaking: Math, Science, and Logic for 7th Grade by Christy @ Unexpected Homeschool
Numbers and Molecules! by Michele @ Family, Faith and Fridays
Math and Science in Our Homeschool by Jennifer @ A Glimpse of Our Life
5 Math & Logic Resources We Love by Becky @ Milo & Oats
Giving Your Kids The Right Start With Math by Amy @ One Blessed Mamma
Math in Our Classical / Charlotte Mason Homeschool by Sharra @ The Homeschool Marm
Classical STEM by Lisa @ Golden Grasses
Math, Science and Logic – How do we Tackle Them? by Joelle @ Homeschooling for His Glory
The Physics of Delight-Directed Learning by Susan @ The Every Day of Education
Tackling High School Science by Debra @ Footprints in the Butter
Choosing Math Curriculum for Special Learners by Heather @ Only Passionate Curiosity
Math for all ages by Denise @ Fullnest
Middle School Monday – Math With Fred by Kym @ Homeschool Coffee Break
Learning With Math and Science Resources by Leah @ As We Walk Along the Road