Disclosure: *This post may include affiliate links. As an affiliate, I earn from qualifying purchases. Read the
disclosures
and
terms
for more information.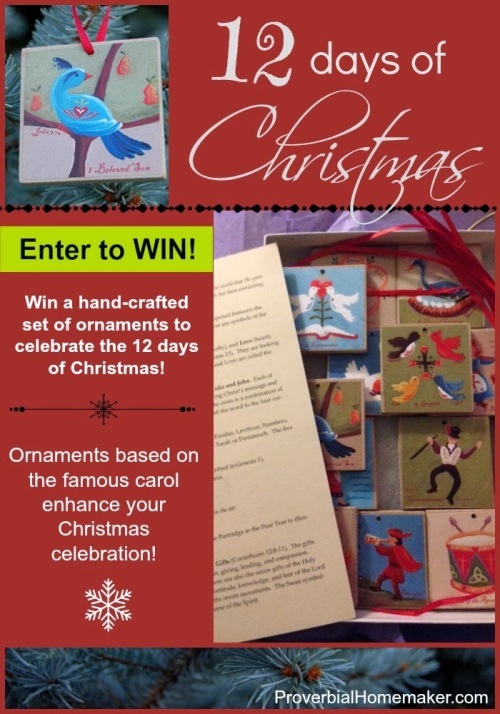 I'm sure you're familiar with the famous Christmas carol The 12 Days of Christmas. I've learned a fun legend that has made this song so much more meaningful!

According to legend, this Christmas carol was used as a catechismal tool for teaching Catholic children the basics of the Christian faith during a time of persecution in England. For example, the two turtle doves represent the Old and New Testaments, and the 6 geese a-laying are the 6 days of creation.

Most sources contend that this legend is not historically accurate. I'll leave that for you to research and decide for yourself. But I don't think that takes away from its value as a fun way to glorify God during the Christmas season!




The good folks at Jesse Tree Treasures (you can also find them here on Facebook) generously gave our family a beautiful ornament set to help us celebrate the 12 days of Christmas! Not only that, but they have offered to give away another set to bless a Proverbial Homemaker reader!

Many of you already saw and entered the recent giveaway for their Jesse Tree ornament set. It ends TODAY (11/12/13) so be sure to enter if you haven't already!

The 12 Days of Christmas ornaments are no less stunning. The colors and detail are just beautiful, and my reaction when I opened the box drew an audience at my house! I can't wait to begin using them as a part of our family traditions.



You can use the ornaments for the 12 days leading up to Christmas or more traditionally for the 12 days after, as we plan to do. Not being Catholic, I'm just learning what the real 12 days of Christmas are, and I am drawn to it because it appropriately extends the Christmas season to Epiphany (the visitation of the three kings).

If your tree comes down soon after Christmas, try using an ornament display, a small fake tree, or even hanging them off of a string tied across your fireplace mantle.

The set comes with a card describing each one and the biblical meaning associated with it. The ornaments themselves have beautiful, intricate designs with lovely hidden treasures in them. I won't ruin it for you! You'll have to get your own and find out how precious they are.


I am sure that these ornaments will be a delight to your family as much as ours, whether you use them to heighten the anticipation of Christmas or extend the celebration right up to the Epiphany.
Enter below! The winner will be notified on November 20 and has 24 hours to claim their prize. Contiguous US states only. If you order now and win the giveaway, you will be reimbursed!
{This giveaway is over. Congrats to Keri M!)