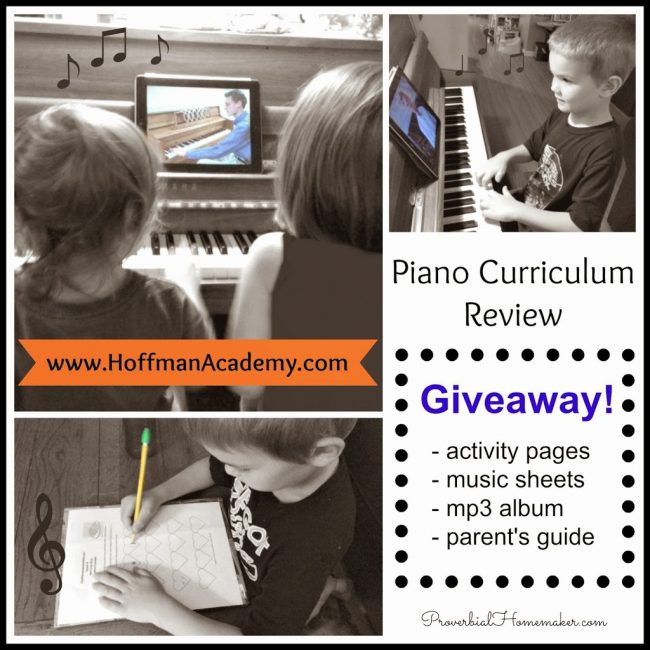 Disclosure: *This post may include affiliate links. As an affiliate, I earn from qualifying purchases. Read the disclosures and terms for more information.

Have you been thinking of teaching your kids piano? Or have you thought about learning it yourself? If so, here is a fantastic curriculum with online piano lessons that are already available to you!




Our family has been using online piano lessons at www.HoffmanAcademy.com as well as the supplementary materials. It has been such a blessing and we will be continuing to work through the curriculum this year.
What I love about Hoffman Academy online piano lessons!
Free/Frugal – Free is good, especially considering the great quality of the lessons! Even if you purchase the extra materials, it's a GREAT bargain.
No preparation – I just put my iPad on the piano, choose the lesson, and go!
My kids ask to use it – Obviously a win. No grumbling! The kids love Mr. Hoffman, and using a computer or iPad for the lesson makes it a treat.
Short lessons – Each lesson is short. Great for limited attention spans and quick reviews.
Immediate results – The kids learn songs right away and feel a great sense of accomplishment with each lesson.
The Newsletters – Sign up for the newsletter and get great support and ideas for helping make the most of the curriculum.
I get to learn too! – As a bonus, I am learning piano as well!
We try to do at least 3 lessons a week but it varies. Jaron (5) plays every day now, either for a lesson or for review. I was worried that we wouldn't be able to make it a daily habit, but the short lessons and Jaron's increasing enthusiasm took care of that. His younger sisters even get a little lesson sometimes when they ask!



It's true, you can do these online piano lessons without the supplemental materials offered at the FreePianoLessons4Kids.com store, and for a while I debated whether we'd use them. But I am SO glad that we do! They really compliment the lessons and provide for great reviews. We listen to the mp3 album in the car and my son especially tunes in to listen closely to the music.
The supplementary materials bundle is an instant download upon purchase and includes:
63 Pages of activities, music sheets, and practice tips for lessons 1-41.
Parent's guide with great info and tips to help your child succeed with the curriculum.
Listening mp3 album to familiarize the kids with the pieces they'll be learning (car tunes!).

Hoffman Academy has generously offered to give a complete copy of the supplementary materials to one of YOU!

If you buy it before the contest closes, you'll be reimbursed. I really do recommend purchasing the materials. The price is so reasonable, especially compared to other complete piano curricula out there!

A winner will be chosen and notified on 9/4/13 by email and must respond within 48 hours to claim the prize.

{This giveaway is over.}