There are so many different ways available to accomplish task management. The number of planners and systems out there can be a chore to sift through. So many times their success depends on your personality and how you handle unfinished plans.
I've tried several systems in the past and ended up throwing them away. They were often too complicated and I couldn't stick to them. Or I would give up on my plans if I got behind. I was always overwhelmed with the sheer amount of work I had to do and it just couldn't all fit in the day or week, so I fell back into managing the urgent.
Then I discovered loop scheduling and my life was simplified.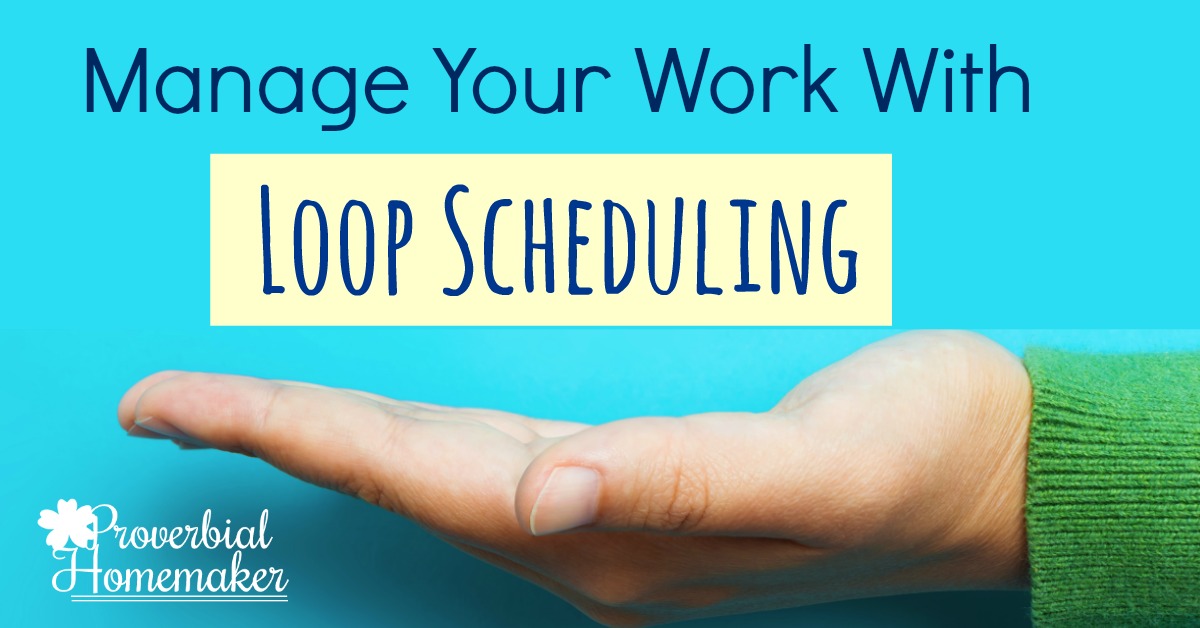 What is Loop Scheduling?
Loop scheduling is simply a way or organizing your work into a rotating list. Here's how it works:
Write out a list of the tasks you want to accomplish over the course of 1-3 weeks
Do a certain number of those tasks each day (however many you decided ahead of time)
The next day, move on and do the next tasks!
Tasks that need to be done than once in that timeframe are listed multiple times
When you've gone through the entire list, start over!
That's pretty much it! Loop scheduling is incredibly simple, easy to tweak for your needs, and flexible to fit any type of work you need to manage.
Download the Loop Schedule Printables
I have created some simple loop schedule printables for you! Download the loop scheduling printables and then come back here to see how to use them!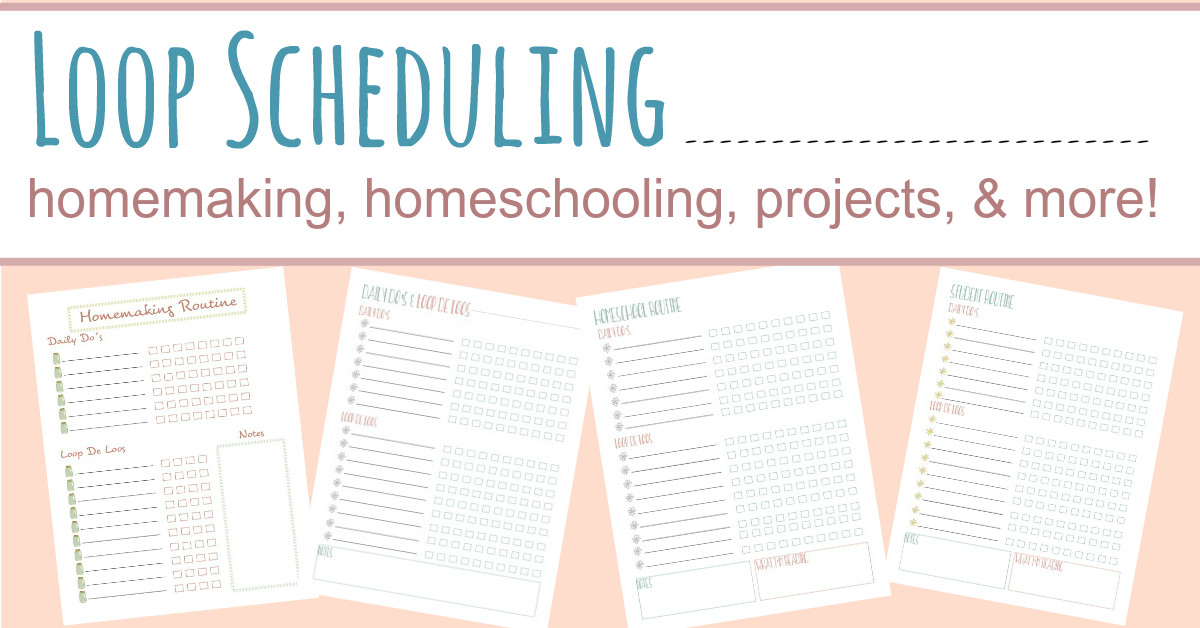 Get Started with Loop Scheduling
Over the next several weeks and months I hope to provide you with some great tips and tools for using loop scheduling in your life. I use it primarily in my homeschool, housework, and blogging!
But it isn't a complicated system at all so you can get started TODAY!
First, take some time to watch this video. This was originally a FB Live video to give a quick overview of how I use loop scheduling in our home. It will give you a quick-start guide on how to use them in your own home and some ideas for how to make it work for you.
I tried to show you my latest set of loop schedules (we just had a baby and are just getting back into routines, so they are clean and simplified this time!) but there was a glare on the screen. You can see the examples below.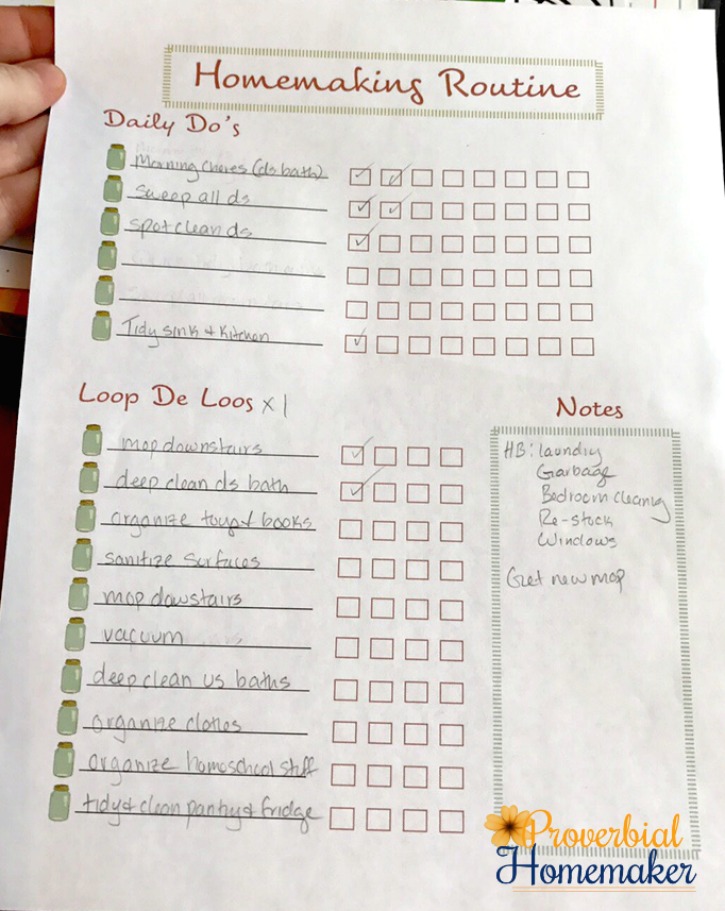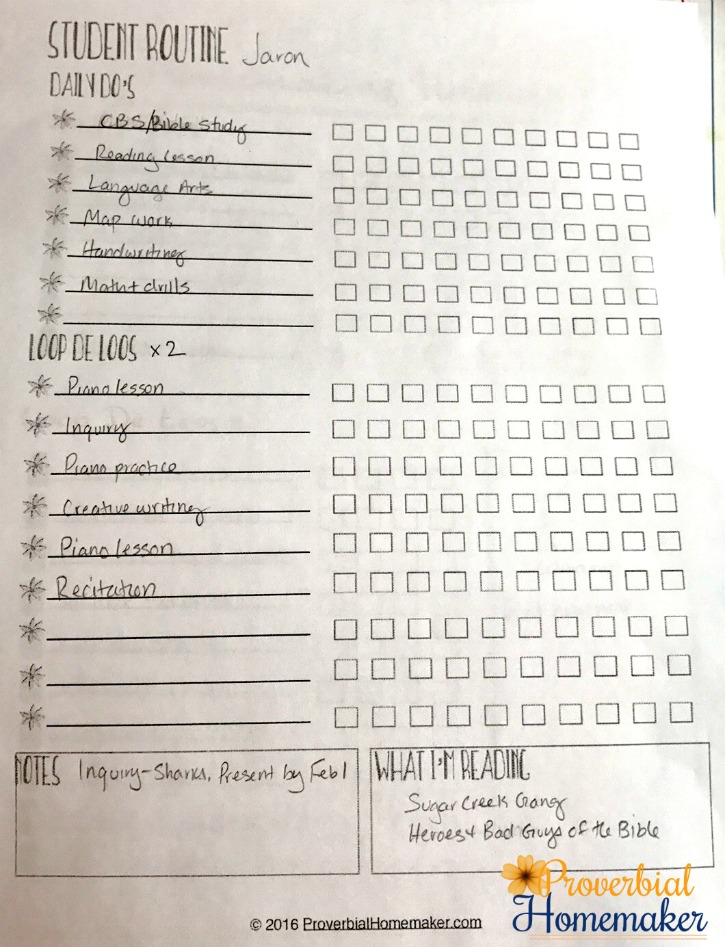 Example Schedules & Flexible Planning Systems
As I said, I'll be adding more posts here on the blog about loop scheduling that you can use to refine your system and really make it rock! However, if you want to REALLY get your home or homeschool in order, you'll want to check out the Proverbial Homemaker Planner & eCourse and my Relaxed Mom Homeschool Planner & eCourse.
The loop schedule sheets have already been added to the planners, and this month I'll be adding more tools for loop scheduling to ecourses, including example loops for various needs. If you already purchased one of those systems you'll get instant access to the new information via the ecourses!
Upcoming Topics (& Tell Me What YOU Want to See!)
I have started working on some more detailed tips and tools for you for loop scheduling! You can look forward to these posts in January and February. Please also take a moment to email me or comment here and tell me what YOU would like to see me talk about with loop scheduling!
A more complete loop schedule for housework (including a master task list)
How to set up homeschool loop schedules with your kids
Finding balance in blogging with loop scheduling