One thing that it seems like moms all over the world struggle with is meal planning. Turns out, our families want to eat dinner every night. Go figure! While using a weekly meal planner consistently is challenging for sure, just winging it usually leads to stress, too much dining out, and less healthy foods. The problem is, meal planning is kind of a pain in the rear end. And even when we create the perfect plan, it's unlikely we'll be able to stick to it (or that our family will like all the new meals we're doing).
I am often asked how I do meal planning for our large family and what my weekly meal planner looks like. Those questions seem to come in waves and lately I've been getting a ton of them:
"You probably do massive freezer cooking sessions, right?" No.
"I bet you have a whole month of meals planned, don't you?" No.
"Oh I know! You do that cool block schedule thing with Mexican Mondays, Italian Tuesdays, etc. and it makes your life so easy!" Yeah… no.
"So, do you just wing it and live in chaos?" No. (Not usually. I mean, "chaos" is relative.)
Disclosure: *This post may include affiliate links. As an affiliate, I earn from qualifying purchases. Read the disclosures and terms for more information.
Of course, there's nothing wrong with any of these things. I've certainly done them at various times and they have their benefits. But here are some things I discovered about myself. Maybe they're true about you, too:
I don't like spending a whole day cooking. It's too stressful, too involved, and sucks up my WHOLE DAY! No, thank you.
I don't like setting myself up for failure. I hate building a detailed menu plan that falls apart when I don't feel like Mexican that day (actually that may never have happened… I could live on Mexican food), or I forget to thaw the meat, or we ran out of cheese, or whatever.
I need things to be super easy to implement and is sustainable. Meaning, I won't get burned out and the meal plan works even when my brain is toast at the end of the day.
I do, however, need to have some kind of a meal plan. Because children can't eat popcorn for dinner every night (or so they tell me) and they blatantly refuse to forage with the chickens.
So, how does this oh-so-busy, homeschooling mom of 6 do meal planning, then!?!?! How do I fill out that weekly meal planner each week?
I'm so glad you asked!
In this post I'm going to go into the nitty-gritty details about how I do meal planning using my popular meal planning template, which you can download below.
My system uses this meal planning template, which is a part of my Proverbial Homemaker Planner, and 6 simple steps.
If I can do this, so can you. (Trust me.)
1) Keep a Master List of Meals
The Master List is a trick I learned somewhere down the line. It's simple but super effective. Basically, you build a list of meals ideas that already work for your family and add to it as you go. You could keep such a list on your phone, in a little notepad, or on the back of your meal planning sheet.
Start by listing off all the dinners that you already make that your family enjoys. (Most of them, anyway. With kids there's always one who won't like it, but that's ok.)
Divide your list into breakfasts, lunches, dinners, and snacks. You may start the meal planning routine with just dinners, but eventually you'll love this so much you'll want to expand it to the other meals, so might as well get the brainstorming started now.
At the bottom, leave space for some notes. We'll talk more about that later.
2) Make a Loose Plan Every Week in Your Weekly Meal Planner
I like to do my meal plan weekly on Saturdays. You choose the number of weeks and a planning day that works best for you. One week is just about right for us (I used to do longer stretches and they tend to fall apart faster), and with the Master List going, I don't really feel the need to plan two or more weeks ahead anyway. But, you do what works for you!
Here's what you'll need to put together a weekly meal plan:
Your Master List (mine is on a note on my pone that syncs with my laptop)
Your family calendar (also on my phone)
Your Mix n Match Menu Planner meal planning template (choir of angels sings)
Your grocery list (there's one available with the planner, or you could keep it separate. I keep mine… you guessed it… on my phone!)
____________________
Download the Free Weekly Meal Planner
Download this free weekly meal planner! It's the same one I've used for years now in my home and it's a game changer! I hope you love this simple system as much as I do.
____________________
Here's how to fill our your weekly meal planner:
Peruse your Master List really quick just to get an idea of the dinners you could use.
Check for events on the calendar that might impact your dinners for the week.
Get up and look inside the pantry, fridge, and freezers. (Actually do it! Let's not delude ourselves into believing we remember what's in there.)
On your Mix n Match Menu Planner, write down as many dinners as you can think of that would use mostly items you already have (they don't have to be in any particular order), taking note on your grocery list of which items you'll still need to buy.
See how many dinner spots are let of your Mix n Match Menu planner and fill them in from your Master List. You may also want to skim your store's web site to see what is on sale, but if you skip that step, I won't tell anyone.
If you're feeling adventurous and energetic that week, hit up Pinterest or my recipe posts to add one "to try" meal to your menu.
Write down any additional grocery items you'll need to get for those dinners.
Now, if you're ready for it, go through the same process for breakfast and lunch.
Be sure to add some healthy snack ingredients to your grocery list, too. We all know that the kids never stop being hungry.
Using this process, you end up with 7 dinners, 7 lunches, and 7 breakfasts that you can use anytime during the week in whatever order you choose. Woot!
In the morning each day, decide which meals you want to make and circle them, crossing off whatever meals you made the day before. That's it! Easy peasy lemon squeezie.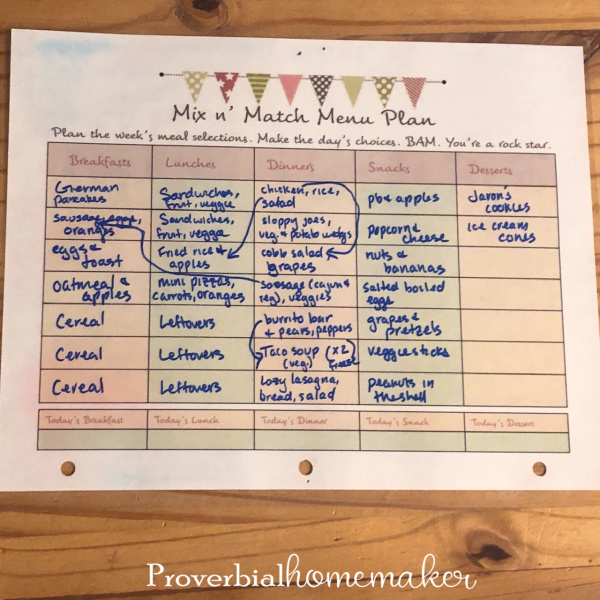 Some extra fancy tips for your weekly meal planner:
Pick one meal OR ingredient each week to double, triple, or quadruple, and freeze the remaining food in portion sizes. It could be quadrupling the twice baked potatoes or doubling up the Instant Pot refried beans. (My busy mom hack for bulk cooking! Woot!)
Draw an arrow from any meal whose leftover ingredients can be used for another meal (I might make a fried rice lunch a day or two after a chicken and rice dinner, for example.)
Put a star next to any menu items that were a hit with your family and add them to your Master List.
Put a dot next to a menu item that needs to take the bench for a few rounds because it's getting old, also noting in your Master List.
Put your grocery list in the order of the layout of your store so you don't have to run around or miss anything.
Keep last week's grocery list and just add/delete from it the following weeks. Pretty soon you'll have a core set of items you always buy, making for more efficient shopping.
Laminate your Mix n' Match Menu Planner and post it on the fridge or slip it into your homemaking planner! (I use a wet erase fine tip marker and a baby wipe to clean it.)
4) Have a Backup Plan in Case it All Goes South
I hear you right now. "This is all well and good, Tauna. But what about those days or weeks where everything falls apart, or I forget to do meal planning, or I'm just plain tired!"
The Backup List has your back! This is super easy.
Take a note card or small piece of paper.
Write down as many meals as you can think of that you seem to ALWAYS have the ingredients on hand for.
Now write your favorite take-out meals and, if possible, phone numbers.
Write "forage with the chickens" or "forage in the wild" as an option because it will make you laugh. And we like to laugh about meal planning so that we don't cry. Lol! Sob.
Tape it onto the inside of your pantry or cupboard door.
When you realize things have gone south, your brain is fried, and you open the door in a panic, the Backup List will give you a hug and tell you everything is going to be fine.
"We're having spaghetti for dinner, kids!"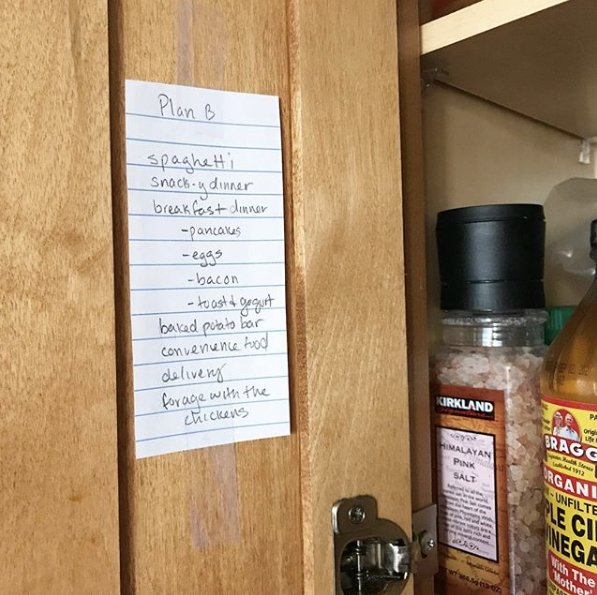 5) Note Wins and Tips in Your Master List
Remember that space on the bottom of your Master List I told you to reserve? I use that area to write down notes about several things:
That comment my husband made about the calzone he loved at the restaurant last week, so I can look up a recipe.
That comment my husband made about how chicken and rice is getting a little overdone… which means it's probably WAY overdone, because my husband is easy to please.
Which things froze well and which didn't.
Some meal ideas I want to remember for the future.
The name of a cookbook I want to buy and then never use. (You know you do it.)
A note about a re-purposing trick that really worked well (such as using leftover meatloaf for taco soup).
And whatever else will help me build my menu plans!
6) Rinse and Repeat
That's it, friends! It's a pretty relaxed way of menu planning, right? With plenty of fail-safes and flexible tips to make it work for the busy mom.
Having this system in place means that over time you will get pretty fast with your meal planning. It takes me about 15 minutes nowadays, which I'm thankful for. More time for snuggling on the couch with a good read-aloud, getting some projects done, or yelling out the back door at the kids to stop foraging with the chickens… because it was a joke, for crying out loud! Ahem.
I hope these tips were helpful to you, friends! Enjoy your free Mix n' Match Weekly Menu Planner and Grocery List. As always, feel free to let me know if you have any questions!
~ Tauna
---
You May Also Like…