Disclosure: *This post may include affiliate links. As an affiliate, I earn from qualifying purchases. Read the
disclosures
and
terms
for more information.
I don't think I've ever been able to follow a rigid menu plan. I am far too likely to change my mind or forget to buy or thaw some ingredient, and so those types of plans never really work for me. 
However, I still want to take advantage of the benefits of meal planning, such as saving money and avoiding the dinner-time panic. That's why I LOVE my Mix & Match Flexible Menu Planner and today I am sharing it with YOU!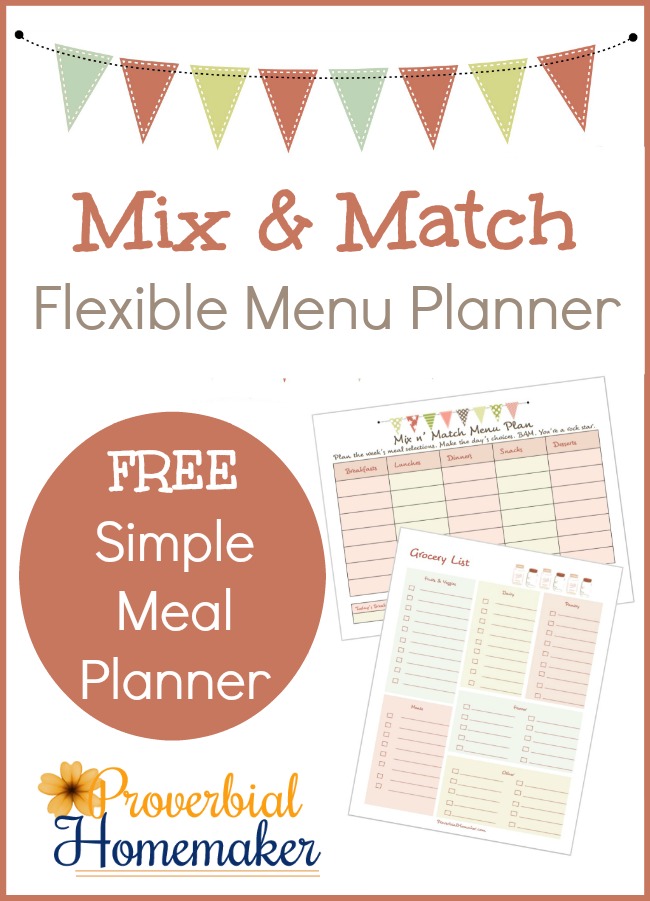 The Mix & Match Flexible Menu Planner is a simple and effective tool for planning your family's weekly meals without tying yourself to a schedule. Simply print it and begin with these easy steps:
Take stock of ingredients you have on hand
Write down 7 dinners, lunches, and breakfasts based as much on those ingredients as possible
Jot down snack and dessert ideas
Write out a grocery list of what you still need
Each day, choose one of the breakfasts, lunches, and meals from the lists on the planner. Cross out what you've already used and keep in mind leftovers (such as having fried rice for lunch when yesterday's meal included rice).
That's it! It's simple, flexible, and gets the job done. With this planner, you can move things around without feeling guilty, because you actually DID stay on the plan!
The Mix n' Match Flexible Meal Planner AND the grocery list shown are available FREE! You can also use it as a part of the Proverbial Homemaker planner. Either way, you I hope you are blessed by it!
Watch How I Use the Mix & Match Flexible Menu Planner
I took a quick video to show you how I use the Mix & Match Flexible Meal Planner (as well as the grocery list) in my weekly planning routine. It's not exactly professional, but I did manage to avoid showing you all the dishes that were in my sink. 😉
Download the Mix n' Match Menu Planner
If you have any issues receiving the file, check out this troubleshooting guide or feel free to email me!
An Extra Tip – The Backup Plan! 
One other thing I do as a part of my meal planning that helps a TON is set up a backup plan. I literally write down all the fast-fix meals I can think of that I usually always have on hand and tape it to the inside of my cupboard.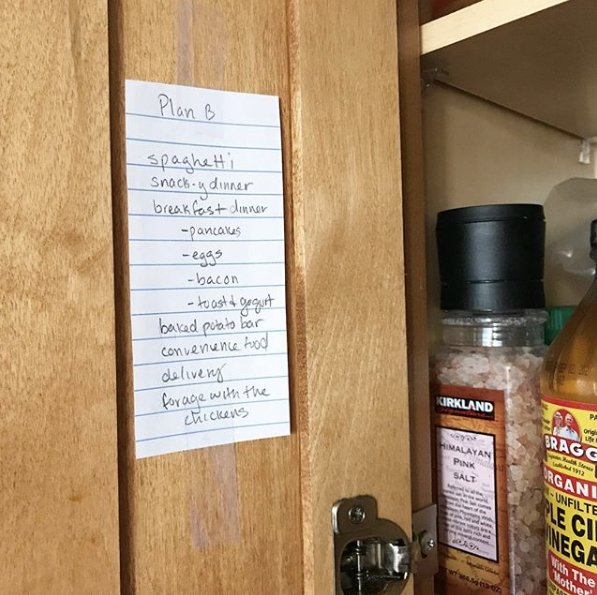 It may seem simplistic, but at the end of a long day of parenting and homeschooling, my brain is fried. This list has saved me the cost of pizza delivery more than once! 
So, your backup plan is ready and waiting for those moments when you drop an entire pot of potato soup, catch the crock pot on fire, shatter the casserole dish, use salt instead of sugar in the French toast, or over cook the chicken so much its rendered inedible. (all. true. stories.).
Don't worry – We've never actually done that last one on the list, but I've suggested it on occasion. 😉
I hope those tips help!
Tauna
You Might Also Like…