I remember the first time I heard about homeschooling. I was completely surprised! There are kids who don't go to school each day? Their parents teach them at home? Is that even legal? *mind blown* Very soon I found out that not only was it legal, but it was actually fairly common — and it ended up being exactly what my husband and I wanted to do in our family.
Fast forward 15 years and we are heading into our 9th year of homeschooling, with our oldest moving into 7th grade. Lord willing, we'll homeschool through high school, too! But I remember in those early days being so unsure of how to go about educating our children.
Disclosure: *This post may include affiliate links. As an affiliate, I earn from qualifying purchases. Read the disclosures and terms for more information.
There's a lot to learn about homeschooling and it can sometimes feel like drinking from the information fire hose! Every year now it is my pleasure to walk parents through the steps to get started on their new homeschool journey. You don't have to do this alone!
Perhaps you're just starting to think about homeschooling. Maybe you're in your first year or so and are still figuring out the ropes. Either way, my hope is that this series of posts here at Proverbial Homemaker will help you started homeschooling with confidence!
How to Start Homeschooling in 10 Steps
It's really easy these days to get overwhelmed with all the things you have to know in order to homeschool successfully. But if you're looking for a simple checklist, I've got your back. Here are 10 steps on how to start homeschooling that will help you navigate those options well and start your first homeschool year strong!
1) Pray for Peace and Guidance
Don't skip past this point. Really spending time seeking the Lord in our homeschool is something that gets brushed aside WAY too often, and it's definitely the most important step.
Thank God for the opportunity to teach and train your kids at home. Ask Him for peace and clarity as you venture into this new journey. Pray for guidance in both the big picture and in all the details. Keep coming back to prayer each step of the way!
[Read: The One Thing That Saved Our Homeschool (Plus Tools for Homeschool Prayer)]
2) Determine Homeschool Laws & Requirements
Every state has different homeschool laws. You'll need to research your state laws and know what is required in order to meet them. HSLDA and your state homeschool organization are the best places to find this information.
[6 Things You Need to Know About Homeschool Requirements and Laws]
3) Deschool! Break Out of the Box and Find Homeschool Freedom
Unless you were homeschooled yourself, you're likely to fall into the trap of trying to replicate public school at home. It's ok. You're not alone. But NOW is the perfect time to break out of that public school box!
Homeschooling comes with so much more freedom and flexibility. Spend some time "deschooling" and building up your own unique homeschool groove.
[Read: What is Deschooling & How does it Work?]
4) Understand Learning Styles & Your Children's Needs
When you homeschool, you are creating a custom education for your children that they'll never get in a public school. You become a student of your child, maximizing their strengths, coaching them through their weaknesses, and helping them grow.
Knowing their primary learning style (auditory, visual, or kinesthetic) can really help in crafting their education and choosing curriculum as well!
[Read: Learning Styles in Children (and strategies for teaching each one)]
5) Explore Homeschool Methods (but don't get stuck in one)
There are several ways to teach your children and methods of homeschool education. Classical, Charlotte Mason, traditional, unit studies, Montessori, and so on. You can think through your own goals and preferences to evaluate which ones best suit you and your family.
Just remember that homeschool methods, like curriculum, are simply tools available to you for educating your children. You don't need to worry about picking the "right" one and locking into it for life.
[Read: Homeschool Methods & Homeschool Styles: Which One is Right for You?]
---
Do you tend to make great plans but not follow through? This is for you! The Rhythms & Routines Homeschool Planning System is a course and printable planner that guides you through setting up a system that works best for YOUR unique homeschool and personality.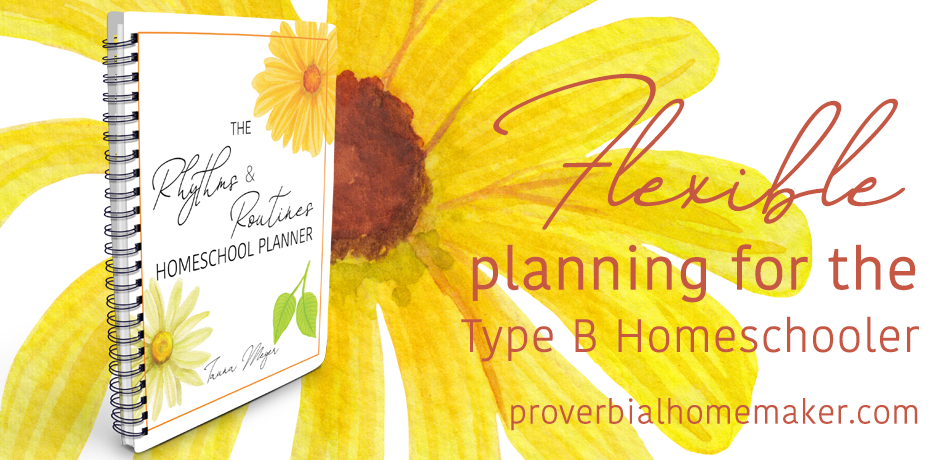 ---
6) Choose Homeschool Curriculum & Resources
Picking a curriculum is usually the FIRST thing new homeschoolers want to figure out. That's ok, too. It's pretty fun to do and spending time browsing will help you become familiar with what resources are available to you.
Eventually, however, you'll slap down some hard-earned cash for materials. Knowing what your goals, budget, teaching style, learning styles, and worldview considerations are ahead of time can really help you make a good choice.
[Read: How to Choose the Perfect Curriculum]
7) Create a Homeschool Schedule (or not)
If you search online for how to start homeschooling you're likely to come across beautiful school rooms and color-coded schedules with all the subjects and students neatly laid out. If that's your jam, you can totally do that! We get to do what works.
But if you're worried that you're not organized or self-disciplined enough to homeschool (fist bump) don't worry one bit. Every homeschool looks different, including how (or even if) we schedule our work! Keep playing with different ideas until you find the approach that helps you thrive.
[Read: Homeschool Schedule Tips + Our Year-Round 4-Day Week Homeschool Routine]
8) Plan Your Homeschool Year (at least a little)
Again, there is a lot of flexibility and variety among families when it comes to homeschool planning. Some folks like to schedule out their entire year. That may depend your personality, state homeschool laws, other responsibilities, and what materials you're using.
Personally, I like to draft a rough sketch of the coming year, plan some projects and field trips each quarter, and then just write down what we actually DO every month. But at the very least, I recommend doing step #10 below as part of your yearly planning. (Detailed post coming soon.)
[Read: Easy Tips for Planning the Homeschool Year]
9) Define Your Homeschool Goals & Vision
Now, this is something that you would think should be earlier in the process of how to start homeschooling. However, when you're just starting out, you may not quite KNOW what your goals and vision are. Not to worry.
Prayerfully working through all these steps will help you craft your goals and vision/mission for your homeschool. They will become your North star, guiding you back to sanity and peace when the day (or week) gets rough or you hit major challenges.
[Read: Vision for Your Homeschool – How to Write Your Mission Statement]
[Read: Setting Your Homeschool Goals]
10) Relax, Homeschool Mom!
Yes, it's new territory and you're on a learning curve. Yes, you'll have some detours along the way. But you've totally got this.
Homeschooling isn't EASY (nothing worthwhile is) but it's really not nearly as complicated as you think it is. You don't have to get everything "right." This is a journey and a learning experience for you as much as it is for your kids and it can be GREAT!
One day, just like with parenting, you'll look back on these first years with the confidence of experience. Take things in baby steps and remember to show yourself and your children heaps of grace!
[Read: Has Homeschooling Overwhelmed You? 7 Ways to Find Relief]
More Tips For Your Homeschool Journey