Disclosure: *This post may include affiliate links. As an affiliate, I earn from qualifying purchases. Read the
disclosures
and
terms
for more information.
This is a guest post from my friend Michelle at Homeschool Your Boys.
---
Why is it that as I start planning our homeschool year I see all of the possible snags which might befall us? When I read about current events on the internet why does my mind go to the worst possible scenario that could happen? As I start looking at the busy schedule that our family is going to have this coming year, between basketball and driver's training and drama and church… why does my heart start to palpitate?
Has homeschooling overwhelmed you?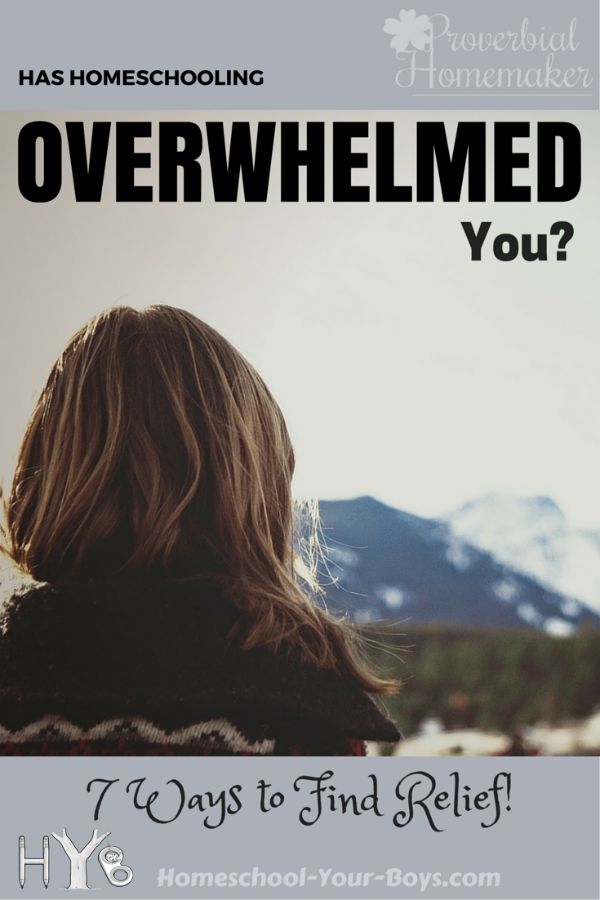 Homeschooling is a lot of work. There are tons of awesome activities for our kids to be involved with, there are mounds of curriculum to choose from, there are lots of great learning methods and techniques. So, how do you know when to say yes and when to say no? What is the very best way for YOUR family to approach homeschooling and life?
If you find yourself in an overwhelming phase of life, there are ways to keep yourself from getting buried in the avalanche.
Here are 7 ways to homeschool without getting overwhelmed:
1. Pray About All Decisions – Let God direct your homeschool journey rather than asking Him to just bless whatever decisions you make on your own. If God wants you to do something then it will be what's best for your family. Don't say yes about an opportunity until you've prayed about it. Try to keep an open mind. Talk to your husband about everything before you commit. Discuss things with your kids as well.
[Tweet "Let God direct your homeschool journey rather than asking Him to just bless whatever decisions you make on your own."]
2. Prioritize – It's easy to look at our out-of-control To Do Lists and get completely overwhelmed. Don't look at the whole list. If things are completely overwhelming in your life right now, just do the next thing. Take things one step at a time. What is the most important task for you to handle right now? Do that and try not to think about anything else. The laundry and vacuuming will still be there whenever you get around to doing them.
3. Enlist Help – People can't read your mind. If you need help, ask for it! When you're feeling overwhelmed, it's easy to think that you're all alone on your journey. This is certainly not the case! Don't try to do everything yourself! If you have parents or grandparents living nearby, ask them if they can help to drive kids back and forth. Join carpools with other families who are in the same activities. Get your kids to help out around the house with chores. Ask your husband to help you as well. Trade duties with other homeschool moms so that you can help each other out – and get some much needed alone time.
[Tweet "People can't read your mind. If you need help, ask for it!"]
4. Take it One Week (or Day) at a Time – Rather than looking at your child's entire school career… or even a full year at once… look at one month, one week, or even one day at a time. One of my sons will be taking drama classes this year with a group which requires each family to volunteer for 60+ hours! Just thinking about all of those hours that I'm going to have to add to my schedule makes me a little bit queasy.
If I break that time down by the number of weeks involved, however, it's a much more manageable 3 hours a week. That's still a lot of time to dedicate to one subject… but it's easier for me to handle than thinking about the larger number.
5. Learn to Be Picky – There are so many wonderful activities for homeschoolers. It's easy to get in over our heads by signing our kids up for too many things at one time. Don't sign your kids up for every opportunity you think they might enjoy. Decide how much your family can comfortably handle and skip the rest.
6. Rest – As our kids get older, our lives just naturally seem to get busier. During these stages of life, it's important to take good care of yourself. Be sure you're getting adequate rest at night. Eat healthy foods. Try to exercise. Take some time for yourself on a regular basis. It isn't easy to take care of ourselves when we're busy taking care of our families; but, if we are functioning at our best, we will be able to handle the stress much more effectively.
7. Take a Deep Breath – Don't fixate too much on the future. If you're wondering how in the world you're going to homeschool a high schooler when your oldest child is only 3 years old, you're putting yourself through more worry and grief than is necessary. Most of the time, things turn out much better than we've imagined that they will. It'll work out. Neither you nor your child will be the same person once you get to that stage of life. Relax and focus on the here and now. Try to live in and enjoy the present.
[Tweet "Most of the time, things turn out much better than we've imagined that they will."]
Most of all, if you're feeling overwhelmed remember to turn to the One who started you on this journey in the first place. God has promised that He will give us wisdom… if we are willing to ask for it! And He has also promised that He won't give us anything that we can't handle without His help. You can do this!
---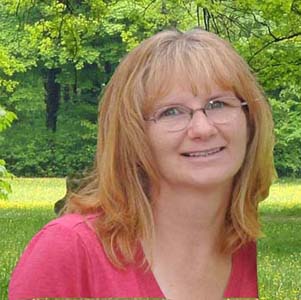 Michelle has been married to her best friend for almost 17 years. She is also a homeschool mom to her two wonderful (and tall) sons. Michelle is a Christian, a fan of simple living, and a lover of chocolate. She loves her spicy chai tea in the morning and she has a hard time staying out of the snacks at night. You can find her blogging at www.homeschool-your-boys.com. Her mission is to encourage and inspire parents as they homeschool their boys.