Disclosure: *This post may include affiliate links. As an affiliate, I earn from qualifying purchases. Read the
disclosures
and
terms
for more information.
Each year I am asked what we're using for homeschool curriculum. I'm always happy to oblige because, let's face it, talking about curriculum is fun! 😀
Every summer I update this post with our new curriculum choices and make note of any resources that were particularly great from past years. As always, feel free to ask me questions about the picks!
We have kids in Preschool, 1st grade, 2nd grade, 4rd grade, 6th grade, and 8th grade.
The Context: How Our Homeschool Works
One thing to keep in mind: Every child, every family, and every homeschool is different. Actually, every year is different, too! The best thing you can do when choosing curriculum for your homeschool is to pray over those choices and remember that there is no magical, perfect curriculum out there that everyone should be using.
Go ahead an choose what fits your needs best for now, knowing that it may (and probably will) change over time! That's totally fine. Flexibility is one of the many blessings of homeschooling!
What Our Homeschool Looks Like
Before I launch into our choices, it's helpful to know a little bit about our homeschool.
We have 6 kids 13 and under and we take an eclectic approach to homeschooling.
I prefer multi-level teaching style or resources where some independent learning can happen.
I also strongly prefer Christian worldview curriculum although not everything we use talks about God.
We do year-round homeschooling, taking breaks when we want, and generally a 4-day academic week.
We do lots of read alouds and audiobooks, some group work, and then independent and 1:1 work.
Loop scheduling allows for incorporating a lot of extras on a rotating basis.
For 4 days we have a regular academic day and on the 5th day we have a "Home Blessing" which includes housework catch up, extra chores for money, life skills development, and character training.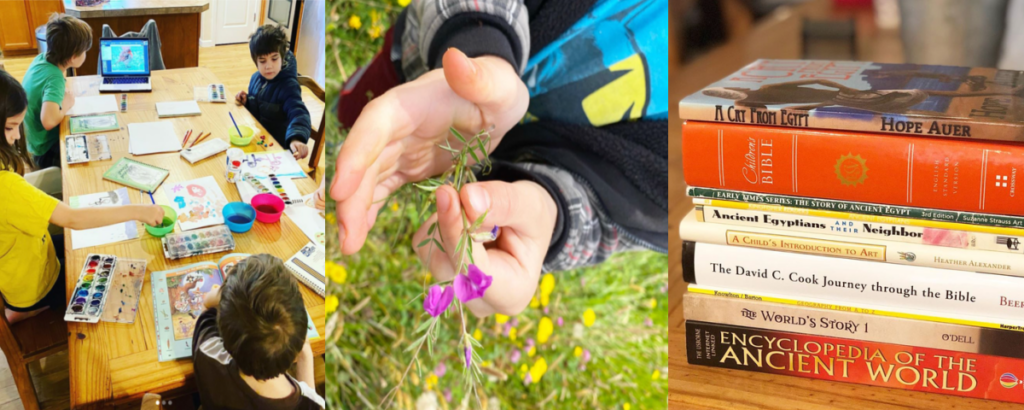 Here's our basic schedule:
We have "morning time" during breakfast with a read-aloud rotation.

After chores we gather at the table again to watch kids' news together and do our Bible lessons
Then the kids do independent work and take turns doing 1:1 work with me.
The older kids have a daily task list and a loop schedule to rotate through.
During lunch I read from history literature or spine selection.
During dinner, we listen to an audiobook or read aloud if Daddy's not home.
That should give you a context for the resources we choose!
Our 2021-20 Homeschool Curriculum Choices
Group Work
I really value group learning with my kids. In some ways it saves time (for the younger kids) but in some ways it doesn't (for the older ones who could do it all independently). But the big benefit is that we're learning and discussing TOGETHER and it builds our relationships. I find that especially important for Bible and history, but we do several things as a group. (Note that we don't do this all every day.)
Sound Words for Kids: Lessons in Theology – My theology curriculum for ages pre-k and elementary. Once a week with some weekly memory review. Includes notebooking pages for the olders.
Bible Road Trip – Our staple Bible curriculum that we've used for years. It's excellent and can be used for pre-k through high school. My older kids also do the notebooking journals.
BiblioPlan Year 3 (Early Modern) – This covers history, geography, and literature. We loved year 2 last year! You can read my full review here.
Prairie Primer (Little House Unit) – When BiblioPlan gets to the time period in history that corresponds with the Laura Ingalls Wilder Little House series, we'll be taking a break from nearly everything else to do an intensive unit study together! We'll be using Prairie Primer and whatever other fun resources I find. This will likely carry us through the summer, too.
Music in Our Homeschool – We use this resource often. We learn hymns, preschool music, music for history, geography, and more.
Simply Charlotte Mason for poetry study, picture study, and Shakespeare.
Nature Study – We'll alternate weekly nature walks/trips with online lessons with our No Sweat Nature Study LIVE membership. We also plan to use the Handbook of Nature Study and other science/nature read alouds to learn about the following:

June – July: Oceans
August – October: Mammals
November – January: Weather
February – April: Reptiles and Amphibians
May – July: Insects

Places, Please! Theatre – This is a subscription box for homeschool families that we enjoyed last year and will continue! It includes bi-monthly boxes full of a script, props, and more to help your kids put on a play.
Masterpiece Society Art – My older two kids are continuing to take the "101 series" art courses with our membership. We've loved all their courses for every age as well as their seasonal art projects and artist studies. Individual Courses or Membership (this is what we have – it includes all the courses)
LOTS of Read Alouds – We'll go through many many read alouds with BiblioPlan, our Jim Hodges membership, the Ambleside Online reading lists, character reading, missionary biographies, and more!
Speaking Spanish with Miss Mason and Francois – One of my daughter's best friends is a native Spanish speaker. I thought it would be fun to pick up some simple lessons. I didn't want video and needed something super simple, so I decided to give this a try as a part of our morning time! It's a very unique, Charlotte-Mason-y resource. We'll see how it goes!
Grade Level Homeschool Curriculum Choices
8TH GRADE CURRICULUM
CHOICES
We're getting ready for high school! My oldest is going into 8th and our focus will be preparing him for high school level work, such as building up his writing skills. Several things below are on his loop schedule rather than every day.
Check out our complete list of 8th grade curriculum choices 2021-22!
6TH GRADE CURRICULUM
CHOICES
This year I have a 6th grader coming up. This daughter is my big reader and can really book it through a lot of material. She and I had a fun time putting together her curriculum choices for the year.
Here's our list of 6th grade homeschool curriculum picks!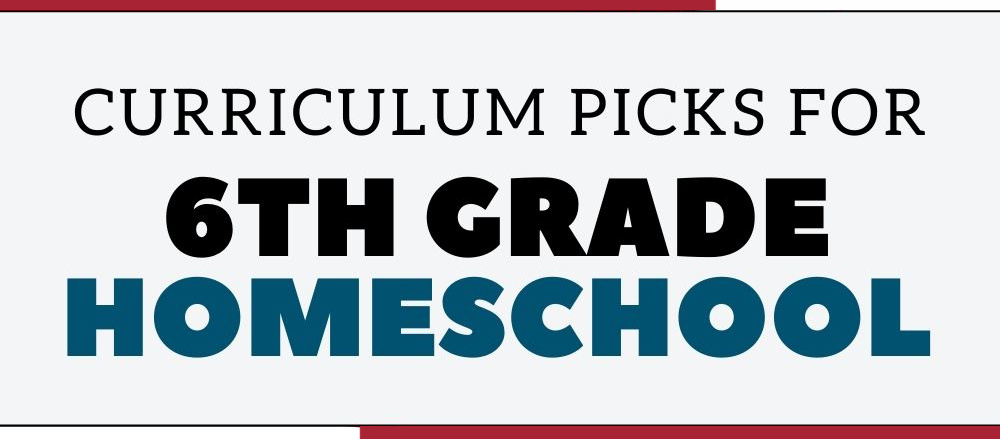 4rd GRADE CURRICULUM
CHOICES
In our homeschool, somewhere around 3rd – 5th grades (depending on the child), we start digging more into writing skills and spelling strength. This year my daughter also asked to do a customized bird unit. That was fun to put together!
Here's our list of 4th grade homeschool curriculum picks!
3rd GRADE CURRICULUM
CHOICES
This year, my upcoming third grader will need some different considerations. Although he's very sharp, he has a touch of dyslexia and a super short attention span. He also tends to be a very hands-on kid, with preferences toward the kinesthetic learning style.
Here's our 3rd grade homeschool curriculum picks for the year!
1st GRADE CURRICULUM
CHOICES
First grade is when we usually start doing some formal lessons in our home. Before that, it's just play, read alouds, and lots of free time. But we don't trade that in when the workbooks come out! Table time is kept to a minimum and we enjoy our days.
For this post, I tell you about what we typically do for first grade and then some details about what my upcoming 1st grader will be doing, since he is a bit farther ahead in some areas.
Here's our 1st grade homeschool curriculum picks for the year!
PRESCHOOL CURRICULUM CHOICES
We take a fairly relaxed approach to preschool (sometimes not doing it at all) but I do have certain resources that I love and incorporate often.
Here's our preschool curriculum picks for the year, as well as my top tips for homeschooling preschool!
Wondering What Other Curriculum We've Used in the Past and Enjoyed?
This isn't a complete list. I'm working on it. 🙂
Looking for More Curriculum Reviews?