Disclosure: *This post may include affiliate links. As an affiliate, I earn from qualifying purchases. Read the
disclosures
and
terms
for more information.
In our homeschool, somewhere around 3rd – 5th grades (depending on the child), we start digging more into writing skills and spelling strength. We also start to introduce more delight-directed learning as far as involving them in curriculum choices and picking electives! It's a fun time. 🙂 Today I'll be sharing our 4th grade homeschool curriculum choices.
4rd GRADE HOMESCHOOL CURRICULUM
CHOICES
My upcoming 4th grader and I had some good talks the upcoming year and what we'd both like to see happen. In this post I'll share ALL the things she'll be doing for 4th grade homeschool curriculum! (You might also want to check out the other grades I'll be homeschooling – a lot of our day is group work.)
Planning / Tracking
While my older kids use the whole Student Work and Habit Tracker, my younger kids just use the loop scheduling sheet from the planner. I laminate it and post it on the wall for easy tracking. They simply mark what they've done each day to help us all stay on track! You can also download free simplified loop schedule templates here.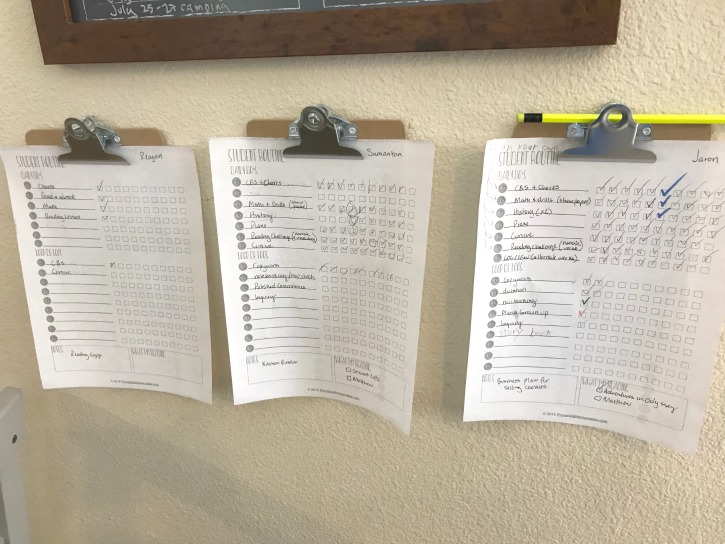 Math
Christian Light Education is my preferred math curriculum. It's straightforward and uses a spiral approach. In fact, I love it for all grades. Here's a video review I did of CLE Math.
This year she'll also be doing Key to Fractions for some extra practice and conceptual math reinforcement. Although I haven't run into this before with CLE, I noticed this past year that she struggled with fractions and it seemed to be conceptual rather than procedural issue. So after having this recommended to me, we'll give it a try!
Language Arts
For language arts we do more of a Charlotte Mason approach. I'll be spending the year working with my 4th grader on her writing and spelling skills.
Narration, Notebooking, Etc. – She will continue to do a lot of oral narrations and continue with notebooking and written narrations. (Narration helps with composition skills, speaking skills, retention of knowledge, and more. I consider notebooking in this category as well.)
Logic of English Essentials Online – I use this with some of my older kids for strengthening spelling skills if they need it. We already had the paper version of this but went with the online version last year and will continue! I like that the author teaches in the videos and it helps me to feel confident it is being taught as designed. (I was never quite sure I was doing it right.) But I'm glad I know how it's done so I can do things like finger spell misspelled words from her writing assignments.
Science – Bird Unit
Nowadays we don't typically do a formal / independent science until 7th grade. However, this year my daughter asked to do a full-year study on her own about birds! (Her older sister is doing History of the Horse from Beautiful Feet Books. My 4th grader wants something similar to that on birds and wants to do it independently.)
Here's what she's going to do for a 4th grade homeschool curriculum bird unit. I've put together a simple chart of daily lessons using these materials. She'll rotate through them 3-4 days a week at her own pace.
(If you want to do something similar that's already pulled together, here are some good 4th grade homeschool curriculum choices for a bird unit: Beautiful Birds study from Our Journey Westward, this Simply Charlotte Mason bird study, or Burgess Birds by CM Simple Studies. Younger kids may also enjoy this free Birds and Their Food printable pack.)
Bible / Theology
Group work – We do Bible Road Trip and Sound Words for Kids together. See more info in the "Group Work" section below.
Devotions with Mom – When she gets to this task on her loop schedule we do a brief Bible study together on a relevant topic such as a character issue.
Bible Drawing Journal (OT) – She is still working through this and does a page whenever she doesn't have a notebooking assignment with Bible Road Trip. The Bible Drawing Journal goes through a survey of the Old Testament and she reads a chapter a day. Then she draws about what she read and writes a little, including a prayer. There is a NT version available, too.
Life Skills
Kids Cook Real Food – She'll be going through this program again, this time with the Advanced level. (I have a few younger kids who are now ready to take the beginner level, too.) After she finishes that I'll give her the option to do some of their SkillLab modules. She's interested in the InstantPot/Slow Cooker for kids module and the Healthy Breakfasts module.
Group Work
So, those are our 4th grade homeschool curriculum picks for independent work. The rest of the subjects are covered by read alouds and group work. Below is what we'll be working through. (Keep in mind, we don't do every subject/resource every day. Read this post for more info on our routine.)
Sound Words for Kids: Lessons in Theology – My theology curriculum for ages pre-k and elementary. Once a week with some weekly memory review. My older kids review the material and do some notebooking.
Bible Road Trip – Our staple Bible curriculum that we've used for years. It's excellent and can be used for pre-k through high school. She'll continue to do the memory work and notebooking that goes with this curriculum.
BiblioPlan (Year 3 – Early Modern this year) is what we use for multi-level group learning of history, church history, geography, and literature. I'm REALLY looking forward to digging into early American history! View my full review of BiblioPlan here.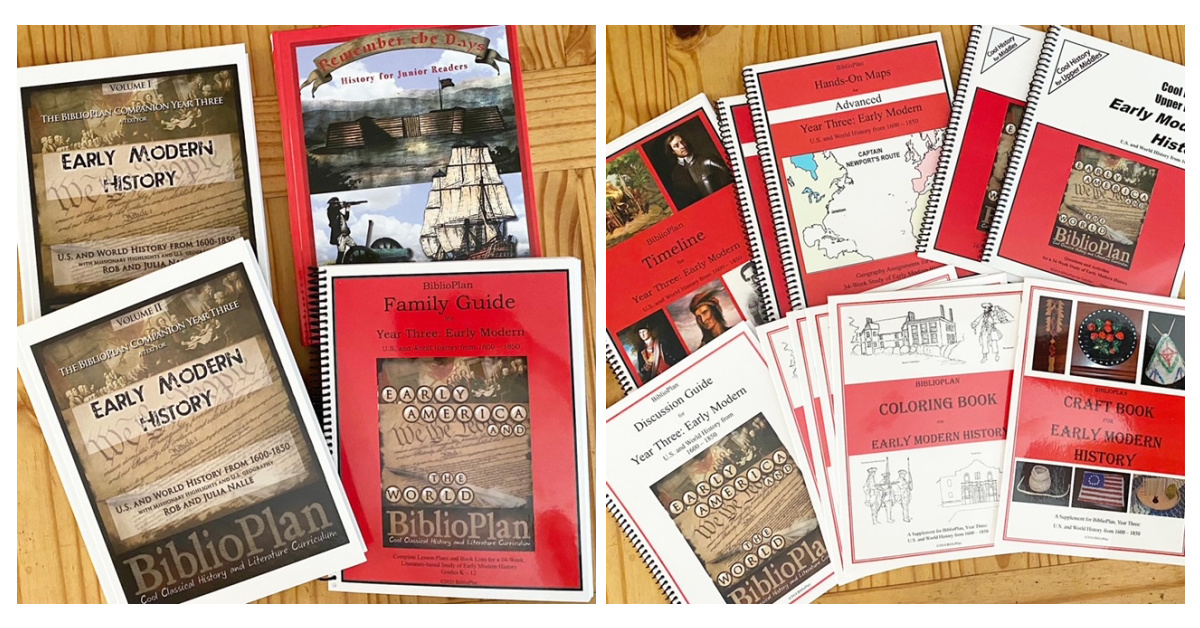 Prairie Primer – When BiblioPlan gets to the time period in history that corresponds with the Laura Ingalls Wilder Little House series, we'll be taking a break from nearly everything else to do an 3-4 month unit study together! We'll be drawing activities and ideas from this Prairie Primer resource pack and whatever other fun resources I find online.
Places, Please! Theatre – This is a subscription box for homeschool families that we enjoyed last year and will continue! It includes bi-monthly boxes full of a script, props, and more to help your kids work together to put on a play.
Masterpiece Society Art – Once a week my daughter and the younger kids will enjoy a selection from the seasonal art projects, drawing lessons, or artist studies. You can find out more here: Individual Courses or Membership (this is what we have – it includes all the courses)
Music in Our Homeschool – We use this as a group resource for hymns, preschool music, music for history, geography, and more. We do about one lesson a week.
Simply Charlotte Mason for group time poetry study, picture study, and Shakespeare.
Looking for more curriculum suggestions?
I hope you find some fun ideas here to explore for 4th grade homeschool curriculum. Let me know if you have any questions. I'm happy to share!
~ Tauna