Disclosure: *This post may include affiliate links. As an affiliate, I earn from qualifying purchases. Read the
disclosures
and
terms
for more information.
Homeschooling mamas often have anxiety about how to teach their kids spelling. When do you start? What method do you use? How can you set your kiddos up for spelling success?
If that's you, you're not alone! Fortunately, there are fantastic homeschool spelling resources to help you and a few of them, in particular, make it to the top of my list. One you'll definitely want to consider is All About Spelling!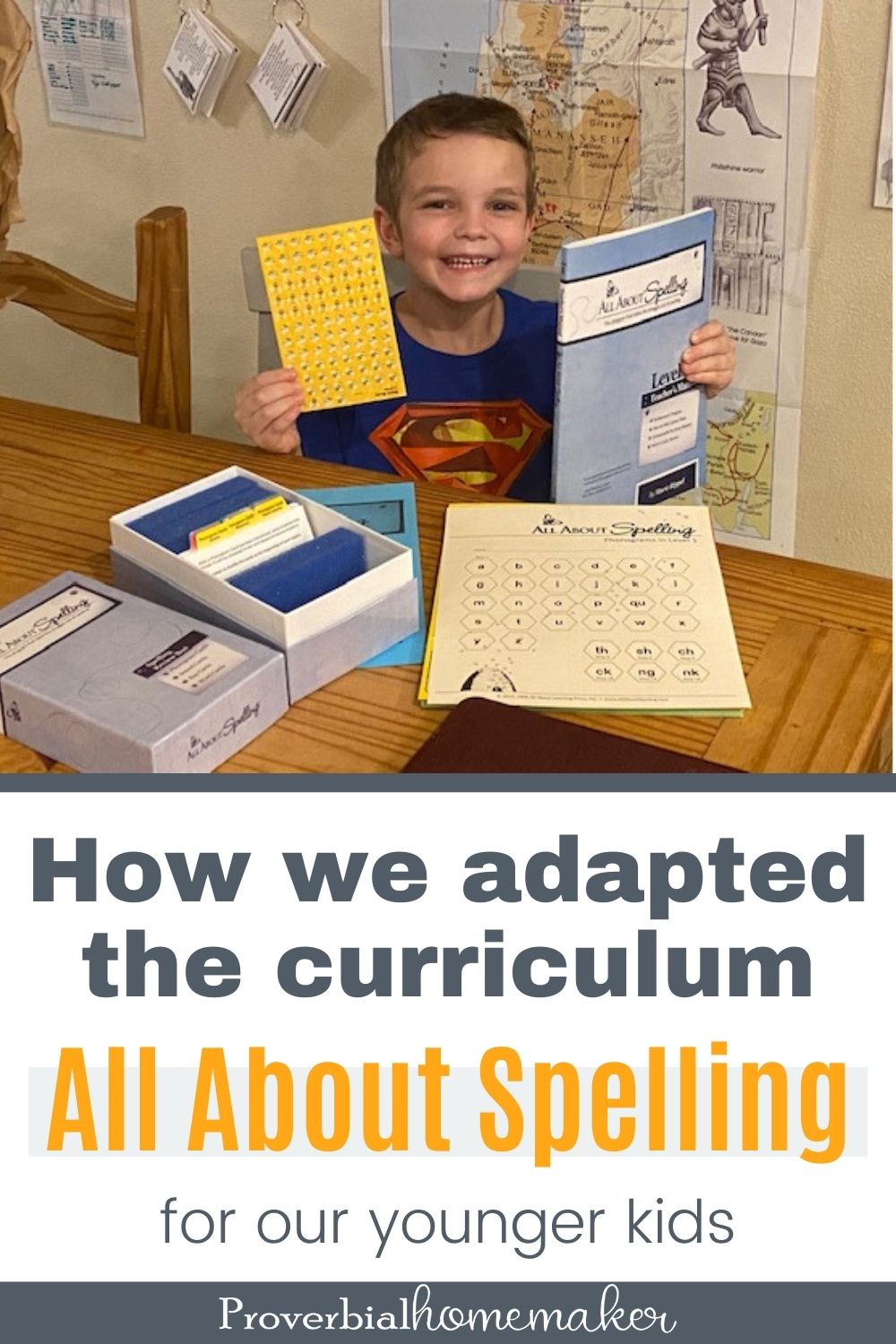 I received All About Spelling Level 1 in exchange for this review, by my request. All opinions are my own.
What is All About Spelling?
All About Spelling is one of the main product lines from the homeschool curriculum company, All About Learning. (They also have All About Reading, which my dyslexic kiddo does particularly well with.)
What makes All About Spelling so special?
It uses the effective Orton-Gillingham method, using a multi-sensory approach along with a focus on rules and phonograms.
It's easy to implement, with a helpful flashcard review system and a step-by-step teacher manual with scripted lessons.
It's hands-on, not only having students write out their spelling words but also using letter tiles to instruct and practice spelling.
They have a 1-Year,

100% money-back

guarantee with lifetime support!
It can be used alone or along with All About Reading.

What I Particularly Like About All About Spelling
I'm a busy homeschool mom who doesn't do well with a lot of prep work and planning. I like things to be open-and-go. All About Spelling was perfectly suited to me in that way.
The program also uses short, interactive lessons. They only take about 15-20 minutes. That means they're less likely to get skipped when the day is getting late or I'm feeling worn down. It's easy to use, so it's more likely to actually get done!
I also appreciate how adaptable All About Spelling is. You can use it for older or younger kids (pre-reader through adult) and they provide great activity ideas and support when you need it.
How I Adapted All About Spelling to Fit Our Needs
Last year 5-year-old asked to do the All About Reading program like his older brother. However, he didn't really need reading instruction (being a bit more advanced) and I didn't want to cause comparison or conflict between the two of them. So I started him with All About Spelling instead!
He was SO excited to get his own flashcards and review box. I got a simple composition notebook for the writing portion and he was ready to go! Normally I don't start formal spelling with kids until they're older, but he was so eager to tackle spelling and have something that just HE did each day, I decided to give it a go.
Here's how we adapted All About Spelling to fit our needs:
Since he was on the younger side, we took our time through the curriculum, splitting lessons into two or even three sessions and spending more time on the practice words/phrases.
We used some of the card review activities and games they suggested to make it more engaging. He loved those!
I never even opened the magnetic letter tiles (I had tried those a few years ago and they were too much for this mama). Instead, we used the fantastic Letter Tiles App. It was SO helpful and he enjoyed using it.
It has been a really effective program for us and I'm seeing his growing spelling skills show up in other areas. I plan to use it with my other son who is using the All About Reading program as a helpful reinforcement of what he's learning there, as well as to build his spelling skills.
Get Started With All About Spelling
All About Spelling has 7 levels that your children can work through at their own pace. Here's what you need to do to get started:
Once you get the review box set up and have read the intro information, you're ready to go!
Happy homeschooling, friends!
~ Tauna
You Might Also Like…