Valentine's Day is coming up! Teaching our children to love each other and be kind, considerate, and compassionate is something we all want to do. You are going to LOVE this adorable printable pack with activities and a bible study that will teach kids kindness and bless your family this season! The Kindness Printable Pack includes random acts of kindness, scripture cards, Bible study activities, and more!
'Kindness' is not something that just happens. It is an attitude of the heart that needs to be demonstrated and practiced. Children are prone to do what they see and hear. They need to develop a kind heart and one of the best ways to do this is by reading the stories and example of kindness in the Bible. This Kindness Printable Pack will help create family opportunities for you to learn and practice kindness.

Disclosure: *This post may include affiliate links. As an affiliate, I earn from qualifying purchases. Read the disclosures and terms for more information.
"People should see kindness in your face, your eyes, in your smile."—Mother Teresa
In this 83-page printable pack, you will find many activities for a variety of ages. First, for the younger children, you will find:
Size Sequencing Cards – As they place them in order from smallest to biggest or vice versa, you can talk with them about the different ways they can show kindness to others.
Puzzles – Using the same pictures as the Size Sequencing Cards, these 3-part puzzles are so much fun.
Kindness Word Search – Learn new words relating to kindness and then find then in the word search. You can also look these words up in the dictionary for extra learning.
For the older children, you will find:
Writing Pages – These pages allow the children to write a few sentences about each way they can show kindness, what this attribute means to them or ways and people they can show this to others.
The Parable of the Good Samaritan – This parable can be read to all the family. There are a couple of question and answer pages about this parable which will make the older children dig deeper into God's Word.
For a variety of ages, you will find:
Random Acts of Kindness Cards – A great way of showing kindness to others is by completing random acts of kindness. While doing this, your children will also learn about empathy and how to serve others. They will also be inspired and encouraged to make a positive difference in their corner of the world.
Kindness Bible Verse Cards – These are great Bible Verses that the whole family will enjoy learning and memorizing together.
Kind Poster – This poster explains what being kind means and how to be kind to others.
Flashcards – These flashcard represent some acts of kindness and can be used for games such as memory/fish, and for handwriting practice. They are also a great way to help younger children learn some ways they can show kindness to others.
Bible Verses Copywork – These are the same Bible Verses as the Bible Verse Cards. There are two types of lines, one for the younger children and one for the older ones to copy these inspiring verses.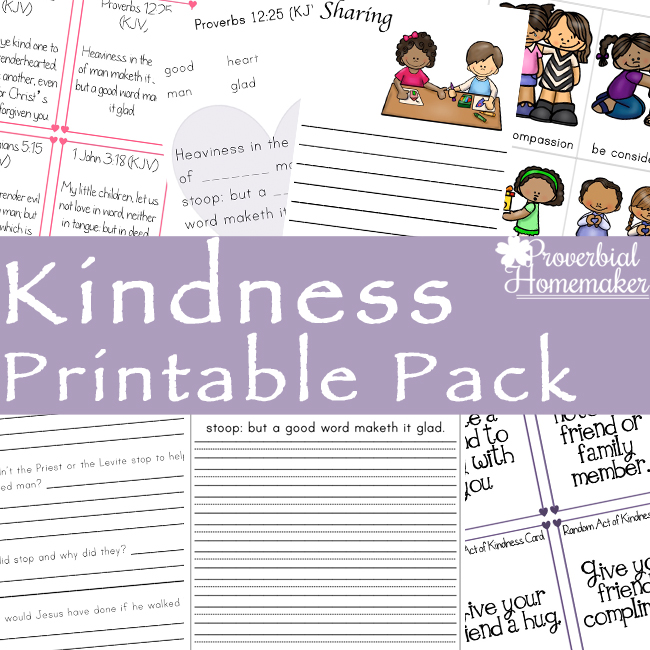 Get the Kindness Printable Pack
To get your Kindness Printable Pack, click here. Note: The freebie period for this offer has ended.