I have been on the hunt for a homemaking planner that perfectly fits the needs of the domestically challenged homemaker. Why? Because I am one! There are so many great planners out there to try, but trust me when I say that they will soon be abandoned if they are not suited to your unique needs and challenges.
Well, the wait is over! I have designed a simple and flexible homemaking planner that is individualized and ready to take you into a new phase of your homemaking journey.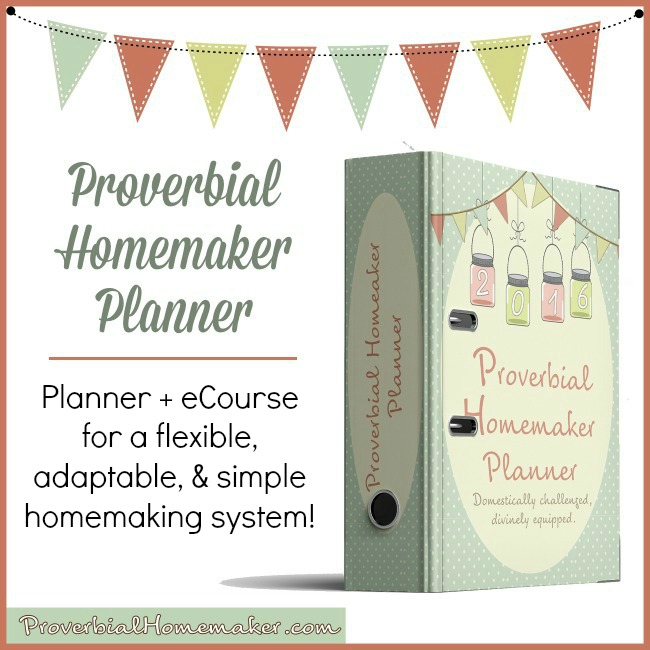 Disclosure: *This post may include affiliate links. As an affiliate, I earn from qualifying purchases. Read the disclosures and terms for more information.
The Proverbial Homemaker Planner is unique in that it is a very simple but effective homemaking system that takes your priorities, needs, and challenges into consideration and provides an individualized solution. There are no extra pages or fluff. It's just what you absolutely need to make planning and daily homemaking more orderly and efficient. Being the domestically challenged type, I find that very important.
You will love the beautiful design and easy layout of this homemaking planner. Download it and print it for use in a standard 8.5 x 11 binder or scale it for use in your preferred size. Single-sided printing is recommended so you can easily move the order of the pages based on your preferences. You may even decide to laminate a few of the pages for easier planning and re-use.

Here's what you'll find in the Proverbial Homemaker Planner:
Set your homemaking vision
Evaluate your priorities and routines
Create a flexible weekly schedule
Cultivate good homemaking habits
Set goals and track progress
Plan with monthly calendars
Set a customized cleaning schedule
Tackle your work with weekly and daily planners
There is so much value and flexibility wrapped up in this simple homemaking planner and I can't wait to join you in the journey!
I know the struggle of keeping home when you are facing a giant learning curve, a lifetime of bad habits, and a busy life with precious littles running underfoot. This planner and ecourse is a labor of love (and a few tears as I worked it out in my own home) and I truly hope it blesses you!
Proverbial Homemaker Planner & eCourse
Your Proverbial Homemaker Planner comes with an eCourse that walks you through setting up this system so that it REALLY sticks.
Why take the eCourse instead of just printing the planner and getting started? Nobody has time (let alone the mental and emotional energy) to set up a planner only to have it fail again. If you want this to work for you, I highly recommend taking the time to work through the ecourse! You'll have chance to watch videos, ask questions, and get more helpful resources at the end.