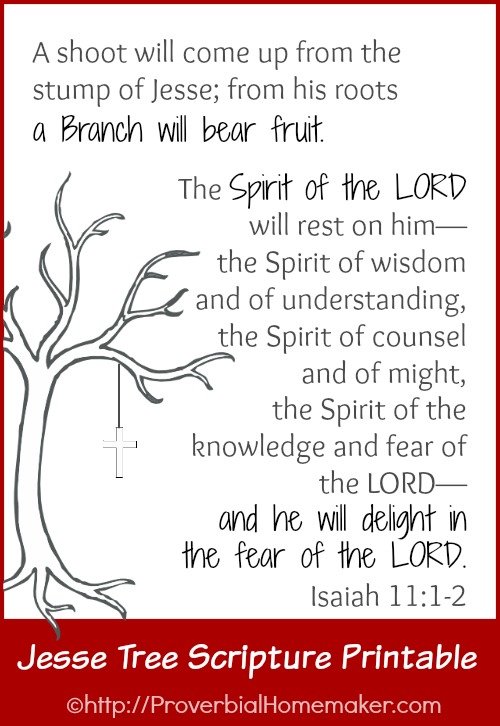 The Jesse Tree is our favorite advent activity every Christmas season.
The tradition is based on this passage in Isaiah:
A shoot will come up from the stump of Jesse;
from his roots a Branch will bear fruit.
The Spirit of the LORD will rest on him—
the Spirit of wisdom and of understanding,
the Spirit of counsel and of might,
the Spirit of the knowledge and fear of the LORD—
and he will delight in the fear of the LORD. – Isaiah 11:1-2
Jesse Tree Series
All during November this year, we will be focusing on the Jesse Tree here at Proverbial Homemaker! There will be giveaways (starting tomorrow!), freebies, resources and inspiration to help you find the right Jesse Tree tradition for your family.
For the latest in the series, keep an eye on the new Jesse Tree page.
Today we're starting off a little early with this printable scripture poster that you can frame. I hope it helps remind you of the hope that is Jesus Christ and the joy of His coming!
FREE Jesse Tree Scripture Printable
Download the Jesse Tree Scripture Print
*Your download link will be emailed to you and you will be subscribed to Proverbial Homemaker if you aren't already. Be sure to check your spam/promotions folder.
If you have any issues, check out this
troubleshooting guide
or feel free to
email me
!