Have you heard of the Jesse Tree? It is a wonderful and simple tradition that helps your family focus on Christ and the big-picture, God-history view of the holiday. Our family has enjoyed many different ways of doing the Jesse Tree over the years!
Here, I'm sharing a fun system you can use with your kids for an easy start to the Jesse Tree tradition!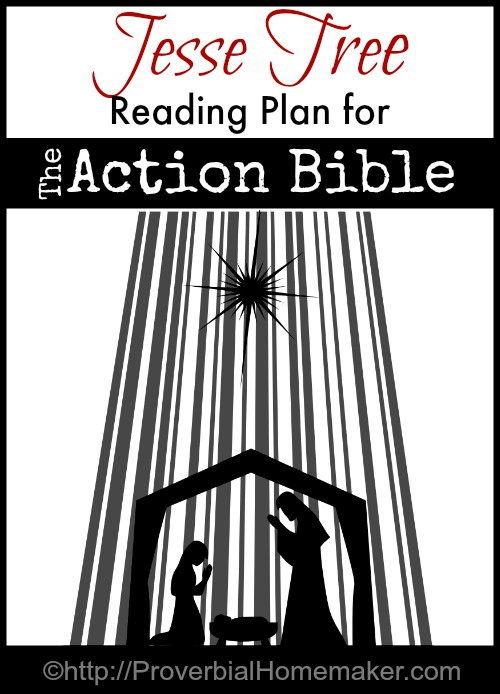 Disclosure: *This post may include affiliate links. As an affiliate, I earn from qualifying purchases. Read the disclosures and terms for more information.
What is the Action Bible?
My kids love The Action Bible! It is a graphic novel version of the Bible that they enjoy reading for fun. Of course, they read straight from the scripture as well, but we enjoy having this book in our home, too.
The Action Bible: God's Redemptive Story (Picture Bible)
A few years ago I decided to make a little Action Bible reading plan for the kids to go along with our Jesse Tree activities. They enjoy using it along with our Jesse Tree LEGO challenge as well.
What is the Jesse Tree?
The Jesse Tree is a story that is pieced together every day during advent, bringing about a complete picture of Jesus. Every day, a special ornament is put on the tree. The ornaments represent stories from the Old and New Testaments that tell of Christ, our Savior. This activity tells the entire Christmas story – the 4,000 year long redemption plan of God!
The tradition is called the Jesse Tree in reference to Isaiah 11:1-2. God's people were living in exile and separation from God. They were as a stump, cut away and bare.
Want more information and resources? Find out here.
Download the Jesse Tree Reading Plan for the Action Bible!
The Jesse Tree Reading Plan for the Action Bible includes printable ornaments, drawing/comic creation challenges, and a reading plan to use with the Jesse Tree. The readings start December 1 but you can play a little catch up if needed. You can use them with on their own, with your existing Jesse Tree ornaments, or use the printable ornaments included.
Download the Jesse Tree Action Bible Reading Plan
Your download link will be emailed to you and you will be subscribed to Proverbial Homemaker if you aren't already. Be sure to check your spam/promotions folder. If you have any issues, check out this troubleshooting guide or feel free to email me!
Have a GREAT time with your kids this Christmas as you build fun memories together and focus on Jesus!
You Might Also Like…