Disclosure: *This post may include affiliate links. As an affiliate, I earn from qualifying purchases. Read the
disclosures
and
terms
for more information.
Most homeschool moms love to talk about curriculum. It's fun! So many interesting options to research, angles to consider, and deals to find. However, some people are just overwhelmed by all the options. And regardless of how you feel about curriculum, almost everyone occasionally exhausts and confuses themselves by trying to find that "perfect" curriculum, especially in the early years of homeschooling.
Now, there are some ways you can narrow down your options to find materials and curriculum that fit your homeschool well. We're going to cover those here. But it's important to remember that finding the perfect curriculum isn't actually the goal. So here are a few things to keep in mind:
There's no perfect curriculum. (I know… I'm saying it again.)
Your current goals, needs, and priorities matter. They'll likely change over time. That's ok.
The curriculum you use and the way you teach will also change over time. That's ok, too.
Prayerfully choose materials that seem like a good fit. (We'll cover steps for doing that in this article.)
You are going to do great. Rest knowing that the Lord will give you all you need to educate your children well.
Alright, breathe, homeschool mom! Let's walk through some steps on how to choose great curriculum for your homeschool year. 🙌
How to Choose Homeschool Curriculum
Ok, so we now know that no curriculum is "perfect" for everyone all the time. But there are some ways to find the ones that are perfect for what you need right now. Here are the steps to take:
Decide What to Teach (& review your state's homeschool laws)
Depending on where you live, your state may have specific requirements about what subjects you must teach. So, first make sure you know what your state homeschool laws are. For example, teaching math, language arts, and civics may be required.
Other than that, you get to decide what is best to teach your child based on your goals and your child's developmental stage. This can vary depending on the homeschool method you choose (which we'll discuss next) or your general educational philosophy.
Here's what our family does:
Preschool and kinder don't need curriculum, but we'll use some for fun sometimes or when they want to "do school."
Start teaching reading and writing when they show readiness (pretend reading/writing, ask to read and write, etc.)
1st-ish grade and up – reading, handwriting, and math. Everything else covered by fun experiments, nature studies, read alouds, and oral narration (a Charlotte Mason technique).
3rd/4th grader – add dictation and notebooking for language arts skills, and let them add their own electives.
6th/7th and up – formal writing curriculum if needed, and have them start working into middle school science courses
High school – add logic, speaking, government/civics, and foreign language. That's the plan anyway. Our oldest is in 7th. 🙂
Obviously, what you choose to do as far as scope and sequence can vary. Perhaps you want to do a more traditional approach. You do you!
[Read: Our Current Curriculum Choices]
Identify Your Homeschool Method/Style
One of the best ways to narrow your curriculum search is to know your homeschool method or style. There are several to consider. Again, there's no picking the "right" one as much as seeing which one fits your preferences and vision most, and then using that as a way to narrow down your homeschool curriculum choices and activities.
Traditional: Uses textbooks, workbooks, and tests. Traditional homeschooling most closely mimics public and private school teaching.
Classical: Teaches children using a liberal arts education focusing on "Great Books" and classical literature OR teaches children in three stages (called the Trivium): Grammar, Logic, and Rhetoric.
Charlotte Mason: Uses living (real) books, not textbooks. Learning through narration, copy work, dictation, and real-life experiences. Emphasizes habit training, short lessons, and nature study.
Unit Studies: The whole family learns together. Thematic teaching of multiple subjects to multiple ages at the same time. Uses a lot of hands-on and multi-sensory activities.
Unschooling: Emphasizes child-led learning where the child decides what and when they learn. Does not usually follow a strict schedule or a specific curriculum.
And many more! See a complete summary of several homeschool methods here, including reasons why they might fit your style.
There are multiple curriculum options for each of these styles, so if you know your style then you can narrow your focus to the curriculums that align with it. My only caution is to not become locked into a particular method. There are benefits to many styles and you can certainly draw from several! This eclectic approach is what most homeschoolers eventually land in.
[Read: Homeschool Methods and Styles]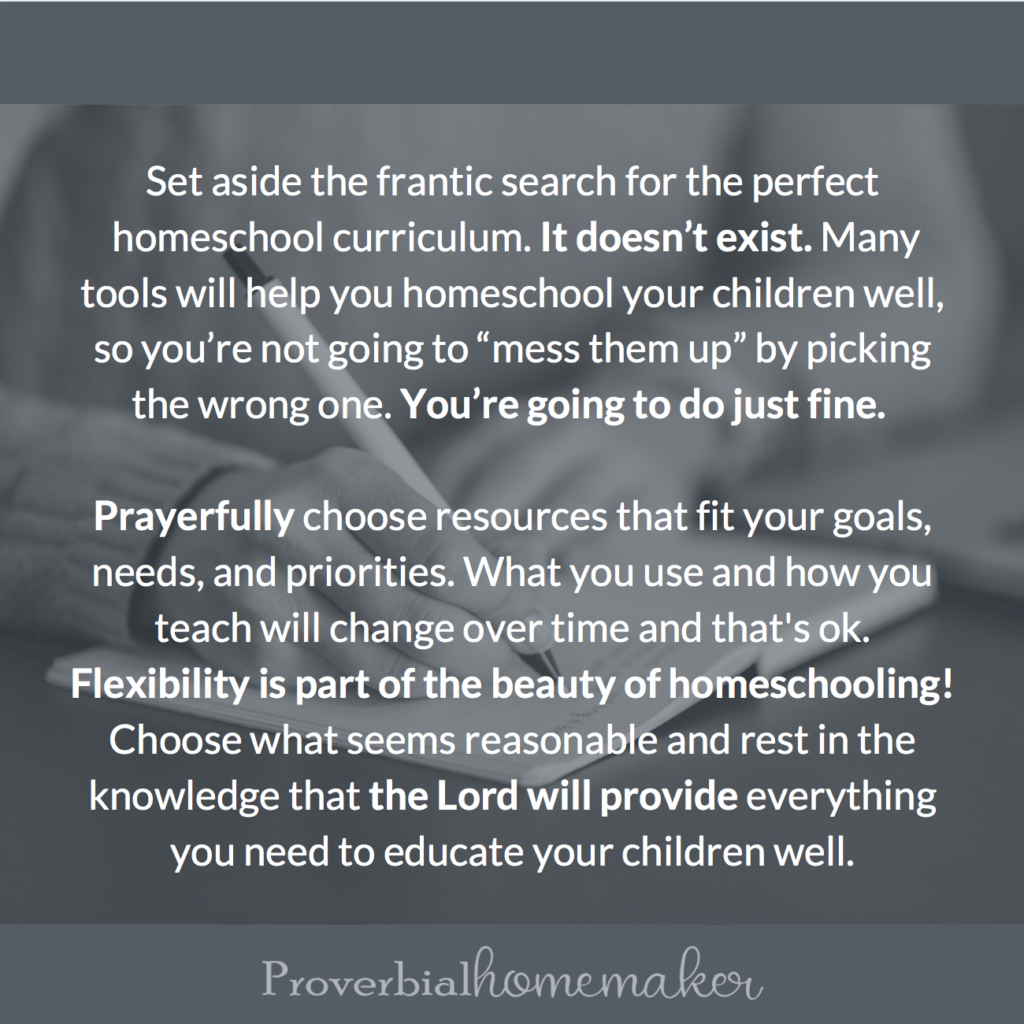 Take Note of Learning Styles and Needs
If you have children with special needs then you can find curriculum to help teach them well. You will also want to consider your children's learning styles. Many kids are dominant in a particular learning style (auditory, kinesthetic, or visual).
Observing your child and identifying their main learning style will help a lot when you hit a rough patch. For example, one of my sons is a strong auditory learner. When he needed some extra help with spelling, I intentionally looked for spelling curriculum (IEW Phonetic Zoo) that fit his auditory learning style. It works well for him!
I don't think you need to only buy curriculum that fits your children's learning style, however. I teach multiple ages and like to teach some subjects as a group. So I choose a curriculum that fits my goals and then, when needed for a particular child, add some elements to our curriculum to fit their learning style. For example, we do group history with Biblioplan. I use the audiobook of the text for my auditory learner, have my visual learner draw something based on our read alouds, incorporate history crafts and games for my hands-on learners, etc. There's also something to be said for children learning to learn with other styles!
[Read: Homeschool Learning Styles]
Jot Down your Preferences and Teaching Style
When choosing curriculum, you'll want to consider your "why" for homeschooling — your homeschool vision and goals. Having a clear vision in mind helps you narrow down the curriculum options. Your teaching style, logistical needs, and personal preferences can also come into play.
Take a moment and jot down what these factors might be. These definitely will vary by subject.
Do you prefer online or paper curriculum?
How much planning and preparation can you accommodate? Do you want open-and-go or to create the plans or curriculum yourself?
What level of teacher involvement in each lesson? Completely independent? Some involvement? Or direct teaching of the lessons?
Does worldview matter to you?
Do you want to do more multi-level teaching for certain subjects?
Do you want to get involved with a co-op or support group, or outsource upper level courses?
As an example, here's what our homeschool is like:
We prefer a strong Christian worldview and most of our curriculum is designed for it.
I don't like lots of prep and planning, so most of my curriculum choices are open-and-go where we can just pick up that day and do the next thing.
I also don't like following other people's plans or schedules 😉 so I tend to ignore charts and checklists, and won't join a co-op.
We prefer paper instead of online learning for core subjects (due to connection issues, better retention, less screen time, etc.)
I like to do multi-level teaching for Bible, history, literature, geography, nature study, and enrichment subjects (art, poetry, music, etc.)
My kids work mostly independently at their level for math, handwriting, and some language arts pieces. My middle schoolers start doing independent science and electives as well.
It actually really helps to keep a running list of these preferences so that you can remind yourself of them when you are curriculum shopping. No matter how shiny and popular a curriculum is, it's a waste of time and money if it's not a good fit for you
---
A Flexible Planner for a Relaxed Homeschool Year!
Get help crafting your homeschool vision, goals, routines, and more with the Rhythms & Routines Homeschool Planning System! This customizable planner and video course will guide you through all the steps of creating a system that works best for YOU and your unique homeschool needs. Includes a curriculum planning sheet!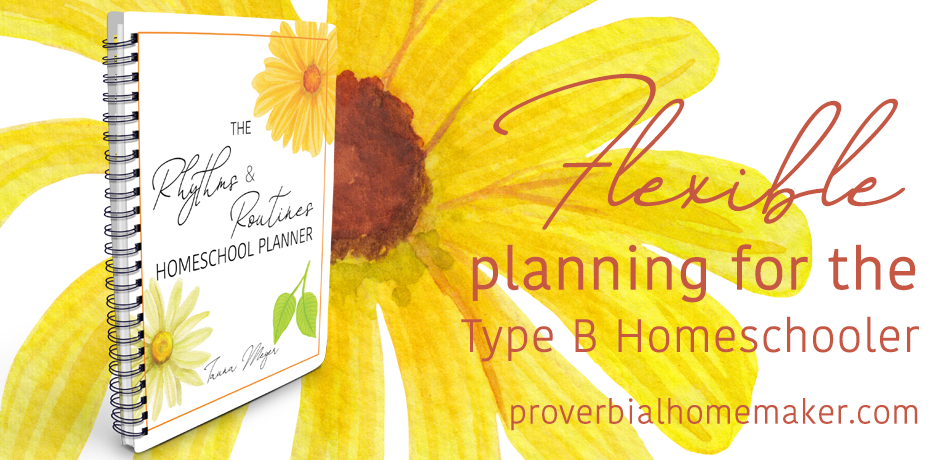 ---
Set a Reasonable Budget
Your budget is also a determining factor for which curriculum you use. Most boxed curriculums that include material for every subject are usually very expensive. But the trade-off is saved time and sanity with shopping and planning. Buying resources individually can also add up quickly, too. This is why it is important for you to know what your budget is.
Some curricula may be out of your price range and that's okay. There are plenty of other options (including free ones) and you may very well try that one later on in your homeschool journey! We started out with free and frugal and then over time invested in resources that were important to us.
However, if you do have your heart set on a specific curriculum there are ways to get curriculum cheaper. You can buy used curriculum at conferences (vendors often run specials in their booths as well), through local support groups, in Facebook groups, on Amazon or eBay, on Homeschool Classifieds, through Homeschool Buyers Co-Op, and more. Check Thrifty Books as well. Also watch for sales from your favorite curriculum publishers. They often run them during back to school time or during Black Friday. Sign up for their email list and keep an eye out for sales or discounts.
[Read: How to Homeschool for Free]
Evaluate Curriculum Options
Now you're ready to take this information as your filter and start evaluating homeschool curricula. For each curriculum option, check out the product pages, samples, placement tests if applicable, and any reviews you can find. Do keep in mind that there are pros and cons for EVERY curriculum, so take glowing reviews as well as the haters with a grain of salt.
For each curriculum, check the following:
Is it in your budget?
Does it align with your teaching style / homeschool method?
Does it fit your goals and preferences?
Does it fit your child's learning style or needs?
Hold Your Plans Loosely
Choosing your homeschool curriculum can be both exciting and overwhelming. Using the guidelines outlined above can simplify the process and help you select a curriculum that will be the best fit for your family.
A word of caution. Hold your curriculum loosely. Your curriculum is a tool to help you homeschool, it is not your master. Don't be afraid to tweak a curriculum to fit your family or to even stop using a curriculum if it is not working.
[Read: Using Rhythms & Routines for Homeschool Planning]
Rest in the Lord
Set aside the frantic search for the perfect homeschool curriculum. It doesn't exist. Many tools will help you homeschool your children well, so you're not going to "mess them up" by picking the wrong one. You're going to do just fine.
Prayerfully choose resources that fit your goals, needs, and priorities. What you use and how you teach will change over time and that's ok. Flexibility is part of the beauty of homeschooling! Choose what seems reasonable and rest in the knowledge that the Lord will provide everything you need to educate your children well.
[Read: Free Tools for Homeschool Prayer]
Praying you have a blessed homeschool year!
~ Tauna
You Might Also Like…
Wondering how you'll get it all done? Try loop scheduling! I'll tell you how it works and give you a free template to use.