One of my biggest takeaways from our homeschooling experience last year is that I need to overcome the chaos, at least to some extent. First we changed our curriculum and then modified our yearly and weekly schedule. It has helped tremendously!
Still, the daily activities of homeschooling with kids (let alone 5 kids) can get really crazy and I was headed for homeschooling mom burnout. Nobody wants that! So my husband and I took a good hard look at our activities and daily life. We've been taking steps that have us us well on our way to overcoming homeschool chaos.
We should arrive by the time the kids move out.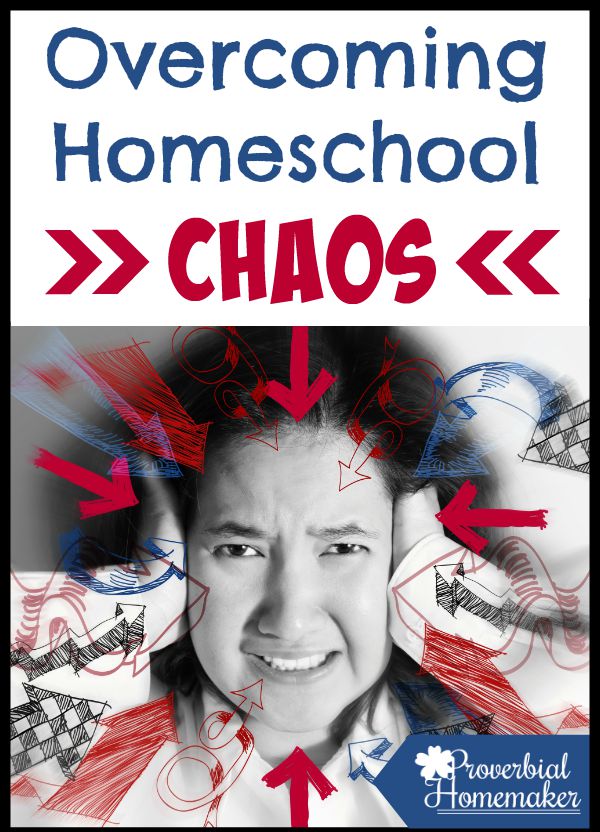 Disclosure: *This post may include affiliate links. As an affiliate, I earn from qualifying purchases. Read the disclosures and terms for more information.

Check out the book Homeschool Successfully When Life Happens! This is packed with tips and wisdom from homeschooling moms who want to set you up for success in the midst of obstacles. I wrote the first chapter which has many more tips and suggestions for homeschooling without chaos!
Focus on Your Family's Need and Direction
Study your own family and be receptive to what God has for you and your family. It is FAR more productive than just studying how-to books or blogs. I'm all about learning things to help you homeschool, but sometimes shutting out the noise is the best thing you can do.
[Tweet "Study your own family and be receptive to what God has for you and your homeschool. "]
Make Bible and Character First
Put God first in your home. You need to spend time in prayer and in God's word in order to survive this, let alone thrive. Your kids need to be in the word with you and on their own. It needs to be a part of your family culture. Pointing them to Jesus and teaching them to walk in His ways with godly instruction and discipline… honestly it's a full time job in itself. Make God first and everything else will fall into place.
Give Your Marriage Priority
If your marriage suffers, your kids will suffer and certainly your homeschool will as well. Before you put any homeschool activities on that calendar make sure there are connection points with your husband. Date nights, physical intimacy, reading a book together, leaving him love notes, planning getaways, making his favorite meals… these are all things that strengthen your marriage. Your kids will feel more secure knowing where that priority lies.
Take Care of Yourself
When I neglect myself, I become lazy or complacent in certain things (ahem… cooking and cleaning) and don't treat them with the love and respect that I want to. Eating well, drinking enough water, exercising, getting enough sleep, getting some "down time" in our day and week. These are things that help us to function at our best for our family. You are serving your family by taking care of yourself. Time for a pedicure! WOOT! Just kidding. 🙂 Mostly.
[Tweet "Saying no to some outside commitments may mean saying yes to homeschool peace. "]
Examine Other Commitments
Only careful thought and prayer can help you make decisions about outside commitments and whether they are right for your family. Allow God to call the shots in your home. He may lead you to take on opportunities in some seasons and to let them go in others. The same goes for some of those great social and learning activities that come along! Prayerfully consider each one and re-evaluate those you've already taken. Saying no to some outside commitments may mean saying yes to homeschool peace.
Establish Your Family's Weekly Rhythm
I often mention the weekly rhythm idea because it has been so instrumental in protecting our family's time and priorities. A weekly rhythm may be the first planning task you should do if things are chaotic and you can't seem to get a hold on them. Sit down and plan out all the things you want to accomplish as a family and in your homeschooling and compare it to the time you have. Fill in the slots and adjust until you have a weekly rhythm that fits your needs. Homeschooling is just a part of that!
[Tweet "The way essential oils influence our moods and bodies can help us a lot in our homeschooling."]
Create a More Peaceful Environment
In the midst of homeschooling, the toddler will melt down and the baby will need nursing. There are days where everyone is just going nuts. It happens! But there are a few things I have learned that really do help maintain a more peaceful environment.
Music – calm music playing in the background. I like classical or calm worship music. If everyone's cranky, I'll put on something fun.
Essential oils – The way essential oils influence our moods and bodies can help us a lot in our homeschooling. Diffuse Peace and Quiet to calm things down, Attention Assist to focus, citrus for a boost, and lavender for any reason whatsoever. Our AromaCloud diffuser is going every day. (Try Rocky Mountain Oils (formerly Native American Nutritionals – they have free shipping and a 90-day money back guarantee!)
Physical activity – make sure they get lots of physical activity. Mine run sprints up and down the stairs when they can't seem to focus on math or are having an attitude problem. Push-ups too. Play outside as much as possible. Get an indoor trampoline. Just trust me.
Siesta – a nap or quiet time for ALL the family members is important. It's not always easy, but keep trying new things until you find a system that works.
Expectations – they know what the day will be like and what we do each day of the week. That brings their little hearts a lot of peace and I have to answer less questions.
Reasonable order – keeping the house reasonably clean and orderly goes a long way. This is another hard one, but keep working at finding a simple weekly and daily cleaning routine (and train the kids) and things will start to smooth out here.
Continually Evaluate and Adjust
Don't grow weary of dong good! A lot of the things it takes to overcome chaos in our homeschooling requires thought, planning, and diligence. However, the payoff is fantastic and can really set us and our kids up for success.
YOUR ACTION ITEM: Choose one thing today that is a particular trial or distraction in your homeschool and focus on finding and implementing a solution for it. It may take time – habits are that way – but it's worth the effort!
Hang in there, dear moms! You are doing a wonderful work in the lives of your children.
MORE POSTS YOU'LL LOVE