Disclosure: *This post may include affiliate links. As an affiliate, I earn from qualifying purchases. Read the disclosures and terms for more information.

I have tried the detailed schedules without success. Sadly, winging it also doesn't work.

The best thing I've found is a flexible weekly rhythm for all aspects of my life, accompanied by some set-in-stone routines that preserve the sanity.

We (I) have been off lately in our routines. In an effort to get back on track and share with you what has worked so well for me in the past, I made some pretty printables to help us set ourselves up for success. The canning jars are my favorite! 🙂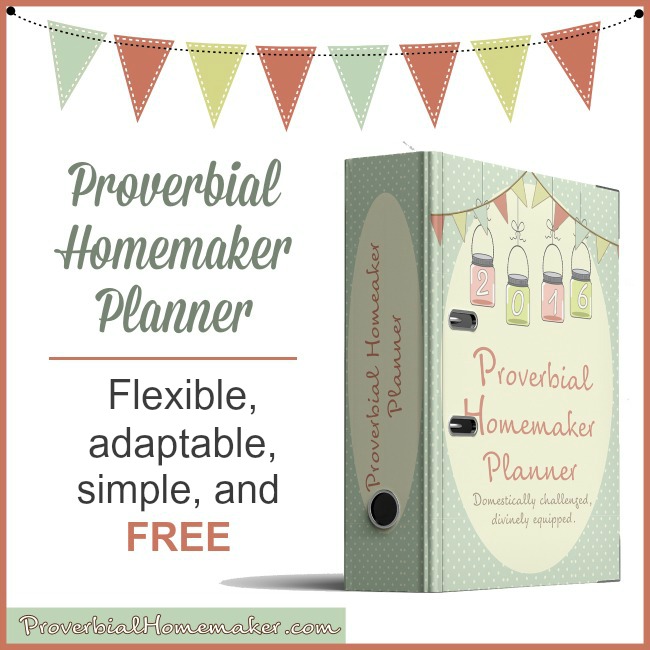 NOTE: I have expanded this printable into a FULL, fillable, homemaking planner with a corresponding ecourse to help you get it all set up! Check out the Proverbial Homemaker Planner & eCourse!
Find Your Weekly Rhythm

The idea is to have a weekly rhythm that captures the tasks that are most important to you but allows for flexibility and "white space."

I have included pictures to show you how I filled out our planning pages. Please use them for inspiration but make them your own! What is important to me may not be important to you and our family cultures are likely different, not to mention our Sun/Mon weekend schedule.
Getting Started
Taking Stock: Brain dump all the things you want to get done in a week. Whittle it down to the most important things. This is a working document, so use pencil!
Weekly Rhythm: Organized by day and time block (no specific times). Plug in the regular activities you already do and then assign one main task to the rest of the time blocks using your Taking Stock sheet. One "must-do" item per block. You can add asterisk items that are details or secondary tasks, but they can be moved around or chucked when life gets busy.
Sealed Routines: A cheat sheet for basic routines you want to practice until they're sealed in.
Cultivate and Preserve: This is new for me and will be laminated or printed each month and filled out with new information. It's a page you can look at every morning as you prepare for the day. It will help you keep your most important goals and routines foremost in your mind.
*Note: Since taking these images, I have changed "homeschooling" in the printables below to "learning" so they are usable by everyone.
Get in the Groove

When all the sheets are filled in, post your Weekly Rhythm and Sealed Routines pages in a place you can easily see and reference throughout the day. If you forget they exist after a while (happens to me all the time) then post them someplace new. I once taped mine to the top of my laptop! If only taping it to my head was a viable option…

Your Cultivate and Preserve page should be read through every morning. Put it somewhere that forces you to look at it: bathroom mirror, with your Bible, on your coffee pot or cup, etc.

Tips for Success
Don't be perfect. Get something workable on paper and then start working it! You can change it over time as you figure out what works!
Be flexible. There will be overlap and things will move around. You won't get everything done every day. It's ok! It's just a tool, so make it work for you.
Identify the optional. I like to put only one "must-do" task in each of the Rhythm time slots and then add asterisk items if they are a detail or add-on task. I want to do the asterisk items, but being flexible means being ok with the days when they don't happen.
Don't do it all. Not everything in your Taking Stock sheet needs to be on your Weekly Rhythm. Sometimes it will show up in a routine or in a focus point on your Cultivate and Preserve sheet. It may also be something you're not ready to do right now and that's ok!
One thing at a time. Pick only one or two good habits to work on every month (on the Cultivate and Preserve sheet). Pick one routine to nail down. Trying to do too many new things at once is the BIGGEST reason why I fail at these efforts.
Download the Weekly Rhythm Printables
Your download link will be emailed to you and you will be subscribed to Proverbial Homemaker if you aren't already. Be sure to check your spam/promotions folder. If you have any issues, check out this troubleshooting guide or feel free to email me!