Disclosure: *This post may include affiliate links. As an affiliate, I earn from qualifying purchases. Read the
disclosures
and
terms
for more information.
Moses was born when his people, the Israelites, were enslaved in Egypt. His mother secretly hid him, eventually placing him in a basket in the Nile River. Even as a small child, God was with him protecting him and giving him the education he would need later in his life.
This Moses and the Ten Commandments Printable Pack teaches kids about the life of Moses, mainly focusing on the Ten Commandments. Moses wasn't a perfect man, but he served a perfect God who was not only completely holy but full of love and mercy for His people. This printable pack is a fun supplement to your Bible studies.

With 107 pages of printable resources, this Moses and the Ten Commandments Printable Pack contains a variety of math and literacy activities for young children.
It contains an overview of the major events in the life of Moses, though the Ten Commandments are focused on the most:
as a baby
being placed in a basket on the river
his sister, Miriam watching out for him
being found by Pharoah's daughter
as a grown man
the burning bush
leading the exodus from Egypt
crossing the Red Sea
the Ten Commandments
This printable pack contains math activities such as size sequencing cards, count and clip cards and number puzzles. It also contains many literacy activities such as alphabet matching cards, spot and dot, word tracing, story writing pages and 3 part cards.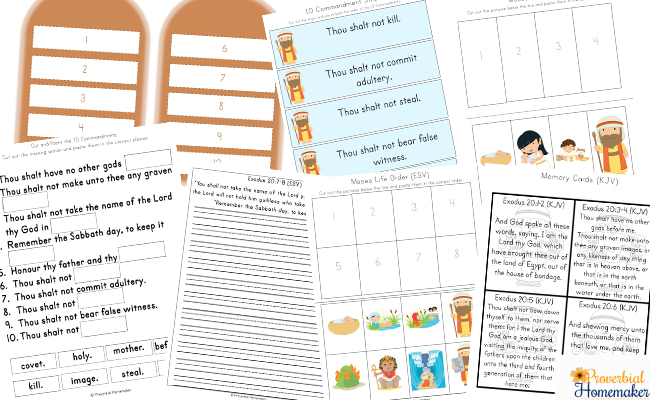 Also included are many Bible themed activities. These include:
Ten Commandment Strips ~ Cut out and use to learn the Ten Commandments in the correct order
Cut and Paste Ten Commandments ~ Cut out the Ten Commandments and paste them on the stones in the correct order
Complete the Ten Commandments ~ Cut and paste the missing words
Ten Commandment Memory Cards ~ These come in both KJV and ESV and are great to memorising the Ten Commandments
Cut and Paste the Life of Moses ~ Cut and paste the events in the correct order
Bible Copywork Pages ~ These pages all relate to the Ten Commandments and are great for copywork and memorisation. These pages come in both KJV and ESV.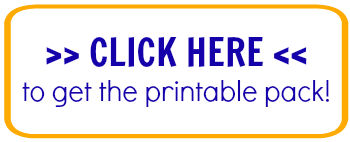 You might Also Like…
Heroes of the Bible Brick Challenge and Character Study