The sermon on the mount, and especially the beatitudes, is one of the most well-known teachings of Jesus. The beatitudes are the statements of blessing that Jesus declares before launching into His sermon. Let's begin taking these words to heart by memorizing The Beatitudes as a family!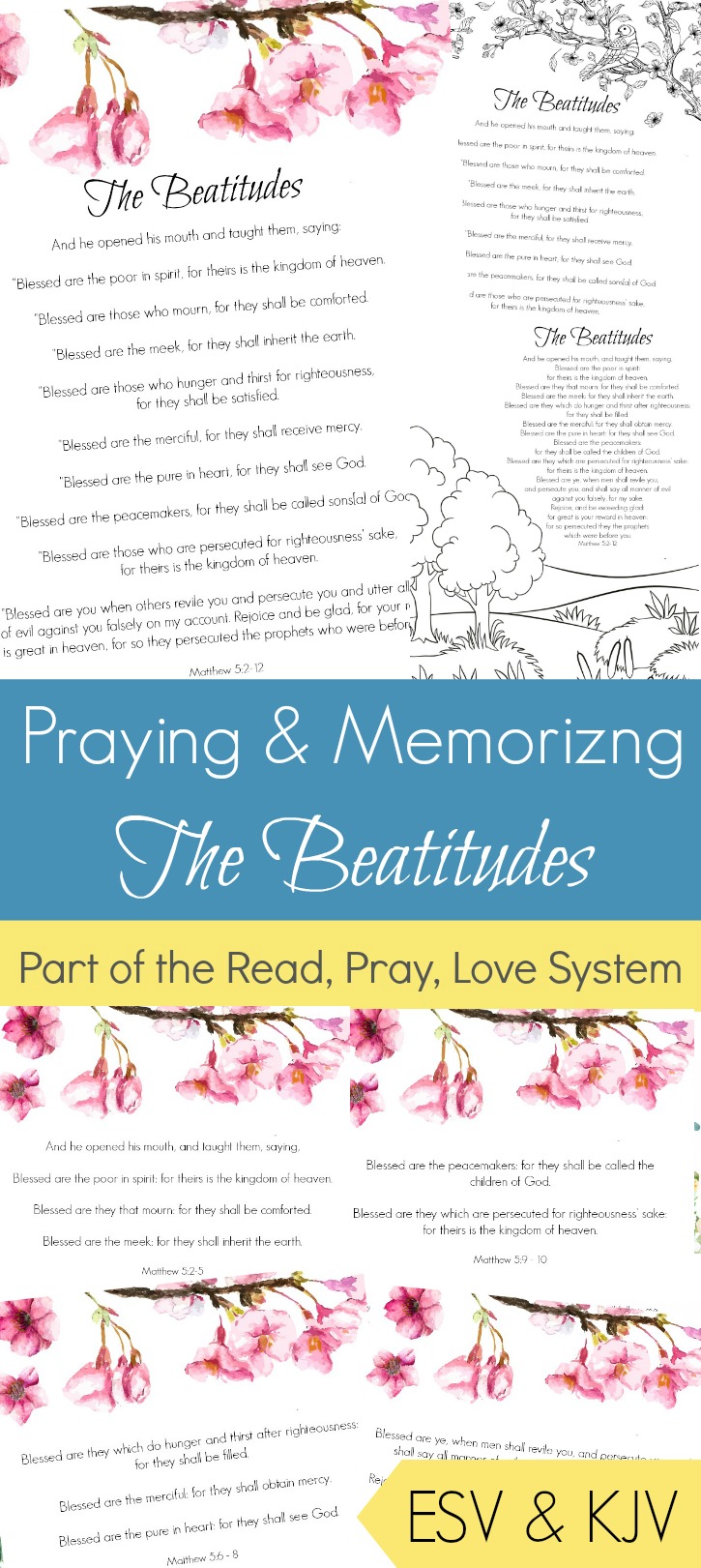 Disclosure: *This post may include affiliate links. As an affiliate, I earn from qualifying purchases. Read the disclosures and terms for more information.
This scripture memory printable and prayer focus is a part of the 2018 Read, Pray, Love system (with comes with monthly printables and prayer binder setup files), but you can use it alone or jump in on our year-long efforts anytime!
As always, the scripture printables are available in ESV and KJV with coloring pages for adults and kids. Download the printable below and get started memorizing it with your family and praying through it! Below are some prayer prompts to get you started.
Don't forget to check out this post for more information on how to memorize scripture with your kids and how we are using these monthly printables to pray diligently for our families!
Praying Through & Memorizing The Beatitudes
(These notes and prayers are also available in the download file.)
The world has its own ideas about what it means to be "blessed" or happy. Here, Jesus is talking about something more. He is talking about spiritual blessedness and riches that have eternal value. They are heart positions that bring us to a place of understanding our need for God and knowing Him more. Is there anything more blessed than that?
Let's pray together through these scriptures as we memorize the verses with our families. You will be blessed by it!
Praying the Beatitudes
Lord, thank You for Your great love for us. Give us understanding and wisdom as we pray and memorize the words of Jesus together.
Help us to be poor in spirit, knowing fully our condition and our great need for you. Help us to truly mourn sin in the world and the sin in our hearts. May we readily repent of our sins and turn to You. Give us comfort when we are in times of sorrow and grief, so that we may comfort others.
Teach us to have humble hearts and meek spirits, looking out for the interests of others and leading by serving well. Give us a great hunger and thirst for righteousness in ourselves and those we are given to teach.
When we come up against persecution or trials for our dedication to You, give us the strength to persevere and trust You with the results, knowing that it will pass, and that the reward in heaven is far more valuable and eternal.
Thank You for Your Word and unending love.
In the name of Jesus we pray, Amen.
Download The Beatitudes RPL Printables