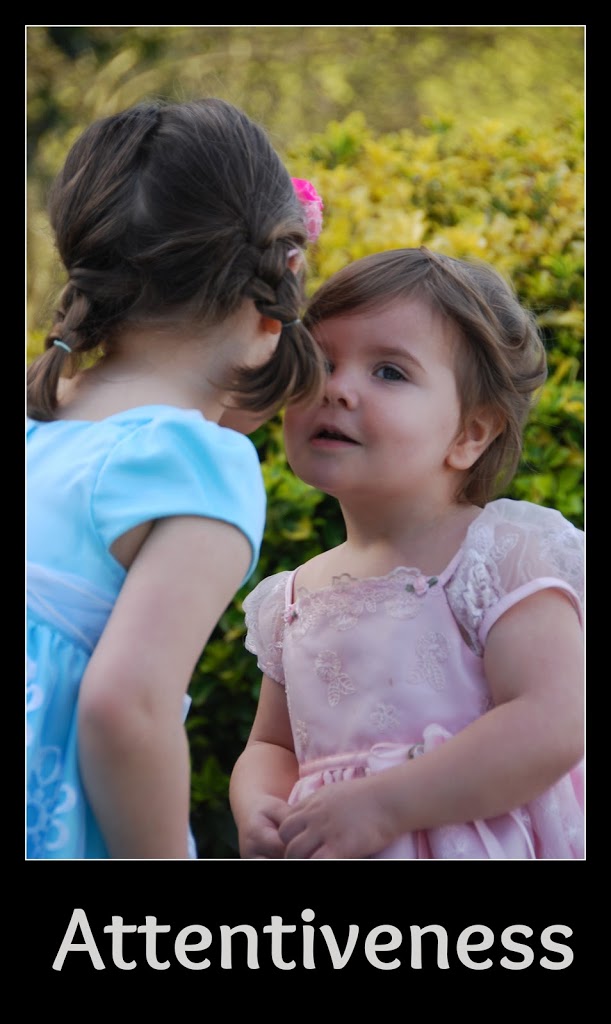 Disclosure: *This post may include affiliate links. As an affiliate, I earn from qualifying purchases. Read the disclosures and terms for more information.


Attentiveness is a great unit study to do with your kids. It is the beginning of obedience and it is necessary for instruction and training.

Teaching your kids the meaning of attentiveness and incorporating the language of these lessons into your daily life will help set them up for success, both inside and outside the home.

Plus, it will help keep you from losing your mind.

Just saying.

Inspiration

Most of the ideas here come from these wonderful resources. I will definitely be using them to teach other character aspects in the future!

Attentiveness Poster

Poster
I used the Attentiveness poster from the Godly Character Traits printout and put it up on our board.

Definition
I ended up changing the definition to the one offered in Character Trails because I thought it fit well and was easier to remember.

Attentiveness: Listening with your eyes, your ears and your heart. We memorized it together using hand motions.

Memory Verse
The verse was Psalm 85:8 and we memorized it using the following hand motions:

"I will hear (hands to ears) what God the Lord (finger pointed to sky) will speak (ASL for "talk" or "speak"). Psalm 85:8″

Bible and Other Stories
Character Trails Story
The Character Trails book has a couple of stories about attentiveness that the kids really loved and wanted read a few times. There was a missionary story as well as one about some kids on a farm. They really enjoyed those!



Samuel
The kids had just learned about Samuel hearing from God in Sunday school, so we read the review story in Character Trails and did a coloring page as well.




Mary and Martha
We read the story of Mary and Martha, reading it in a few different story Bibles and from the actual scriptures as well flannel graph.

We focused on being attentive to the words of Jesus in prayer and reading the Bible first thing instead of being distracted by the rest of the day's activities.




Other Bible Stories
As we were studying attentiveness, we'd read other relevant stories from their Bibles and talk about being attentive to our parents and to Jesus.

For example, the crowds of people who would go listen to Jesus speak had to be very quiet and attentive to hear Him. They knew what He had to say was important.

We also discussed Jesus being our Shepherd and how in order to know His voice we had to be attentive to it (spending time in prayer and reading Bible and listening to wisdom from parents).


My bunny, giraffe, and lion 🙂












Crafts

Animal Ear Headbands
Each of the kids chose what kind of animal they wanted to be and we made some headbands. We wrote our scripture on them and talked about how animals listen carefully for predators or prey. And pets listen to and know their owner's voices. We practiced being animals, of course. 🙂




Attentive Hearts
Then they drew attentive hearts. I drew a large heart for them and they drew in the eyes and ears and mouth. The nose was a cross. We discussed how we have to have a closed mouth and attentive eyes, ears, and hearts in order to hear what our mom and dad or Jesus has for us.


Activities

Freeze Game
We played the freeze game a few times. We'd dance around or act like silly animals (with our hats on) and then I'd say "FREEZE" and whisper some instructions. They LOVED this game. I think with a little more practice, it could be a good way to stop a chaotic moment to gently get their attention when I need it.

Knock Knock Jokes
Knock knock jokes are fun. We spent some time during lunch one day doing knock knock jokes for kids that I found online here and here. When it was their turn to tell the joke, I turned it into part of the lesson by not being attentive. Then we discussed how that made them feel, what I missed, and how critical it is to be attentive especially when something important is being told.

FYI – they're ALL about the interrupting cow joke!

#1: "Knock knock."
#2: "Who's there?"
#1: "Interrupting cow."
#2: "Interrupting cow…"
#1: (Interrupting) "MOOOO!"

Still "funny" for weeks. hehehe. hehe. he.

Life Application

We periodically review the definition and scripture for attentiveness. When the kids aren't being attentive, they may miss out on the current or next activity as a result. Persistent inattentiveness is disciplined the same as for disrespect. I have also been praising them more for when they ARE being attentive.

Sometimes, when we sit down for Bible time, I'll say "let's be attentive to God's True Word." Another good way to say it would be "Let's sit at the feet of Jesus and listen to what He has for us today."

Other Resources and Ideas on Attentiveness: