Looking for ways to make your history lessons a little more fun? Nothing makes a homeschool child's heart sing more than playing good game. So why not use that to your advantage and use homeschool history games for hands-on learning?
In our homeschooling, I've found that games of any type and level of complexity really help to reinforce learning. Kinesthetic learners in particular seem to absorb and retain concepts more when there is a hands-on aspect.
This post is sponsored by Homeschool in the Woods. I have given my honest opinion – we have used this resource in our homeschool for quite a while. 🙂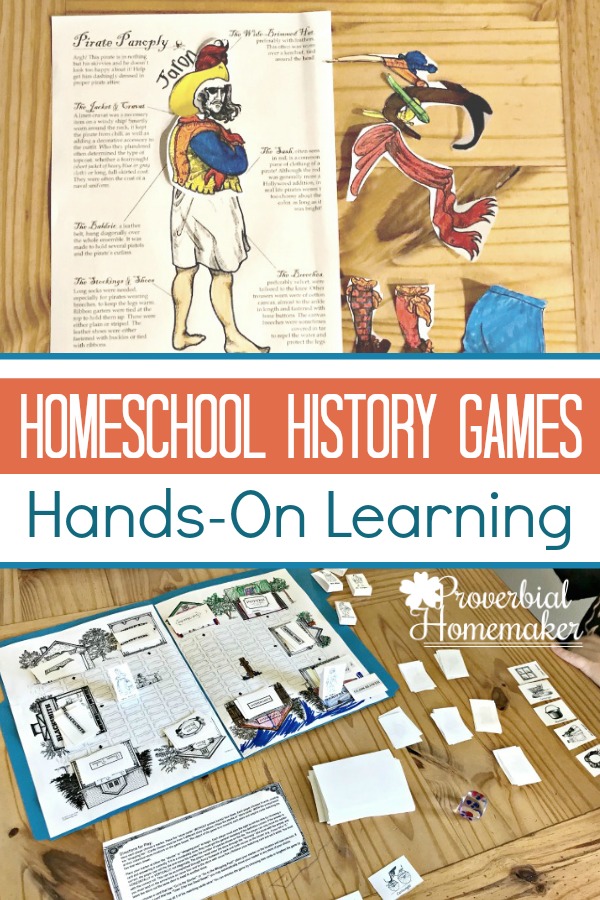 Disclosure: *This post may include affiliate links. As an affiliate, I earn from qualifying purchases. Read the disclosures and terms for more information.
We have a literature-based approach to history that we really love, but adding history games and fun projects to the mix, especially when they help us dig deeper into a topic the kids become interested in, has made our homeschool history program really solid.
We have used Homeschool in the Woods for several pieces of our history experience, including their popular timeline products, but right now my favorite thing is their A La Carte Projects.
If you're familiar with Homeschool in the Woods, you know that their History Studies are massive learning packs covering various time periods and are really detailed and involved. We've gone through one ourselves and loved everything we learned!
However, even if you aren't wanting to take on a complete set of their History Studies you'll love what they have to offer. If you just want to supplement what you're already doing with some fun games and hands-on learning, you're going to love the A La Carte Projects as much as I do.
How We Add Homeschool History Games
Right now we are studying American history as a family and my oldest is also doing some independent study in ancient history. Of course, we also hit Bible times with our regular family Bible studies. There are lots of opportunities to add fun activities!
As we progress with our history studies, reading and discussing great literature, we select from the appropriate time period in the A La Carte Projects section and pick some fun activities. My kids are big on games, so we gravitate toward those.
I play A Trip to Town (our favorite so far) with my oldest two as a fantastic way to explore more about the terms and life of colonial America that we've been reading about as a family. We work our way around the town trying to gather all the items on our shopping list. I've landed in the stocks every game, but…
My oldest and I play Tomb Dash to go along with his ancient Egypt studies, working together against the clock to learn and review facts as we gather artifacts and find our way out.
Everyone got in on Pirate Panoply, although the littles mostly just enjoyed the coloring and talking like a pirate, but we all raced to see who could dress their pirate first as we learned about what they wore. That was totally unrelated to any other studies. We just did it for fun!
Next in our fun learning queue: Geography with the Name That State file folder game, the Passover Seder Game, and some non-game learning activities such as the Old Testament Tribune Newspaper and the Trip West in a Covered Wagon Lap Book.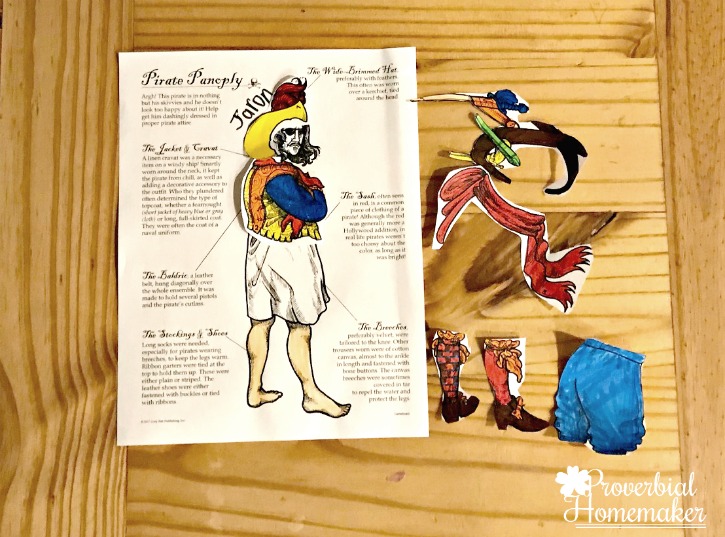 What You'll Find in the A La Carte Projects
There are so many things to explore in each time period. Here are the types of projects you'll find:
Timelines
File Folder Projects
Games and File Folder Games
3-Dimensional Activities
Lap Books
Newspaper Projects
Notebooking Projects
There are many different ways you could use the A La Carte Projects at Homeschool in the Woods. You could add fun to your history studies like we do, enrich your Bible studies, or put together a fun game-based summer homeschool program!
You Might Also Like…
Our Switch to Living Books for History