Disclosure: *This post may include affiliate links. As an affiliate, I earn from qualifying purchases. Read the
disclosures
and
terms
for more information.
Teach kids about God's plan for family with 9 Bible verses about family love. AND, grab a free printable on Bible verses about family!
This helpful post was written by Danika Cooley, author of Bible Road Trip and several books including the new Help Your Kids Learn and Love the Bible!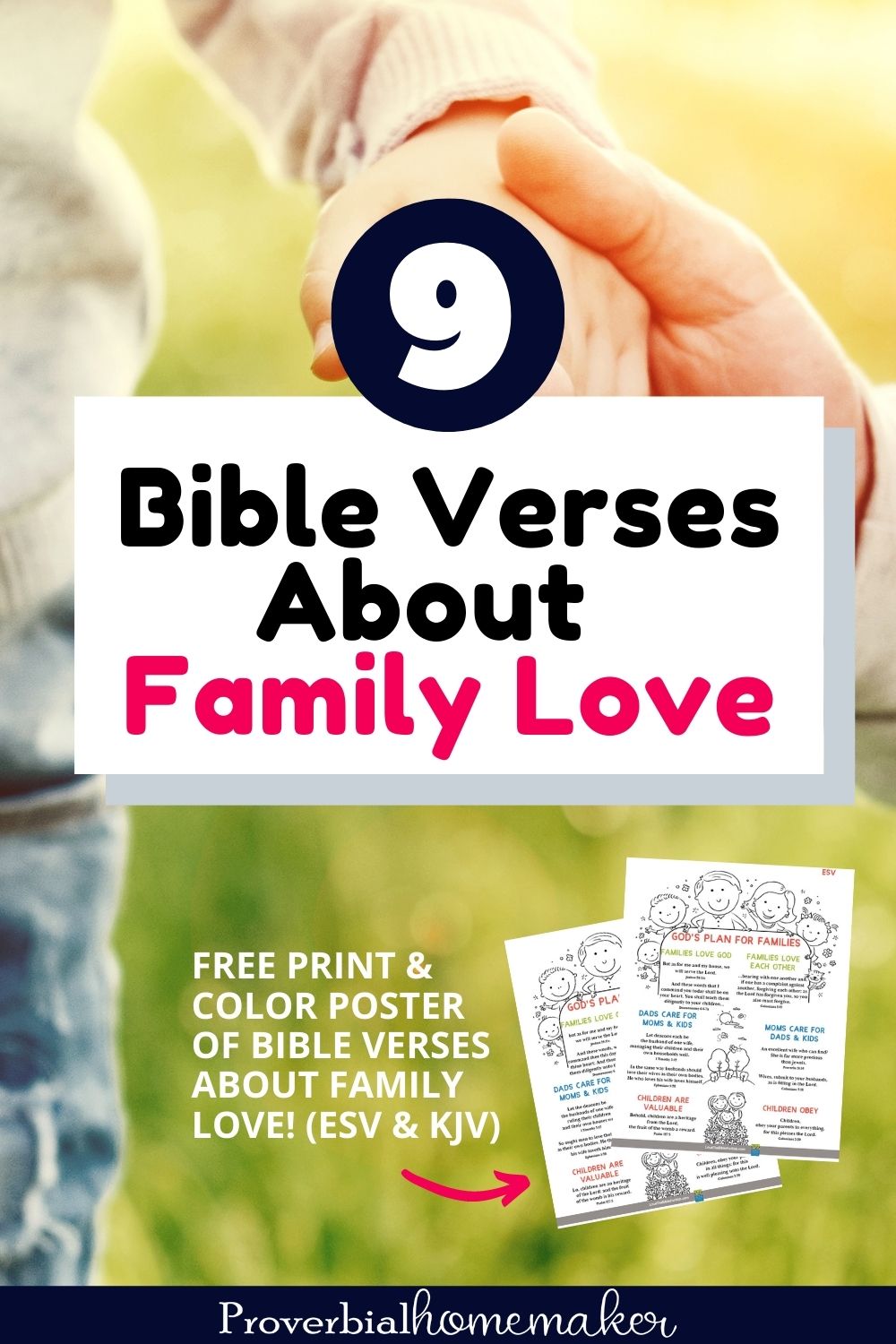 God's Word is pretty amazing. In it, the Lord tells us about himself, our need for salvation, and his commands for followers of Jesus.
God also tells us about his plan and design for many institutions–including the family.
Our kids benefit from understanding God's great plan for the family and their role in loving unit the Lord established to protect kids. Below are nine Bible verses about family love. You'll find a free printable poster at the end that your kids can color!
Bible Verses about Family Love
Families Love God
But as for me and my house, we will serve the Lord. – Joshua 24:15c, ESV
It is good and right for families to choose to honor and serve God. We can live for Jesus together in the family God placed us in.
And these words that I command you today shall be on your heart. You shall teach them diligently to your children… – Deuteronomy 6:6-7a, ESV
Families who honor and serve God together also study his Word, the Bible, together. It's one of the most important things we do together!
Families Love Each Other
Put on then, as God's chosen ones, holy and beloved, compassionate hearts, kindness, humility, meekness, and patience, bearing with one another and, if one has a complaint against another, forgiving each other; as the Lord has forgiven you, so you also must forgive. – Colossians 3:12-13, ESV
As followers of Jesus, we love others–bearing with each other and forgiving each other. That's really important in a family, when we spend so much time together! We can love God by becoming compassionate, kind, humble, meek, and patience. God gives us the perfect opportunity to practice the fruit of the Spirit–on our family members.
---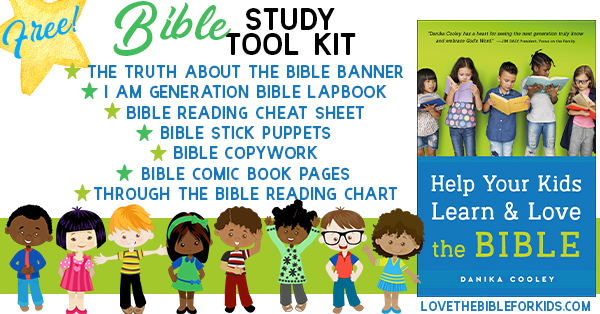 Grab your FREE Bible Study Tool Kit–over 130 pages of Bible resources for your family!
---
Dads Care for Moms and Kids
Let deacons each be the husband of one wife, managing their children and their own households well. – 1 Timothy 3:12, ESV
Dads have a big responsibility. They are called to care well for their families, and to follow God's plan for the family.
In the same way husbands should love their wives as their own bodies. He who loves his wife loves himself. – Ephesians 5:28, ESV
A dad loves his wife the same way he loves himself. That's an important job God gave dads.
Moms Care for Dads and Kids
Wives, submit to your husbands, as is fitting in the Lord. – Colossians 3:18, ESV
Moms are called to help and love their husbands joyfully. That's a big job, too.
An excellent wife who can find? She is far more precious than jewels. – Proverbs 31:10, ESV
Moms love and serve their kids and husbands. That kind of caring family love is so rare the Bible compares it to jewels!
Children are Valuable
Behold, children are a heritage from the Lord, the fruit of the womb a reward. – Psalm 127:3, ESV
Children are important in a family, too. Kids are a reward to parents, and an inheritance–a legacy. Parents are so overjoyed when God gives them kids!
Children Obey
Children, obey your parents in everything, for this pleases the Lord. – Colossians 3:20, ESV
Children, also, have a big job. They are called to obey their parents. That's one way kids can please God!
---
Bible Verses about Family Love Poster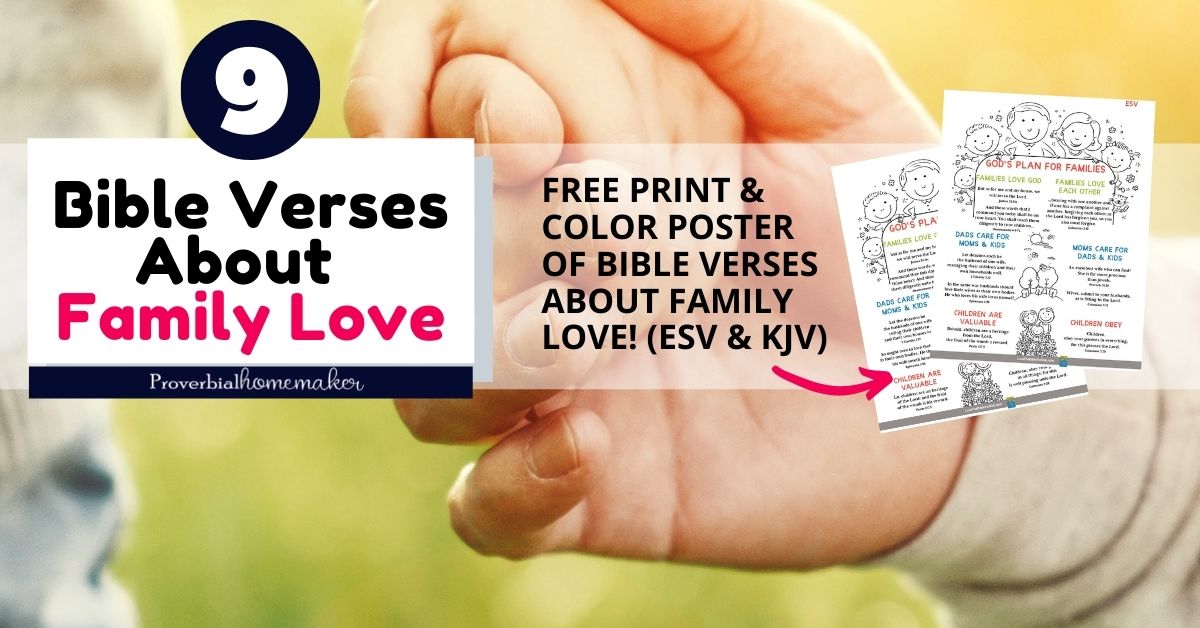 Grab your free Bible Verses about Family Love poster, available in both ESV and KJV. After your kids color their poster, frame or laminate it to be displayed in your dining area.
Talk about a different verse each meal, and thank God for his marvelous plan for families!
---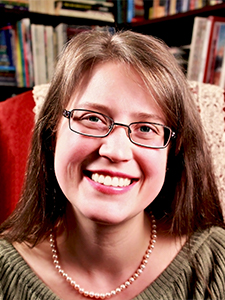 Danika Cooley's book Help Your Kids Learn and Love the Bible is your crash course on teaching the Bible to your kids. Danika is an award-winning children's author and Bible curriculum developer. Her popular Bible Road Trip™ is used by tens of thousands of families.
Learn more about Help Your Kids Learn and Love the Bible and grab your free 130-page Bible Study Tool Kit here.
---