Disclosure: *This post may include affiliate links. As an affiliate, I earn from qualifying purchases. Read the disclosures and terms for more information.
My son (age 7) and I sat down at the table after the other kids had gone to bed for nap time. We had had a difficult morning together. Though the drama was over, we still had some talking to do.
I think to myself, I'm going to try to handle this the way the Motivate Your Child Action Plan said to, so here it goes.
"Son," I said, "I want to talk to you about something I've noticed. Lately it seems like when I am instructing you about an issue or trying to help you through a problem, you start to act really frustrated, pulling at your clothes and your breathing changes. Like maybe you want to show that you're upset. You don't look at me when I'm talking to you and sometimes you walk away, and we know that this is a disrespectful way to act toward your mom.
"I think we can come up with some ideas on better ways for you to handle your frustration, or stop yourself before you are disobedient or disrespectful and end up getting into trouble. What do you think?"
"Yah," <sigh> "I guess."
Um… that's not what I was hoping for.
"Ok, well how about we both just think about it and we can chat later when we have some ideas. I know it's hard to have self-control when you're frustrated or upset. Mommy struggles with that too, which you know. Without the work of Jesus in our lives we cannot do the right thing. So let's come up with some strategies for making better choices and in the meantime we can be praying about it."
"Ok."
I'm totally monologuing at this point. Better end with a prayer and call it good for now.
Later on, when my son is in bed, I pull out my new book, Motivate Your Child Action Plan, and quickly jot down our meeting notes and review my strategy for the situation.
The next night, I am tucking Mr. 7 Years Old into bed and, as usual, he says "Hey mom?" just as I'm about to walk out the door. "I think that we should come up with a code word that we say. You could use it when I'm starting to get frustrated, and I could use it when you are starting to yell."
Stunned, I do a mental scan of my book and say "or maybe you could try saying it to yourself when you start to get frustrated and then let me know you need a break? I can do the same. We can help each other if we forget."
BIG SMILES. "Sounds good, Mom!"
"So, what's our code word then?" I ask.
He winks and says "We'll decide that tomorrow."
Motivate Your Child Action Plan
I have now done this dozens of times. With the Motivate Your Child Action Plan, I am learning right along with my kids how to handle behavior issues in a more collaborative way, empowering them to become internally motivated to make better choices. To be honest, it's helping me with my own issues as well.
Now, I'm not saying I've got the method down cold or that our parenting is wholly transformed. However, now instead of just stomping in with my "this is how it shall be" tone, I am thinking differently when problems arise. I think how can I help them learn to make better choices in this? How can I point them to Jesus right now?
That's kind of beautiful.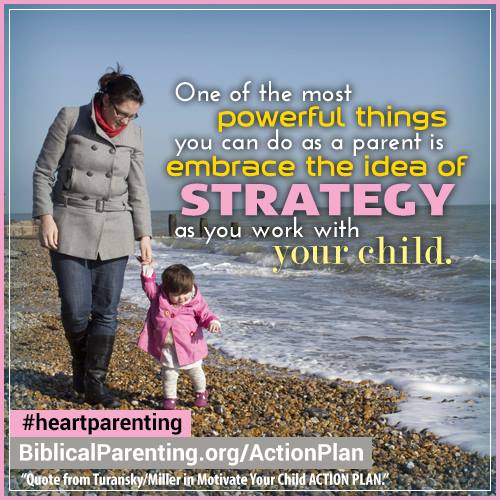 What I love About This Book
Easy-to-Use: While the concepts may take some thought and practice to really take hold, I love how easy the book is set up with spots for jotting down notes and plans and such. I'm busy. We're all busy. I need bullet points and short, to-the-point chapters that just help where I am. This fits the bill. There are prayer points, checklists, action plans, and space for notes.
Christ-Centered: Everything is focused on Jesus as the source and the purpose. There is scripture and there is an awareness that only the Holy Spirit can really produce lasting change in our children. I love that.
It Works: Over time, I have noticed I become less frustrated and prone to yelling (just being real here). It helps even in just stopping to think through my action plan for teaching character. The problem-solving/coaching approach help me. It also works for my children. They are starting to "own" their own poor choices and behaviors. They are much more invested in a plan of action when they are involved in it and the changes are more lasting.
Some things to note:
The Motivate Your Child Action Plan is a companion to the Motivate Your Child book which went deeper into the concepts behind this approach. I have read that book and you can read my review here. While I don't think reading it is required in order to use the Action Plan, it certainly helps.
The above snapshot is a good look into how I use the book in my real life parenting, but it by no means a complete picture of what the book instructs on. As I keep reviewing and writing all over my copy, I add things and change things depending on the child, the situation, and what I've learned.
There are some things I don't fully grab onto with the book, such as talking with my kids about the "conscience." For my kids and at their ages, I don't think it's a helpful conversation, although it was interesting to me. Even with this, I find the book very helpful in forming a plan to instruct and guide my kids through difficult behavior issues.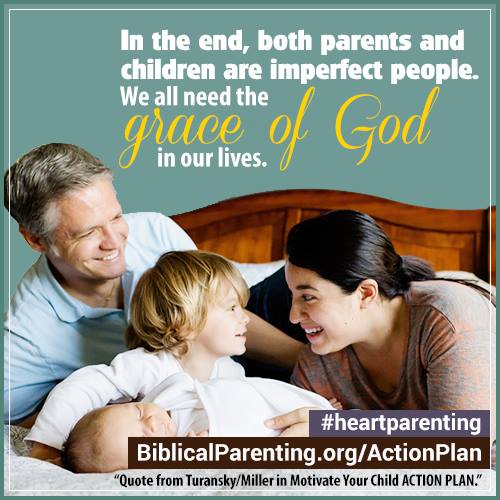 The Law vs. the Heart?
I want to have a little side chat about law vs. the heart. I have already had conversations about this with some close friends as a result of working through this book and others, so I feel like I should at least call it out here for readers. Some folks are weary of "character training" type books and just want to focus on scripture. Other folks see how harsh and rules-focused parenting can get and want to focus on heart and character instead.
As parents, should we teach our kids rules (the law) or character (the heart)? My answer: Both. Even more, I think they're actually the same thing. We as believers are being transformed by the Holy Spirit into the character of Christ: kindness, justice, truth, mercy, compassion, etc. Right? I think of "character development" in family discipleship as teaching the "should" side of the law's "should not."
However, they are both teaching our children the law, which we are commanded to teach. If they don't know the law and how far they fall short, how will they know their need for a Savior and choose to put their trust in Him? Isn't that what we want most in the end, even over proper behavior? Of course, the latter flows from the former.

Bottom line: I am all for character development resources like this. Any potential danger in teaching character development is when we focus on it as the end goal, just like when we focus on law as the primary message. Jesus is the primary message! That is certainly the case in Motivate Your Child Action Plan.
True biblical character development, in terms of how we teach it to our kids, means that we guide them on how to make good personal choices and instruct them on what the Bible says about godly character – perfectly demonstrated by Christ – but with our main focus always on the gospel and how much we need Him. We need the work of the Holy Spirit in order to live that out in our lives.
In my opinion, the Motivate Your Child Action plan is extremely helpful and practical, and a wonderful way to gently but firmly guide my children on the right path. In the end, I trust my God with their little hearts, and I'm very thankful for resources like this that help me parent them well.
About the Authors

Scott Turansky has been a pastor and missionary for more than 33 years and is an author of several books. In addition to pastoring full time, Scott also conducts parenting seminars on Saturdays around the United States. He is the co-founder of the National Center for Biblical Parenting and has co-authored four books.
This book summarizes my counseling practice. It guides people through a process to use the principles God uses to change our hearts. And then parents can maximize change in their kids. – Scott Turansky
Joanne Miller is a pediatric nurse with 26 years of experience and the co-founder of the National Center for Biblical Parenting. She is the co-author of seven parenting books.
Connect with NCBP