We love art in our home! Every week (sometimes more often) we have some kind of art activity, whether it is simple drawing or more involved projects. On Thursdays, another homeschooling family comes over and we do piano lessons and art projects together.
We have used many resources to keep us stocked with fun art ideas, including curriculum from ARTistic Pursuits (see review of Introduction to the Visual Arts). That is why I jumped at the chance to review another curriculum level from them. This time we chose Early Elementary K-3, Book 2: Stories of Artists and Their Art.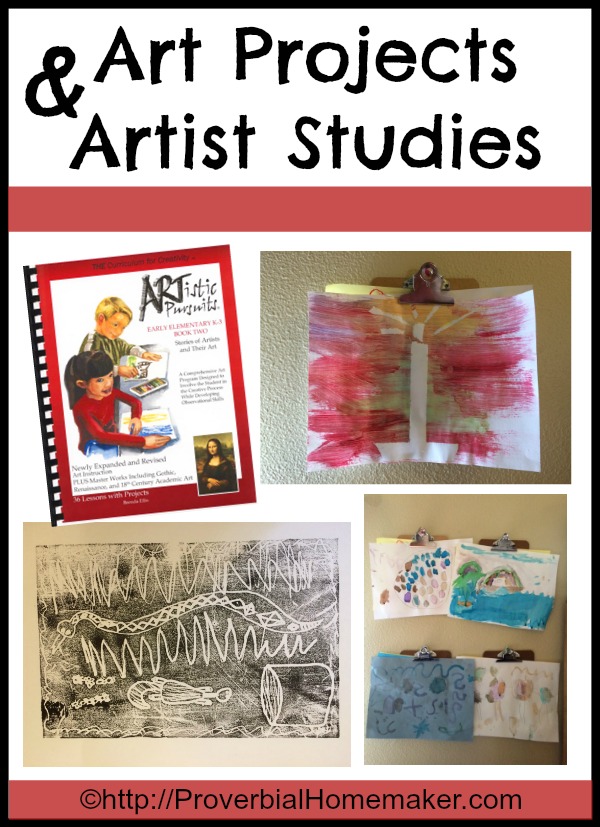 Disclosure: *This post may include affiliate links. As an affiliate, I earn from qualifying purchases. Read the disclosures and terms for more information.
What is Stories of Artists and Their Art?
Stories of Artists and Their Art is the next level up from the book we had been working on before. It contains 36 lessons and is for ages 5 and up, although my kids as young as 2 were able to participate along with the olders. The lessons cover several famous artists, their personal stories, and the techniques they used, as well as beautiful color images of their works.
For each artist, there is a fictional story and some facts introducing them to the kids and then an art project based on the story. Then there is a closer look at one of their pieces of work with some comprehension/observation questions and another art project based on that study.
How We Used Stories of Artists and Their Art
Every week I get ready for art day by selecting a project and preparing for it. You could start at the beginning and work your way through, but I selected projects from different places in the book each week. Now that we've sampled some things, we'll be starting back at the beginning and going all the way through.
For the purposes of our "art class," which has 10 kids, I read a few facts about the artist and the technique, explain the project we are about to do, and then away we go. Later that day and during the following week I go back and read the stories and more of the artist and technique information to my own kids during read aloud time.
Giovanni Cimabue (Watercolors and Gold Leaf)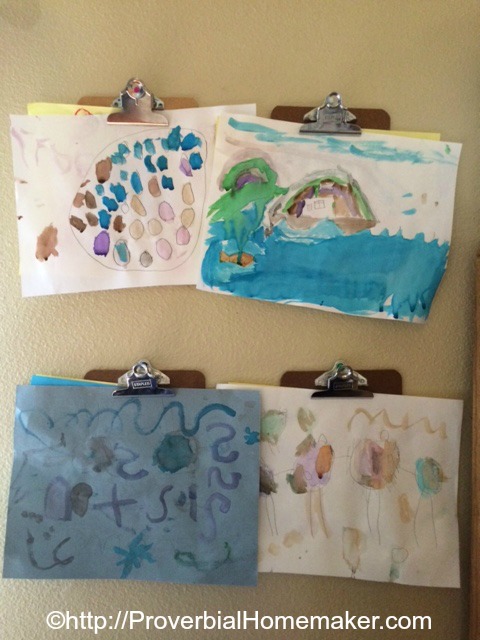 The very first project we chose was a simple watercolor painting. The lesson introduced the artist Giovanni Cimabue to the kids with a delightful story that they could really identify with. Nothing dry and boring! Some history of the gothic period and the emergence of craftsman's guilds was included as well.
The lesson also discussed how Cimabue painted what he saw around him and used gold leaf. The art project for the story was to do a watercolor painting of something the child could see around them, such as in their neighborhood. Then a piece of art by Cimabue was studied followed by a gold leaf project (using fold paper).
Albrecht Durer (Art Prints)
Our next study was of Albrecht Durer and an introduction to print making. This has been our favorite story and project so far! The kids were fascinated by the way the printing presses were made back in Durer's time. We enjoyed spending some time examining Durer's The Flight Into Egypt piece.
Our art project was a fun print making activity. First the kids practiced drawing a picture that had a lot of texture drawn in, such as scales, feathers, wood grain, etc. Then we drew images into foam plates using blunt pencils and being sure to include that same kind of texture. We set up print making stations on the tables as the book instructed, and then they made their prints!
The kids loved these projects and they turned out really beautiful. I know we'll be doing it again! There are at least a few other print making projects in the book.
Parmigianino (Watercolor and Block Art)
This last week I managed to entirely forget to prepare for art day. So I snagged an easy but interesting looking project from the book. We looked at the artists work, The Conversion of Paul, and discussed the dramatic lighting and the contrast between light and dark.
For the project we did a "block out" or tape resist. The kids cut or ripped masking tape and made an image on their papers. Most of them chose to do the candle shown as an example in the book. Then we used watercolor to paint over the whole paper. The kids asked me to break out the tempera paints as well, so we started mixing those in. Once the paint had at least slightly dried, we peeled off the tape to reveal the blocked out image.
Bottom Line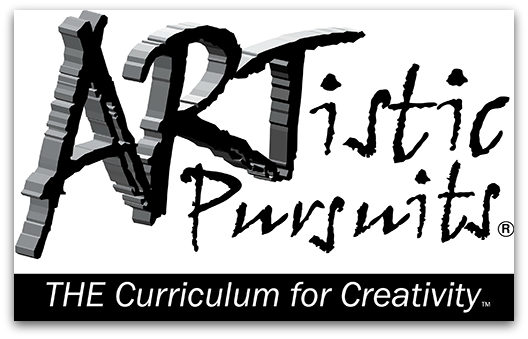 I am even happier with Stories of Artists and Their Art than I was with Introduction to the Visual Arts! I LOVE the pictures, engaging stories, and the history presented in the book for read aloud time.
The art projects are really fun and there is enough variety in project type and level of difficulty to meet my needs and keep things interesting. It's a definite win for us and I know we'll finish every last project!
Connect with ARTistic Pursuits on Facebook.