Disclosure: *This post may include affiliate links. As an affiliate, I earn from qualifying purchases. Read the
disclosures
and
terms
for more information.
Middle school is such as fun time for homeschooling. They are growing in independence, showing more of their interests and talents, and I get to learn so many interesting new things right along with them!
This year I have a 6th grader coming up. She and I had a fun time putting together her curriculum choices for the year. You might also want to check out the other grades I'll be homeschooling!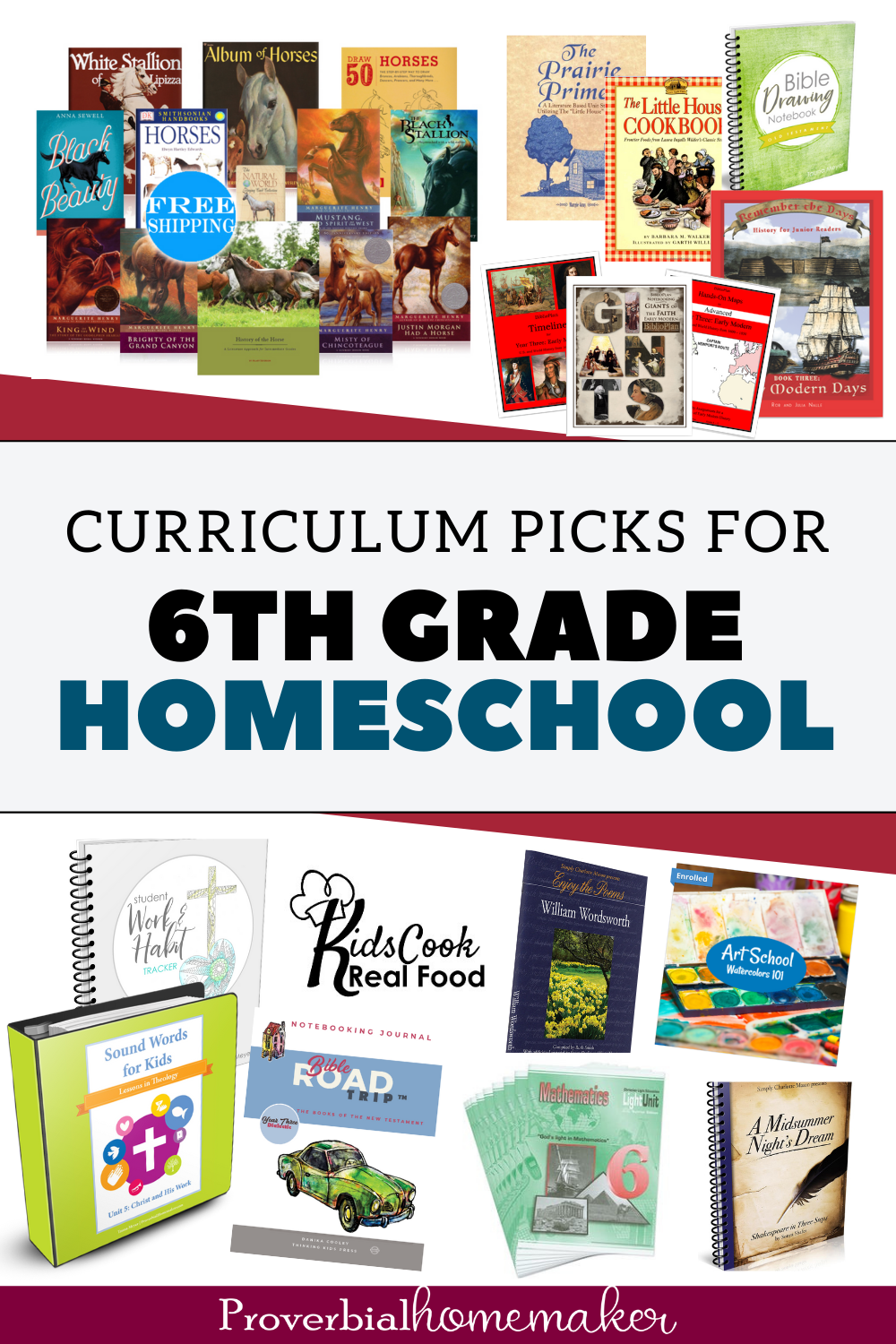 Our Top 6th Grade Homeschool Curriculum Choices
Here are our plans for 6th grade homeschool curriculum and activities! I'll come back at the end of the year and note anything we added, dropped, or reviewed in-depth.
Student Planner
My 6th grader will use the Student Work & Habit Tracker to manage her daily work and loop schedule, including homeschool tasks, Bible reading, personal habits, etc. (Younger kids have the weekly loop schedule page from this planner laminated and on the wall for easy daily work tracking.)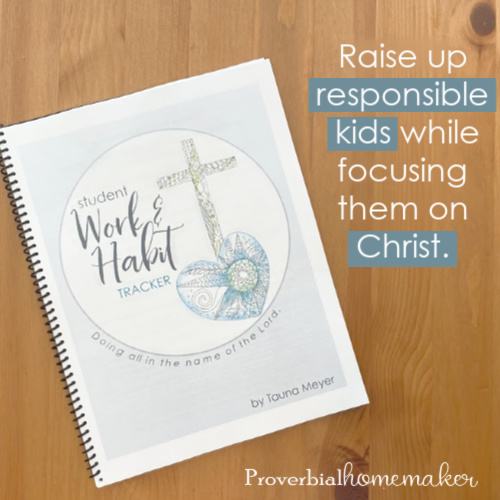 Bible
Devotions with Mom – When she gets to this task on her loop schedule we do a brief Bible study together on a relevant topic such as a character issue.
Sound Words for Kids: Lessons in Theology – My theology curriculum for ages pre-k and elementary. Once a week with some weekly memory review. My older kids review the material and do some notebooking.
Bible Road Trip – Our staple Bible curriculum that we've used for years. It's excellent and can be used for pre-k through high school. She'll continue to do the upper grammar level memory work and notebooking that goes with this curriculum.
Bible Drawing Journal (OT) – She is still working through this and does a page whenever she doesn't have a notebooking assignment with Bible Road Trip. The Bible Drawing Journal goes through a survey of the Old Testament and she reads a chapter a day. Then she draws about what she read and writes a little, including a prayer. There is a NT version available, too.
Language Arts
For language arts we do more of a Charlotte Mason approach.
Narration, Notebooking, Etc. – My 6th grader will continue to do a lot of oral narrations. Written narration and notebooking activities will increase. (Narration helps with composition skills, speaking skills, retention of knowledge, and more. I consider notebooking in this category as well.) I'll also continue assigning writing assignments from the BiblioPlan writing prompts, using them to help teach her whatever skills she needs to work on.
Logic of English Essentials Online – I use this with some of my older kids for strengthening spelling skills if they need it. We already had the paper version of this but went with the online version last year and will continue! I like that the author teaches in the videos and it helps me to feel confident it is being taught as designed. (I was never quite sure I was doing it right.) But I'm glad I know how it's done so I can do things like finger spell misspelled words from her writing assignments.
History, Literature, & Geography
We use BiblioPlan (Year 3 – Early Modern this year) for multi-level group learning. It covers history, church history, geography, and literature. View my full review here. My 6th grader will be adding their timeline resource to her history studies this year, along with using the writing prompts for writing assignments.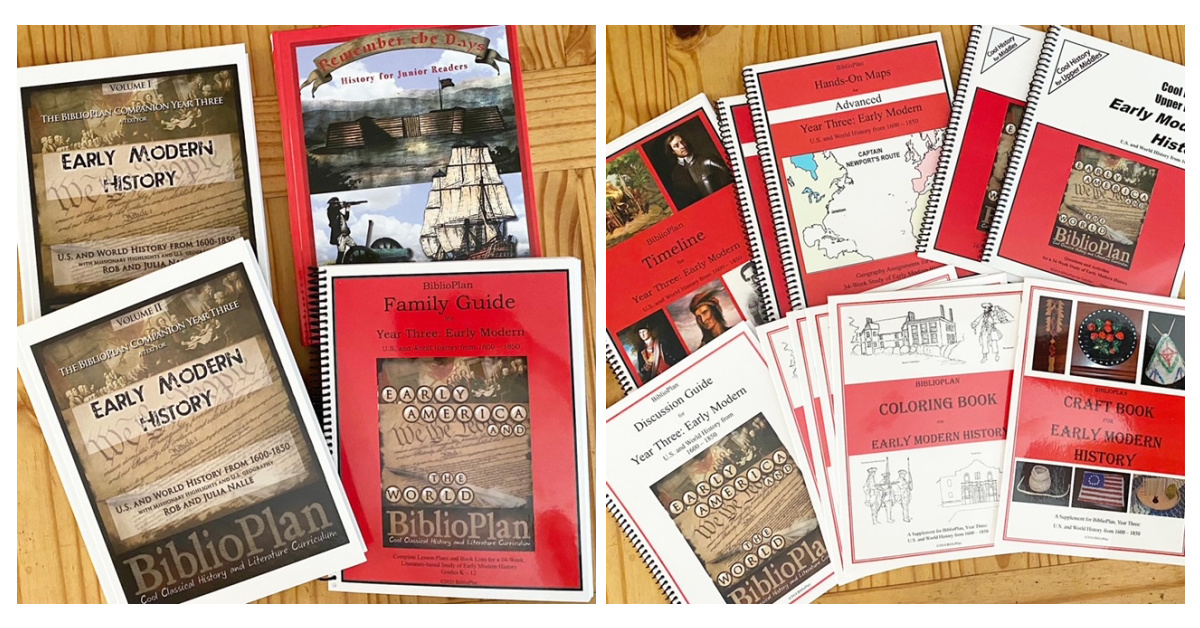 Prairie Primer (Little House Unit)
When BiblioPlan gets to the time period in history that corresponds with the Laura Ingalls Wilder Little House series, we'll be taking a break from nearly everything else to do an 3-4 month unit study together! We'll be drawing activities and ideas from this Prairie Primer resource pack and whatever other fun resources I find online.
You guys… my kiddos are going to LOVE this but I think I'm more excited about it than they are! Lol!
Science
My 6th grader won't start a formal science on her own until next year. In the meantime, we'll continue doing nature studies. Her older brother will be doing some science experiments and science science-related living books that she'll likely want to jump in on, too.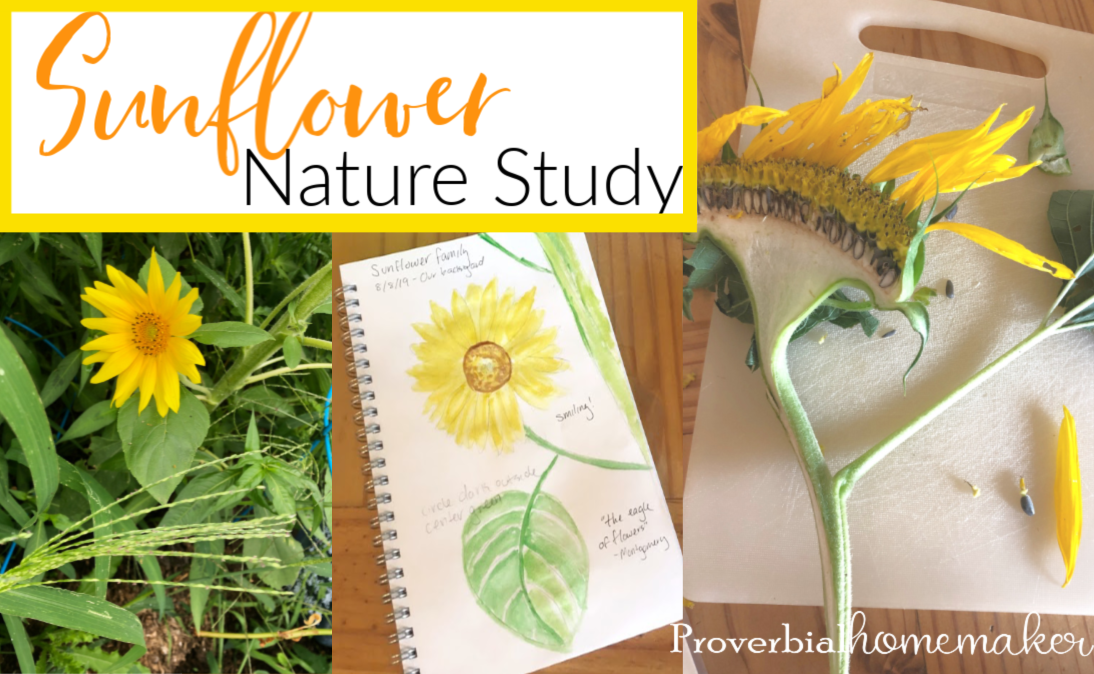 Math
Christian Light Education is my preferred math curriculum. It's straightforward and uses a spiral approach. In fact, I love it for all grades. Here's a video review I did of CLE Math.
Fine Arts
Electives
History of the Horse from Beautiful Feet Books – This is her main elective because she'll be doing it every day until it's completed. Her choice. 🙂 I always love their resources. She is SO excited about this and already got started.
History of the Horse includes literature reading, learning the types of horses and horse facts, building a horse notebook, geography, copywork, drawing, and more. (There are many more books in the kit – I just showed one of the literature selections we got from the library.)
Kids Cook Real Food – She'll be going through this program again, this time with the Advanced level. (I have a few younger kids who are now ready to take the beginner level, too.) After she finishes that I'll give her the option to do some of their SkillLab modules. She's interested in the InstantPot/Slow Cooker for kids module and the Healthy Breakfasts module.
I'm so excited for my girl and all her fun 6th grade homeschool curriculum picks!
Looking for more curriculum suggestions?