Disclosure: *This post may include affiliate links. As an affiliate, I earn from qualifying purchases. Read the
disclosures
and
terms
for more information.
How many times have you looked up ways to manage the chaos, get a hold on your housekeeping, or organize your homeschool? If you're anything like me, I bet that number is high. I bet you have a lot of those pins on your Pinterest boards. I bet you've even read a few.
Have you noticed how many systems and planners there are out there? It can be truly overwhelming. Often our best intentions when we begin a new task management system fizzle out after a few short weeks.
So, what's a girl to do? How do you make a to-do list that really works and becomes a "ta-da" list at the end of the day?
I need things to be simple and flexible. It's just a fact. If I make things too complicated or too rigid, I set myself up for failure. Knowing that about myself, I naturally fell into a type of personal task management that I later learned was called loop scheduling.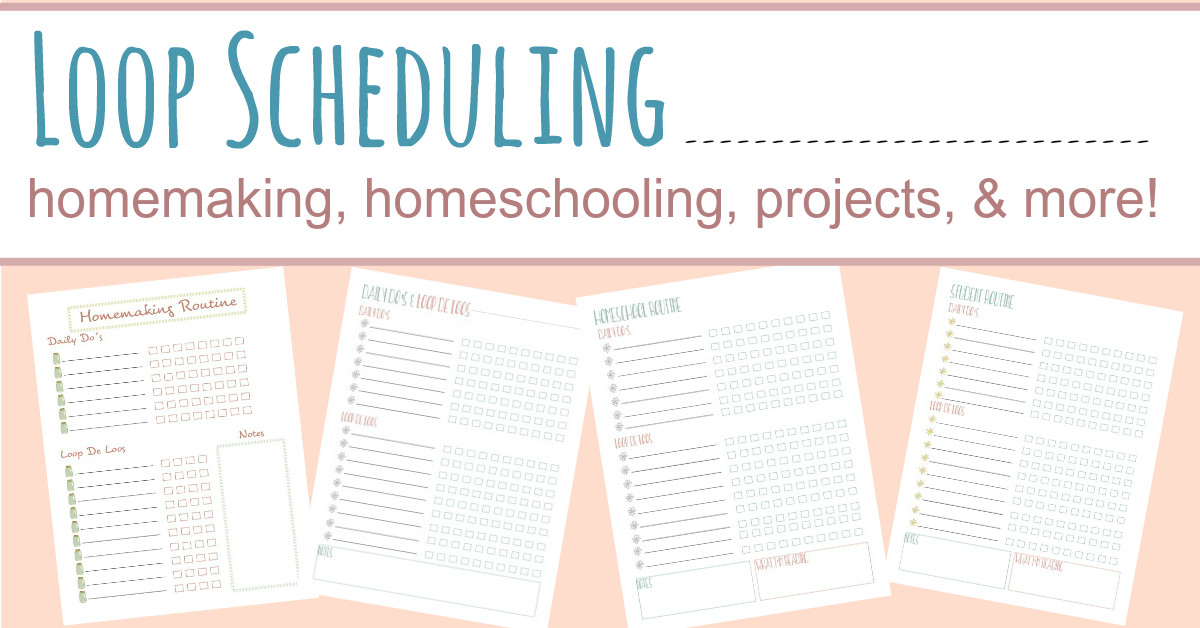 Yes, complicated and rigid don't work for me at all. That's where the Proverbial Homemaker system and the Rhythms & Routines Homeschool system came from – a need for flexible and customized planning! Those systems incorporate a key tool that has helped me get a hold of the chaos: Loop scheduling!
What is Loop Scheduling?
I first heard of the term 'loop scheduling" in the book Teaching From Rest by Sarah Mackenzie. I remember being pleasantly surprised that the method I used had a term and also pleased to find some wonderful suggestions and ideas to make it even more useful to me. Over the years, I've really put loop scheduling to the test and I love it!
Loop scheduling is basically a way of managing your work without being locked into doing certain tasks on certain days. Instead of looking at a calendar or schedule to see what work you have to do that day, you look at a list and see what's next to do during your regular work time.
For example, let's say I want to make sure that at some point my house gets dusted, the bathrooms get deep cleaned, and the toys are organized. These aren't things I need to do every day, but I don't want to forget them! Instead of assigning certain days, weeks, or spring cleaning efforts to these tasks, I make a list. Every day, I do one thing on the list and just move down it until I'm done. Then I start back at the top again!
Easy, right?
I have come to use this method in my homemaking, homeschooling, online work, and even my personal goals! I have a short list of things I want to do every day, which I call my "Daily Do's") and a loop schedule I work through for the rest (my "Loop-de-Loo's").
Download the Loop Scheduling Printables
To help you get started with loop scheduling, I have a free printable you can download below! Here's what it includes:
Make Loop Scheduling Work for You!
Learn more about how to use loop scheduling and then check out our Loop Scheduling Workshop! The workshop comes with more templates, a video course, and more!
>> CLICK HERE FOR THE LOOP SCHEDULING WORKSHOP <<