Homeschooling is full of great joys, but it is also challenging in many ways. Submitting our homeschools to the Lord in prayer is crucial! Want to pray consistently for your homeschool? Daily prayer for homeschool moms is made easier with these free printable homeschool prayer calendars.
Praying faithfully be one of the most important things you can do for your homeschool – even more important than planning, choosing curriculum, or coming up with the perfect schedule.
Disclosure: *This post may include affiliate links. As an affiliate, I earn from qualifying purchases. Read the disclosures and terms for more information.
If you're feeling overwhelmed and full of doubts in your homeschool, first things first, dear friends. Go to God. Fear, worry, and chaos don't come from Him.
When we are drowning in doubts and overwhelm, it's because we're watching the waves instead of the Savior! When you find yourself in that place, pray, pray, pray.
How to Pray for Your Homeschool
Let's face it: how often do we really pray for our homeschooling? We need to pray for the Lord's help if we want clarity, confidence, and direction in this journey!
If you're like me, you don't pray as much as you fuss and stress and RESEARCH! 😆 Let's turn that around! Let us be women who go to God FIRST in our homeschooling, whether it's for big decisions or the daily tasks and struggles! It is THE MOST profitable use of our time, hands down!
Take some time to write out your fears and worries, praying through each of them as you go and submitting them to God. Ask for guidance, unity, and clear instruction.
Then look up some Scriptures that speak to the heart issues behind each area. Praying through (and maybe even memorizing) these verses can be so helpful.
For example, perhaps I want to pray that my children will have teachable hearts, or that the Lord would guide us through learning difficulties, or for wisdom in how to handle difficult days when they arise. Write them all out, no matter how small they might seem! The Lord cares about the details.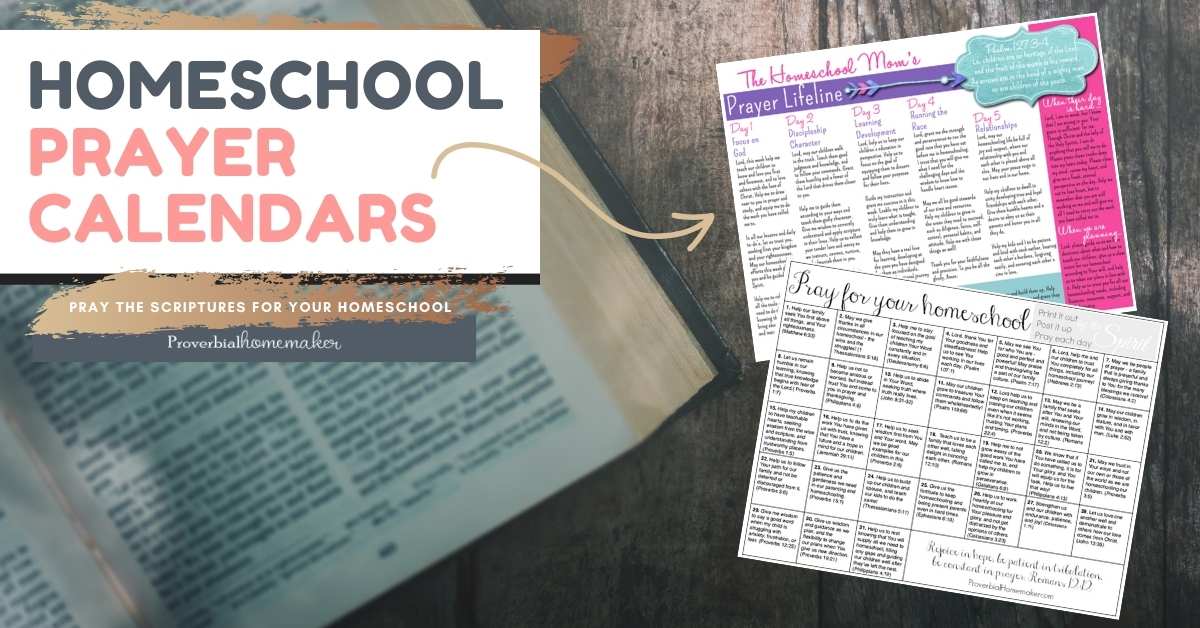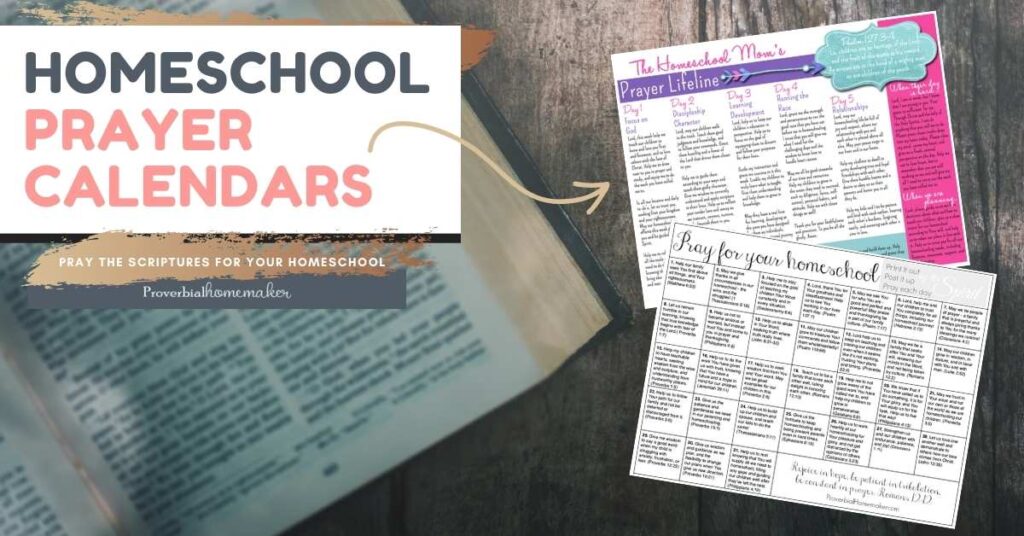 My Homeschool Prayer Journey
I cannot even begin to tell you how much prayer matters. Really dedicating my time and attention to prayer brought transformation into our homeschooling that I am so thankful for!
But the thing is, as much as I write about prayer, I'm TERRIBLE at consistency. I NEED simple and helpful tools to help me remember how essential prayer is and to actually DO IT.
Early on in our homeschooling journey I found myself feeling overwhelmed and unsure how to go forward. So I set everything aside and focused on prayer. I identified where I was having trouble, prayed for God's direction in choosing Scriptures I could pray through, and created a list!
Really seeking the Lord in those things saved our homeschool and got us back on track. It was so meaningful and helpful that I invited my kids to start praying with me each morning for our homeschool as well.
I know that doing so has helped them realize that the Lord cares about the details of their lives, too, and they can come to Him in prayer!
Tools for Faithful Homeschool Prayer
In my ebook, The Prayerful Homeschooler, I share all the details about that time and the precious lessons I learned, as well as how to go through the same process yourself. But I'm going to share with you here the two prayer calendars that I created for myself as a result of that work. They can get you started in focusing on prayer in your own homeschool!
Here are the categories of our homeschool that I pray through on a regular basis. They are covered in these calendars.
Homeschool planning, curriculum, etc.
Keeping our focus on God
Family discipleship & character
Development & academics
Relationships in our family and with others
Running the race well (& not giving up!)
When my day is difficult and I'm overwhelmed
When they are having a hard day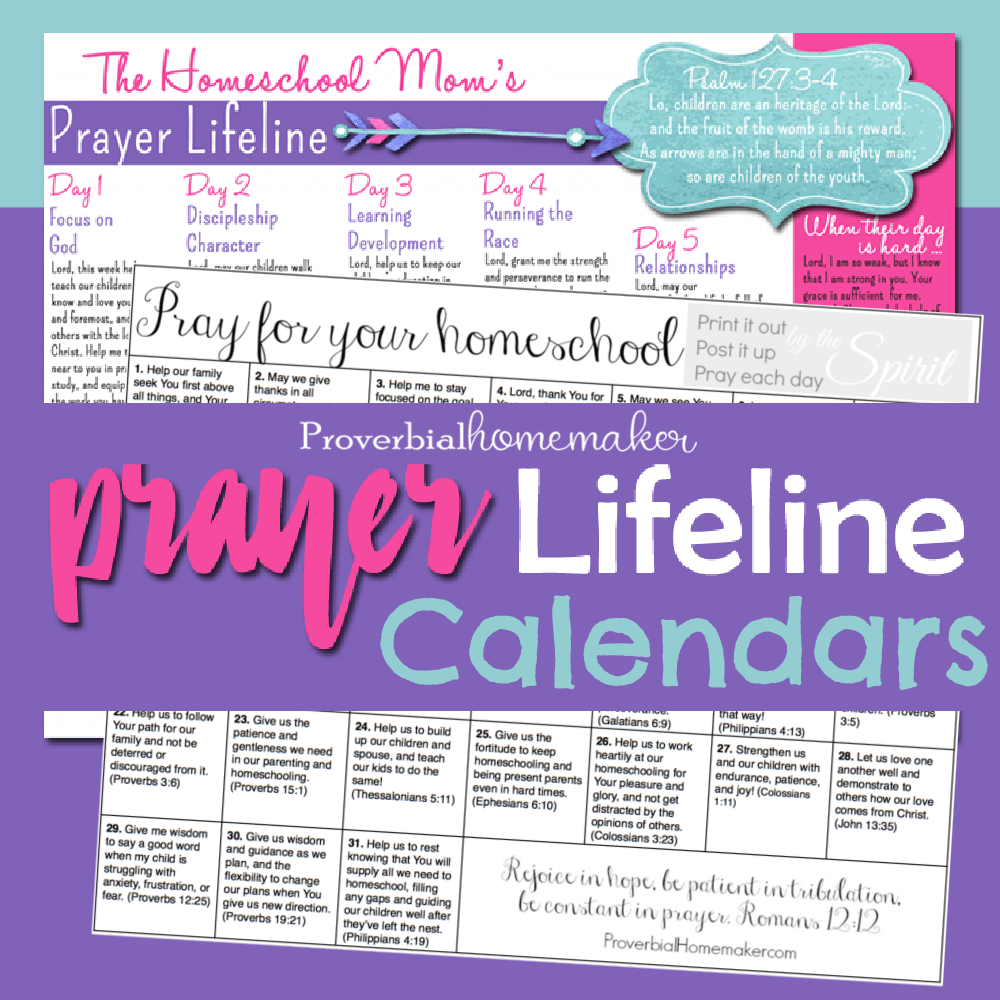 Download the Free Homeschool Prayer Calendars
So take the first steps and become a mama who prays for her homeschooling! Download the Homeschool Prayer Calendars for moms and pray daily over your homeschool.
They include a 31-day prayer calendar you can start anytime (I use it a few times a year) as well as a week calendar that you can pray through every single day.
I hope they are a blessing to you and that you have a wonderful homeschool year! ❤️
~ Tauna
You Might Also Like…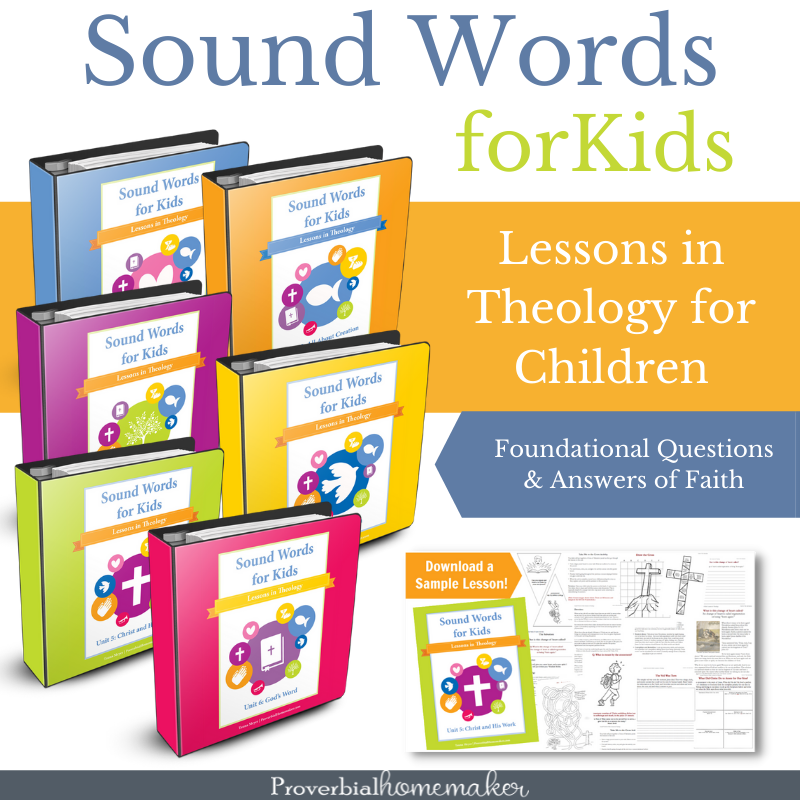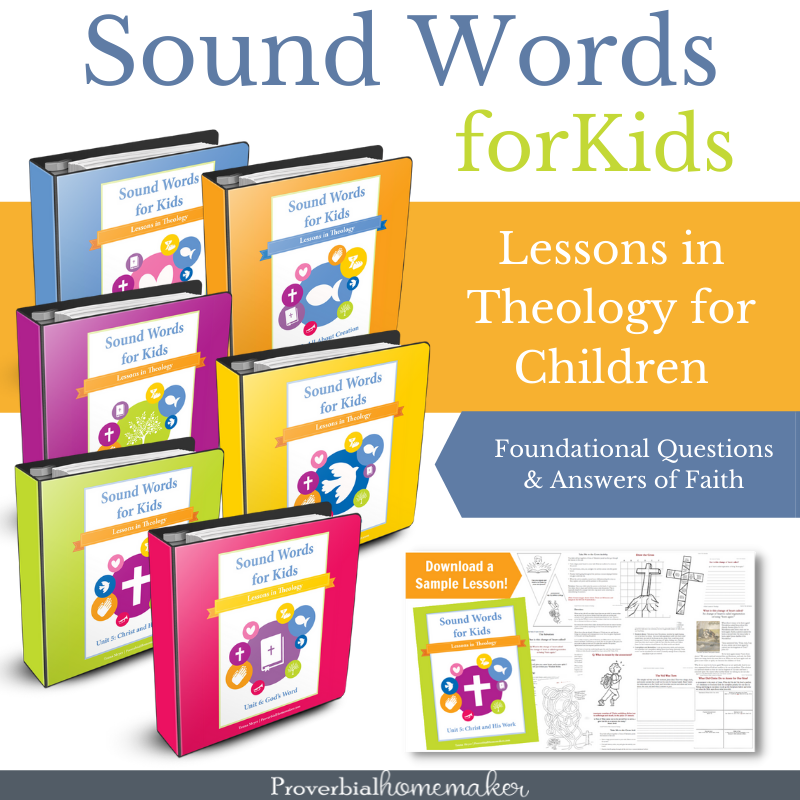 Teach your kids the basics of the Christian faith with Sound Words for Kids: Lessons in Theology. Your children will learn what the Bible says about important topics such as God, creation, and salvation. Includes scripture memory, notebooking, activities, coloring pages, discussion questions, and more!
All About God
All About Creation
The Fall
Salvation
Christ and His Work
God's Word