Disclosure: *This post may include affiliate links. As an affiliate, I earn from qualifying purchases. Read the
disclosures
and
terms
for more information.
Praying faithfully over your homeschool may be one of the most important things you can do – even more important than planning, choosing curriculum, or coming up with the perfect schedule. In fact, it is essential to all these areas of your homeschool!
Here is a simple tool to help you do just that. Two homeschool prayer lifeline calendars just for moms!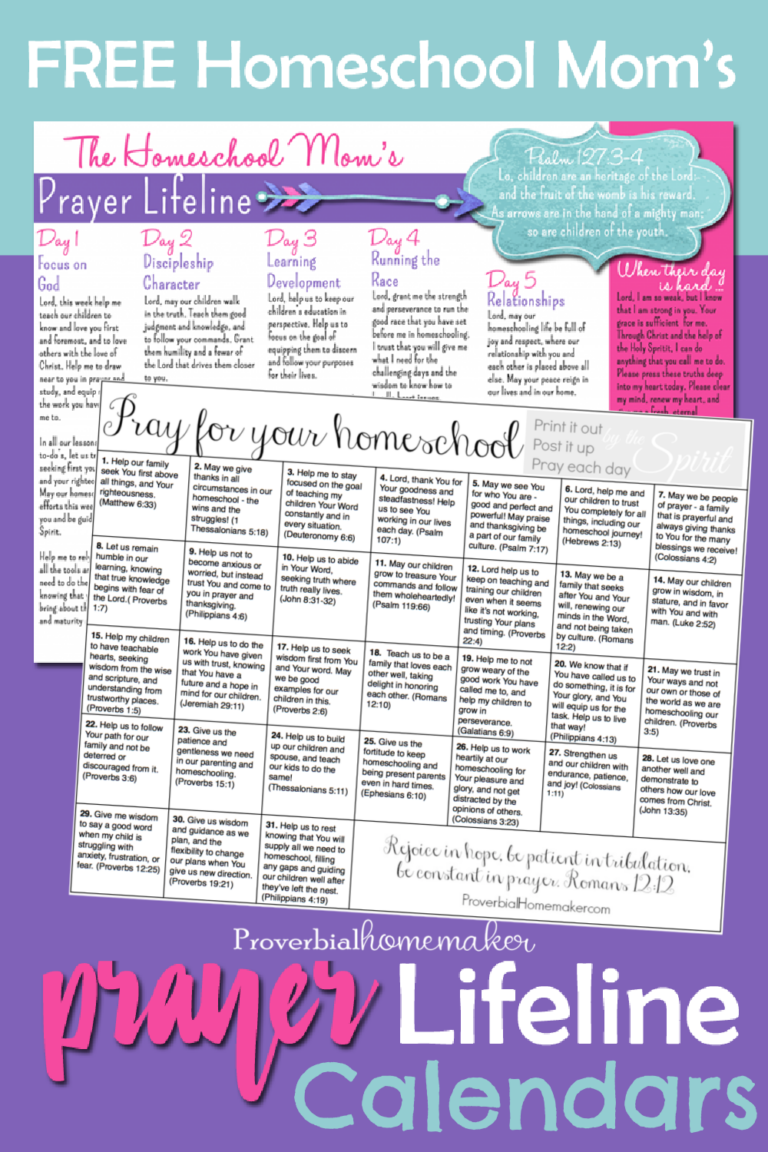 If you're feeling overwhelmed and full of doubts in your homeschool, first things first, dear friends. Go to God. Fear, worry, and chaos don't come from Him. When we are drowning in doubts and overwhelm, it's because we're watching the waves instead of the Savior! When you find yourself in that place, pray, pray, pray.
Homeschool Prayer
Let's face it: how often do we really pray for our homeschooling? For clarity, confidence, and direction in this journey? If you're like me, you don't pray as much as you fuss and stress and RESEARCH! 😆 Let's turn that around! Let us be women who go to God FIRST in our homeschooling, whether it's for big decisions or the daily tasks and struggles! It is THE MOST profitable use of our time, hands down!
Take some time to write out your fears and worries praying through each of them as you go and submitting them to God. Ask for guidance, unity, and clear instruction. Look up some scriptures about parenting, the heart issues you or your children are struggling with, having a teachable heart, etc., and pray through one a day.
I cannot even begin to tell you how much this matters. Really dedicating my time and attention to prayer brought transformation into our homeschooling that I am so thankful for! But the thing is, as much as I write about prayer, I'm TERRIBLE at consistency. I NEED simple and helpful tools to help me remember how essential prayer is and to actually DO IT.
Download the Free Homeschool Prayer Calendars
So take the first steps and
become a mama who prays for her homeschooling
! Download the Homeschool Prayer Calendars for moms and pray daily over your homeschool. And you'll want to check out the
Scripture cards that go with the first calendar
in the set!
Have a blessed homeschool year!
~ Tauna
You Might Also Like…
Do you ever just sit back and sigh at the chaos happening during your homeschool day? Are you overwhelmed, can't seem to finish out a lesson plan, or are just too busy trying to keep up with house and home? I've been there!
There is hope, dear homeschool mom! If keeping up with life and managing the chaos wreaking havoc on your homeschool, I am here to say… you can do this!
At Proverbial Homemaker, my passion is helping moms overcome hurdles that help you thrive in their homemaking, homeschooling, and family life. These resources have been created with that in mind and are ones I use in my own home! Many moms have been blessed by them over the years and I hope you will be as well.