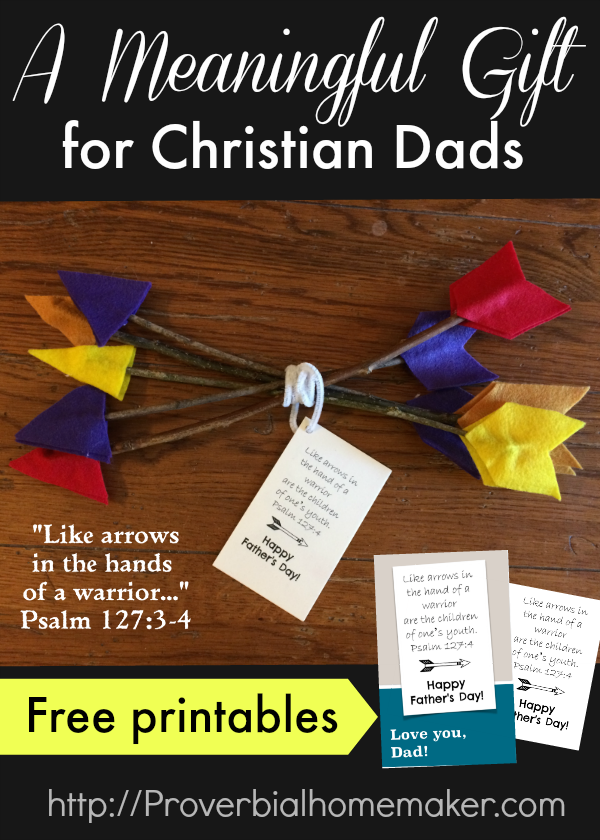 Disclosure: *This post may include affiliate links. As an affiliate, I earn from qualifying purchases. Read the disclosures and terms for more information.
Last year the kids and I made a really fun gift for my husband for Father's Day. I wanted to give him something meaningful that he would actually use, but also something my kids could participate in. I've been waiting a WHOLE YEAR to share this with you, although you certainly can use this gift idea anytime you are celebrating the dads in your life.
Gift for Christian Dads
My husband loves being a father. He talks about his family and our children with such pride and yet overwhelming gratitude and humility. What's more, he's incredibly good at being a dad! God has given him a special father's heart that has the utmost delight in his children.
He often talks about how much of a blessing and heritage children are, and how important it is in his mind to raise them to know and love the Lord. Nothing matters more to him than pointing me and his children to Christ. That's right, I married well!
So for Father's day last year, we gave him a wonderful gift inspired by Psalm 127:4.
Like arrows in the hand of a warrior are the
children of one's youth. – Psalm 127:4
Arrow Craft
The kids spent some time gathering sticks to make their dad some arrows. We had another family with us for art day, so this ended up being the class activity. We cut out pieces of colorful felt for the arrow heads as well as the fletching (I believe that's what you call the "feather" part at the other end). The kids used a hot glue gun to paste the felt on both sides of the sticks and make arrows.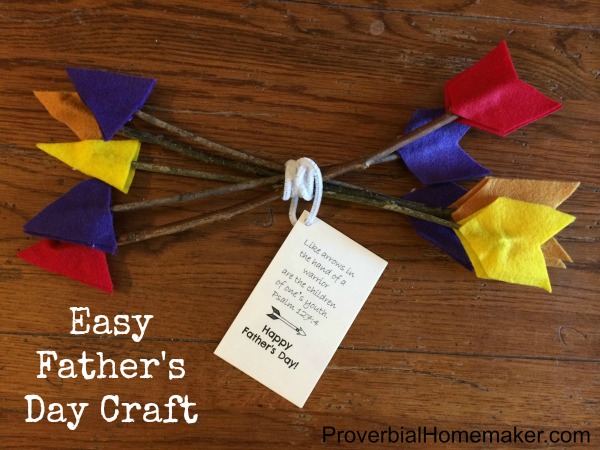 We made one arrow for each kid and bundled them into groups by families. Then we tied these cute tags onto them and presented them to the daddies as gifts on Father's Day. Download a PDF of the tags here. Just cut them out and hole punch them, tying them on with pipe cleaners, ribbon, yarn, or twine.
Arrow Father's Day Card
You can also give a Father's Day card that uses the same image. I made a PDF of the card for you to download. Print double-sided on card stock and fold along the center. Or you can print on one side and write your own message in the middle.
Scripture T-Shirt
Inspired by this great t-shirt design by Janine at True Aim, I ordered a similar one for my husband from Cafe Press. They usually have discounts just before Father's Day, so look for those.
You can check Janine's post for a better visual of how the arrows and text are laid out. I ordered mine on a dark gray t-shirt and black lettering, changing up the font and adding my own style and number of arrows (to match the number of kids we have). The color contrast wasn't big enough for me but my husband actually loved the subtlety of it. I'll probably order another one this year anyway with a bit more contrast. 😉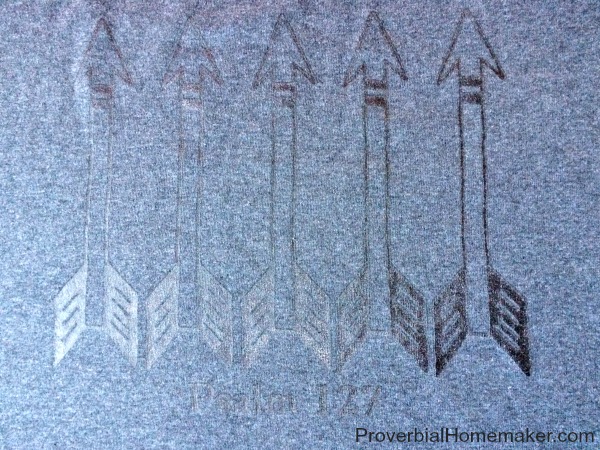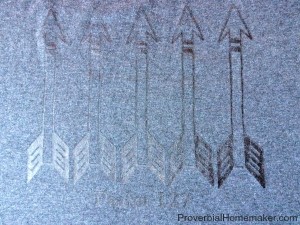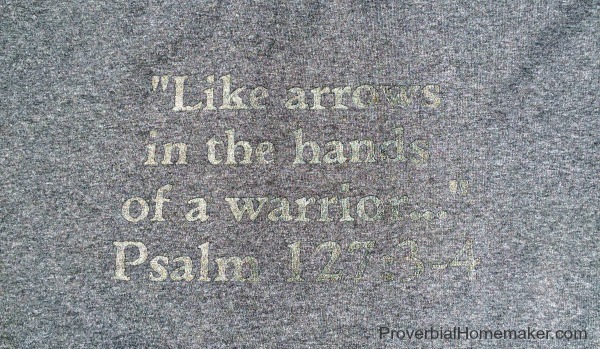 If you'd like to design a similar t-shirt, you can download the single arrow and the multiple arrow images that I used to make it easier. You could modify the multiple arrow image so that it matches the number of kids in your family. You can also just download the graphics I used for the front and the back and upload them to Cafe Press when you design the t-shirt or anything else you want to customize.
I hope you find these freebies and ideas helpful! All together, this made a really meaningful gift, and now a year later my husband STILL wears that t-shirt!