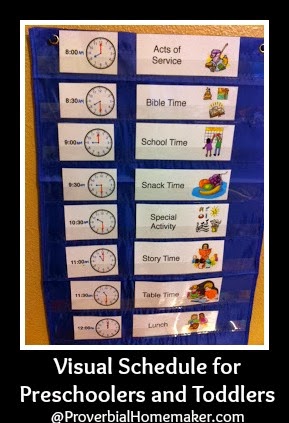 Disclosure: *This post may include affiliate links. As an affiliate, I earn from qualifying purchases. Read the disclosures and terms for more information.
I wrote a while back about the schedule I created for our family. While it's been tweaked a bit as we have tested it out, it's proven useful for getting the important things done as long as I practice using it.
I've also created a visual schedule for the kids so that they know what to expect during the day. I used a pocket chart from Target and printed out activity cards and time cards (free printable). I can rearrange things as needed, but they stay basically in the order shown above.

Download the Free Visual Schedule Cards Here
On Wednesdays, we go to BSF right after Acts of Service. So I replace all those cards with one Bible School card. On Fridays, we normally go to Co-op after snack time.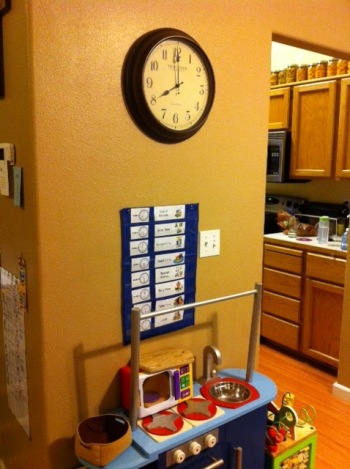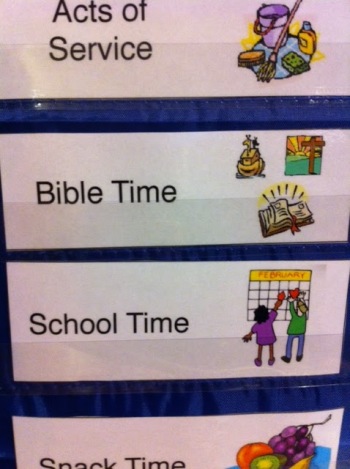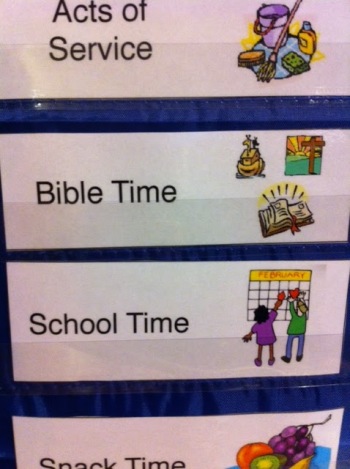 Visual Schedule for Preschoolers and Toddlers
I found the activity card ideas and images from the Classroom Center Signs section of The Daycare Resource Connection. I took the clock images from a place like Homeschool Math and just drew in the hands where I wanted them.

The times aren't meant to be too rigid. We generally follow the schedule. The kids enjoy knowing what's next, and boy do they call me on it if I miss something! 🙂 The times are more for my own reference. All in all, it's proven a helpful tool at in our home!

Here are a few more resources for ideas: