Disclosure: *This post may include affiliate links. As an affiliate, I earn from qualifying purchases. Read the
disclosures
and
terms
for more information.
When I originally wrote this post, my oldest was 6 at the time. Now he's 13 and we have 6 kids in all. I have updated the post to reflect what we're doing now. My opinions haven't changed on The Story of the World curriculum, however, or on what the best approach is for our family when it comes to teaching history. In fact, I feel stronger about it now.
What I do think is interesting is how upset people get when they use and enjoy a curriculum and someone else says they prefer not to use it. It's remarkable how many insults and rude comments have NOT been approved on this post over the years. It's also remarkable how few people actually read it before commenting. (For example, I obviously do NOT say that I think people should never teach Greek Mythology.) My only regret is how I titled the post. Although there are a few reasons I wouldn't consider using The Story of the World at any point, which I touch on briefly below, my main concerns described in this post are more accurately titled "How and When We Choose to Introduce Mythology and False Gods in Our Homeschool."
As always, prayerfully consider what is the right approach for YOUR family. I hope this post provides interesting food for thought either way!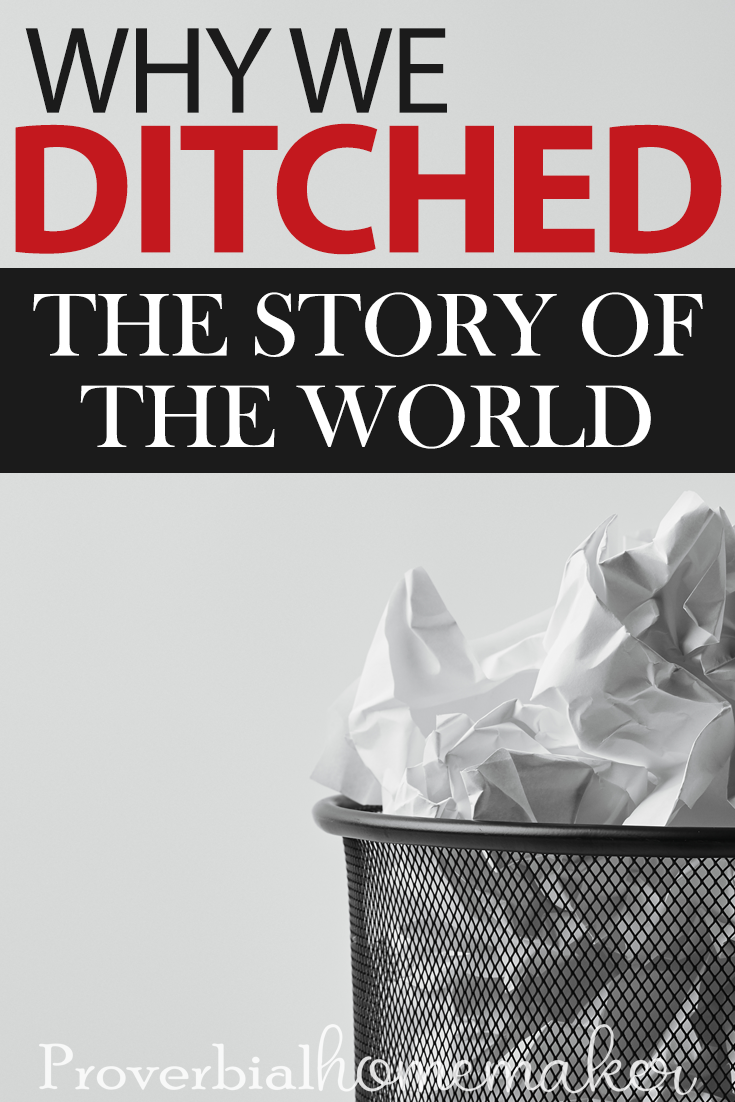 The Story of the World is a very popular history curriculum in Christian homeschool circles and co-ops. My husband and I originally wanted to look into Mystery of History, but at the time (our oldest was 6) some other more experienced moms advised that it might be better to wait a few years because it was a bit more rigorous than we probably needed right away. They were right. So we checked out Volume 1 of Story of the World, both book and audio, and tried it out.
Big mistake. We quickly made the decision to ditch it.

I'm sure we're not the only ones who have made this call. However, in my limited searching at the time I found nothing but glowing praise for The Story of the World for young kids!

Let me brace myself to dodge some rotten tomatoes and I'll tell you about what brought us to this decision.

There are many things we liked about the curriculum:
My kids love the engaging story and asked to listen to it.

It's available at the library!

I appreciate that it teaches through storytelling.

Many others use it, so there are vast amounts of resources and tips available online.

Moms I like and respect use it to teach their kids.
However, there were a few things that continued to bother me until we finally agreed to stop using SOTW.
Here they are, in order of importance to us:
Too much focus on false gods and idols without calling them out as such

The Lord and the scripture have very little authority – the Bible is treated like just one more story

Too violent in places (when listening on audio with little kids)

Reported inaccuracies (just worth noting, but every history curriculum will have some things that need corrected)

A generally secular rather than biblical worldview
These issues were more of a problem for us because we were doing whole family learning (with a range of ages and levels of understanding) and using the audiobooks rather than just reading aloud. When I read aloud I can edit on the fly or pause for discussions. That's harder to do when you're listening to an audiobook in the car.
The biggest problem we had at the time is the constant focus on false idols and gods without calling them out as such. The One True God seems to be just another story among many gods.
The curriculum is not Christian, contrary to what some might assume or suggest. (I don't believe it is even marketed as Christian.) Major pieces of God's story are left out. At that stage in our children's lives, we felt it was unwise to muddy the waters between the true God and false gods, using a curriculum that spends so much time on the latter.
When we do talk to our kids of false gods and idols, we make it clear that they are, indeed, false. The purpose of the discussion is always to highlight God's authority and glory. This isn't the case in SOTW.
There is also just enough violence in some of the stories that I just can't casually listen to the audiobook with them. I'd have to read it instead or listen ahead. My kids have a hard time shaking negative mental images, and I'd argue that it's my role to protect them from those images as much as I can at this age. Listening to a story and coming suddenly into a part where heads are cut off and displayed all around on poles… yah. No need for that.
We could probably have continued to use SOTW by switching to the print book and skipping over these parts or by adding our own explanations. However, since history at those young ages wasn't really necessary and we realized we needed more work on a biblical foundation in this area, it made more sense to switch to resources that are biblical.
Here is the approach we take instead
Start with the Bible –

Bible Road Trip

is not only our Bible curriculum but it ended up being our history for that year

. Bible Road Trip is an amazing Bible curriculum and there are plenty of opportunities in it to discuss false gods and other cultures just through the Bible stories. This helps us keep focused on scripture but introduce those topics with gentle guidance, setting up a framework to evaluate other resources together later.
Begin with American History – After a lot of research and discussion, we decided it made sense to move to American history after that year with Bible Road Trip. It's more relevant for kids and there are just more materials available to choose from. Resources we've enjoyed for this are Beautiful Feet Books Early America bundle (we love living books!), America's Story from Master Books with some living books added on, and history resources from Schoolhouse Teachers.

Go back to ancient history later – We worked through year of Tapestry of Grace (ancient) as a family and then moved to BiblioPlan for year 2 (medieval). Both of those are multi-level teaching that easily allow for a biblical worldview presentation of these time periods by careful selection of family read alouds and adding independent reading and notebooking for the older kids. If I wasn't doing multilevel teaching, I would consider Master Books or Notgrass for my older kids.


Continue to be intentional about what we spend our time on

– We teach our children about things like Greek gods as an overview to cover understanding for purposes of history, literature, culture, etc. as those issues come up, and always through a biblical lens. We see no reason to go deep into those topics in our studies or provide books on those topics solely for entertainment. There are SO many other good things to explore and dig into that are more worthwhile!
I know many will not agree with our take on The Story of the World and that is totally fine! Families are different and we're all called to follow God's leading in our homeschooling.
May we all be blessed as we teach our children!
~ Tauna
You might also like…
Six Reasons Parents Fail at Teaching a Biblical Worldview (and how we can do things differently)