How would you like to say "time for our Bible lessons kids" and have the kids cheer and run to the table? We all know that there's nothing more important for us to teach our children than God's Word, but having good tools and resources to do so can be a huge help for busy moms and homeschoolers. Having a Bible drawing curriculum THEY love is even better!
Disclosure: This is a sponsored post. However, I have provided my honest opinion about these products and am happy to share them with you!
Disclosure: *This post may include affiliate links. As an affiliate, I earn from qualifying purchases. Read the disclosures and terms for more information.
I love finding new and interesting ways to teach the Bible to my kids. I was very excited to try the multi-sensory program called The Picture Smart Bible, incorporating it into our family devotions and homeschool. The Picture Smart Bible is designed with a hands-on approach that helps it really "stick."
What is The Picture Smart Bible?
The Picture Smart Bible is not actually a Bible but a curriculum that helps your children learn about the Bible. It takes a unique approach by having kids draw and/or color cartoon drawings and symbols that correspond with the stories and concepts covered. They end up learning history, how the events point to Jesus, and more.
Tackling one book at a time, kids hear you read the summary and/or associated scripture, draw or color the sheet for that book, and then use the completed page as a visual to help them review. It uses several learning styles and teaching methods to help your kids understand and remember the main points and events.
---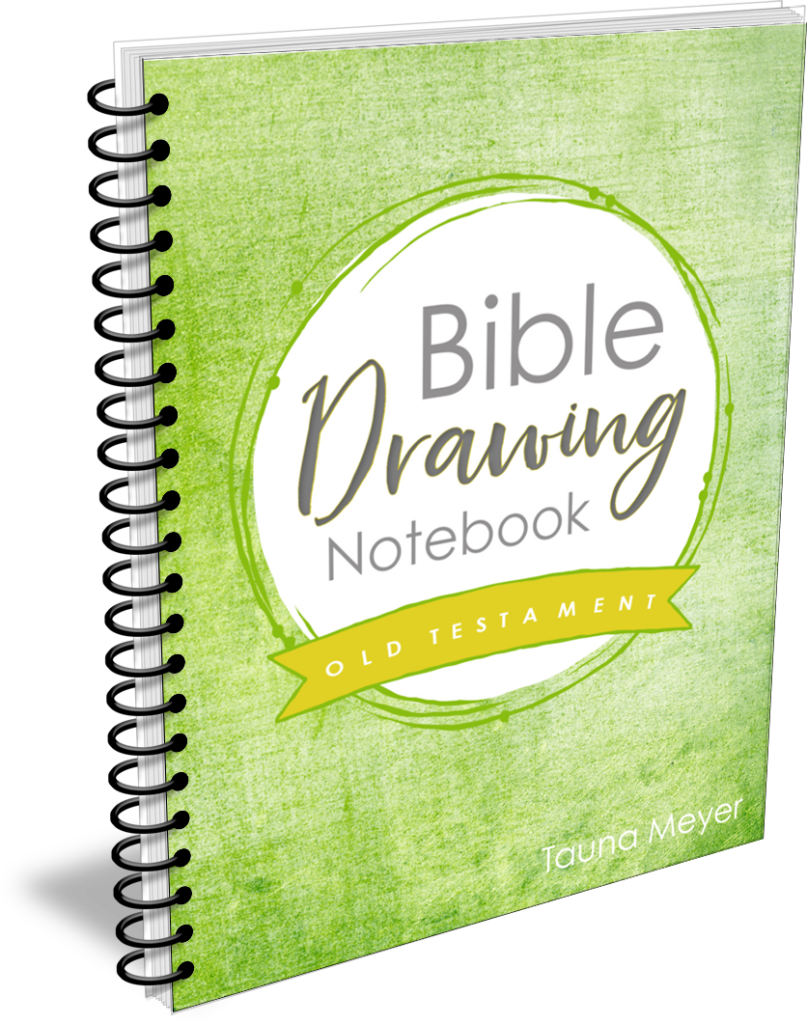 There are several resources we've enjoyed over the years that use art to teach kids. Sometimes the most simple solutions are the best.
Right now, we're using the Bible Drawing Notebook for my children. They simply read the indicated chapter in the Bible (or you can read it to them), then they draw about it, and jot down their prayers, and and either write or orally narrate back to you what they drew. It's simple, effective, and your kiddos who like drawing will love it!
---
Who is The Picture Smart Bible For?
If you are teaching children the Bible, The Picture Smart Bible is for you!
Homeschooling
Sunday School
Co-Op
Family Devotions
K through adults
Visual, kinesthetic, and audio learners
Full curriculum or supplement
What's Included in The Picture Smart Bible?
There are two different levels of The Picture Smart Bible: K-3d and 4th – adult. Old and New Testament materials are available for both levels. I received a complementary copy of both levels and testaments on CD, which provide the PDF copies of the materials. This is perfect if you need to make copies for multiple children like we are or want to use it as a supplement, printing what you want when you need it.
There are a variety of purchasing options you can check out, including digital, pre-printed, or combo kits. If you are using the curriculum with one child and as your primary curriculum, the pre-printed option is a great choice!
Here's what you can expect from The Picture Smart Bible:
Script written so parent/teacher knows what to say and draw.
Lesson Supplies, Key characters and key concepts in the introduction.
Simple drawing for any hands to color.
See, hear, do method in which the student actually colors one picture for each Bible book.
An overview of each book.
Scripture references listed for further study
Thumbnail drawings guide the teacher as the lesson progresses.
The Good News Starburst which highlights Jesus in every OT book.
Blank Margins for your personal notes
Maps and Timelines: Show where and when the action occurred.
How to Teach: Useful tips from the field.
A special "Inter-testament Bridge" giving light to the 400 "Silent" years
How We Used the Bible Drawing Curriculum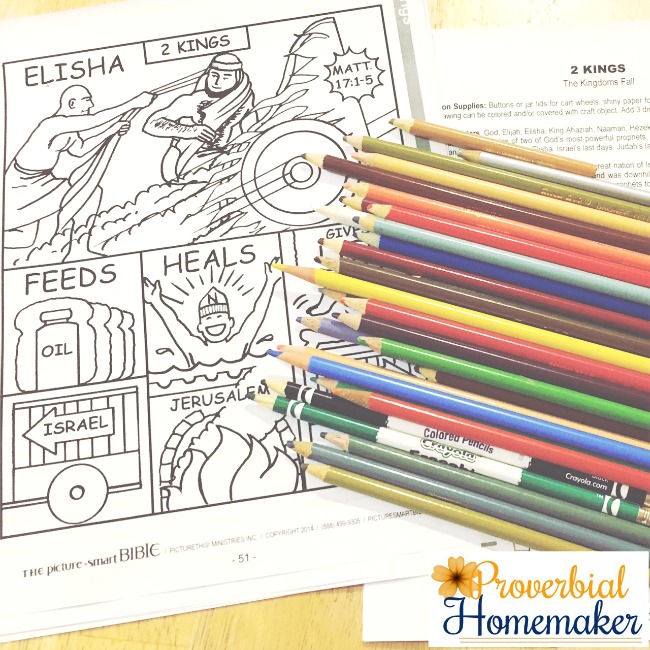 K-3d Curriculum
We started out trying the K-3d curriculum with my kids (ages 1, 3, 4, 6, and 8). Each lesson includes a master sheet as a reference for the parent and then supporting information and step-by-step teaching points. Each step includes a visual of the section to be colored/drawn and a script you can use to teach that part of the story. Then a student sheet for coloring.
I decided to begin with a review of the book we just learned about (2 Kings). Because I was using the PDF version of the program, I printed enough off the student sheets for all my kids and used the rest as a reference from my iPad. As they colored their pages I read from the curriculum and then opened the Bible to read that scripture to them directly. Then we went back over their pages and reviewed what we read.
4th & Up Curriculum
1 Chronicles was up next for us, so we switched to the 4th – adult level of the curriculum. This curriculum is similar with a few important distinctions: First, the pages are dotted line tracing pages rather than solid line coloring pages. The primary work of the student is tracing and writing. There are also more events and ideas covered in the pages and more detailed illustrations.
I printed extra master sheets (solid line black and white) for my younger kids to use as coloring pages while my oldest (8) went through the drawing and writing. When he was done drawing and writing text for the entire chapter, he colored it in and then presented what he learned to his dad. We used the maps and timelines in the back to check out Solomon's temple.
One thing I want to highlight: The symbols used, along with accompanying cheat sheet, help them recognize complex concepts as they engage in the story. For example, the starburst always means the story points to Jesus, and the dove always means the work of the Holy Spirit in some way.
Here is a video of my son doing his presentation for his Dad about 1 Chronicles.
What We Love About The Picture Smart Bible
There are several things we have enjoyed about The Picture Smart Bible.
The kids love it!
Low teacher prep
Hands-on approach
Entire book represented on one page
Not tied to a particular denomination or Bible translation
You finish with a meaningful and beautiful keepsake
Great customer service
Bottom Line
This is an excellent curriculum with an innovative approach. We can use both levels for all our kids and I am amazed at what they retain! We are going to continue using this as a review and supplement for our existing curriculum, but you could easily use this as your main family devotional or homeschooling curriculum with excellent results.
The only challenges I observed were that, with my particular age range of kids, the younger set was a tad too simplistic for the 8 year old (but not by much – he enjoyed it) and the older set was a little too advanced for the younger kids, even when we used them as coloring sheets. I tried using them both at the same time and that didn't work as well, so we'll probably stick with one or the other.
Overall, I am very pleased with Picture Smart Bible and my kids are as well!
You Might Also Like…
Sound Words for Kids: Lessons in Theology