Disclosure: *This post may include affiliate links. As an affiliate, I earn from qualifying purchases. Read the
disclosures
and
terms
for more information.
These snow books and activities for children are a great way to learn about snow, even if you do not get to experience snow in real life. There are several to choose from to make learning about snow fun for preschool through elementary grades!
30 Snow Activity Ideas
2. Build a Snow Fort (Check out Building Snow Forts from your library.)
3. Snow Unit Study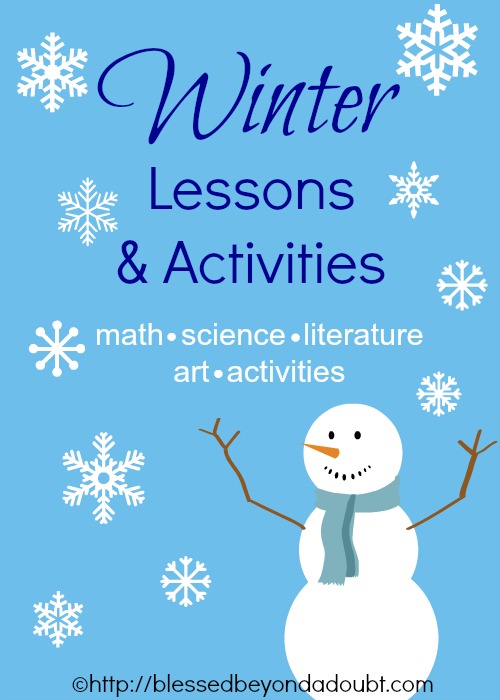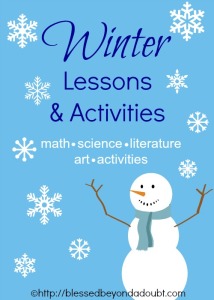 4. Study Snowflakes and how they are formed.
5. Cut out paper snowflakes.
6. Melting Snow Race. (Will snow melt quicker on a bare hand, gloved hand, etc.? Document guesses and results.)
7. Build an Igloo. (Use sugar cubes & frosting to make a mini Igloo.)
8. Catch a snowflake on black paper & examine with a magnifying glass. (Place paper in the freezer for awhile before catching the snowflakes to keep them from melting right away.)
9. Tie-dye art in the snow using colored water in spray bottles.
11. Create a mural on a snowbank wall with paint and brushes.
12. Measure how deep the snow is. (Document the changes as more snow falls or as it melts.)
13. Take the snow's temperature. (Compare with outdoor and indoor temperature.)
14. Bring the snow indoors for sensory play.
15. Snow melting experiment. (how long does it take the snow to melt indoors?)
16. Mix up some Snow Ice Cream.
17. Make marshmallow snowmen.
18. Cut-out and glue together snowmen pieces.
19. Use cotton balls & glue to make a winter scene on construction paper.
20. Dig for Dino Fossils. (Bury plastic dinosaurs and other objects in a bin of snow.)
21. Snow Play-dough. (use white play dough to build snowmen, forts, etc.)
22. Paint snow scenes.
23. DIY snowglobe.
24. Shaving Cream "snow" activities. (Let children drive through it with a play snowplow!)
25. Snow animal research paper. (student chooses one snow animal to learn about.)
26. Snow Book Report
27. Study parts of the earth with the most snow.
28. Study and discuss how Native Peoples in snowy regions live in their climate.
29. Study and discuss how Native Animals survive in snowy regions.
30. Creative Writing lesson about snow. (story, poem, play, etc.)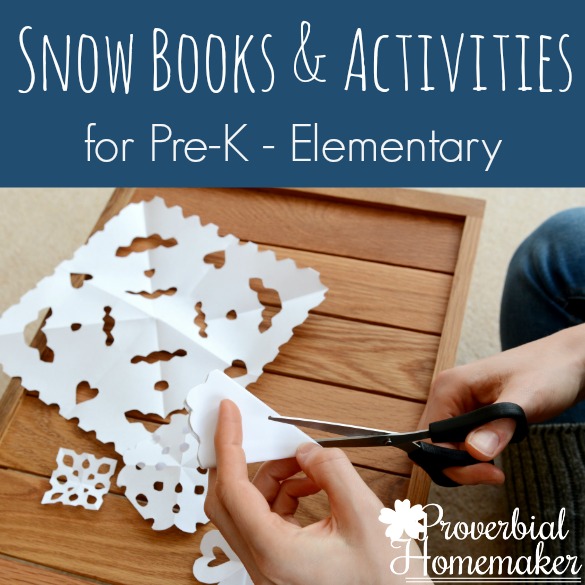 10 Snow Day Books For Children
Snow Rabbit, Spring Rabbit: A Book of Changing Seasons (Board book) perfect for toddlers and young children.
Over and Under the Snow is a fun nonfiction children's book that explores how many animals live in the snow.
Katy and The Big Snow is a beautifully illustrated children's book that features a snowplow who gets the chance to help her city when a snow storm covers it in snow and she is needed to dig everyone out. Your children will be amazed about how much weather and snow can impact people and cities, get a lesson in endurance as Katy is determined to be a big helper, and see how one act of service can make a big difference!
Another great read aloud is The Snowy Day, a book that takes you along with a little boy as he wakes up to a world of snow and goes out to explore and play in it!
In the Snow: Who's Been Here? discusses animals tracks and other evidence left behind by the wildlife in the snow.
Stone Fox is based off of a legendary Dogsled Race and is an exciting read for elementary students.
Balto: The dog who saved Nome is the true story of the men and dogs who saved a village in Alaska during a epidemic and hard winter.

The Long Winter by Laura Ingalls Wilder is a timeless classic that should be on your reading list (along with the rest of the series)! The Long Winter is definitely a book in the series with tough topics and hard lessons revolving around a drastic winter on the frontier, but an amazing historical read for age-appropriate children.
The Story of Snow is a scientific look at how a snowflake is made.
Curious About Snow (Smithsonian) is a historical look at record-breaking snow storms with magnificent photographs of snowflakes.
Watch this YouTube video from NASA for a quick science lesson on how snowflakes are formed.
Older children will want to watch it with you, but younger children may find it a bit boring (though seeing the snow can be exciting for them!). You may want to watch it yourself and then tell your kiddos about the process in a more engaging way using the above educational books or by visiting Fun Snow Facts For Kids.
I'm joining the Homeschooling Blogging Network to bring you great winter homeschooling ideas this month! Check them all out: