Disclosure: *This post may include affiliate links. As an affiliate, I earn from qualifying purchases. Read the
disclosures
and
terms
for more information.
Wondering how to use notebooking pages? Notebooking is something that you have likely heard of if you've been homeschooling any length of time. Homeschoolers of all methods and styles use notebooking pages and love it!
Perhaps you've been hearing about notebooking and wondering how you could work it into your homeschool. I can certainly relate! It took a bit of trial and error for us to fit it into our groove, especially until we found the right tools and resources. Today I want to share with you how to use notebooking pages with your kids!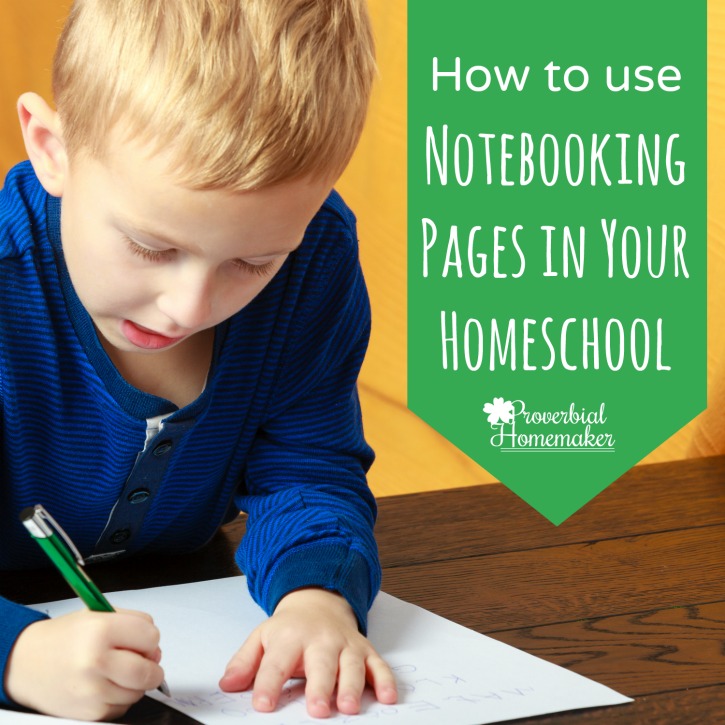 What Are Notebooking Pages?
Notebooking is basically keeping a simplified scrapbook or journal. Kids write, draw, and sometimes paste or tape things in for a particular topic. They can be as simple or complex as you like but I find that simpler is better.
What are the benefits to notebooking? In my mind, these are the biggest wins when you use notebooking pages:
It is a gentle way to help improve your children's writing skill and penmanship
It help to think critically (instead of just filling in the blanks in worksheets)
It simplifies your homeschool and unifies various pieces of curriculum
Too many times I found that my kids were just doing the work to check the boxes and weren't really retaining the information. They were "doing school" but not really owning what they'd learned. Too many times we just pushed through our to-do list and didn't seem really enriched by the end of it. On top of that, I was dealing with a reluctant writer and didn't really know how to handle that well.
When we decided to use noteboking pages, we managed to cut out a lot of busy work, build a common thread that tied all our curriculum and homeschool experiences together, and began to make real progress in writing and retention.
I have been SO encouraged by our progress! As the year progresses we have continued to incorporate more notbeooking work.
How We Use Notebooking Pages in Our Homeschool
We started out with some simple notebooking pages from various sources. However, I really struggled with how to make it work for us. We were spotty in actually doing notebooking at all, and whenever I suggested it or pulled out a page, I met with sighs and rolling eyes. They did the pages, but it was still a battle and didn't seem to be working for us.
Finally I found the FREE member resource center at ProductiveHomeschooling.com! This resource is what helped us turn things around and really start seeing results with notebooking. It not only comes with hundreds of free printables and a huge product sampler, which I HIGHLY recommend trying out, but it comes with tutorials to get you started! This is exactly what I needed to really make it work for my family.
I've went through the tutorial a few different times as I learned new things and worked through implementing them in our homeschooling. You'll want to do the same! It will help you really pinpoint what areas you can cut back on busy work and how to gently introduce notebooking in an effective way.
For me, two things helped me a great deal:
Narration – teaching my kids to narrate back (paraphrase) what they just read or heard me read. This starts small with a small passage, a few sentences, or even just one. We started using this approach in our daily Bible reading, school reading, and even recreational story time and it helped my kids slow down and really think about what had been read. Then process that information and relay it back in a simple narration. Over time that builds up and becomes a powerful critical thinking tool for them! Of course, it helps them a lot when they finally put pencil to paper.
Slow and Consistent Notebooking – I talked with another homeschool mom who had been notebooking all along with her now middle-schoolers. She explained that it really started small. Generally, she started with having them draw and then write one sentence per grade level as a guide. For the youngest ages, you can help them with their sentences and even write what they narrate as a very first step. This took the pressure off making it some epic writing session!
More Tips on How to Use Notebooking
I said that it helped us to simplify our homeschooling. This is really true! Here are a few photos I've managed to take during our early attempts at notebooking. They continue to get better in many ways!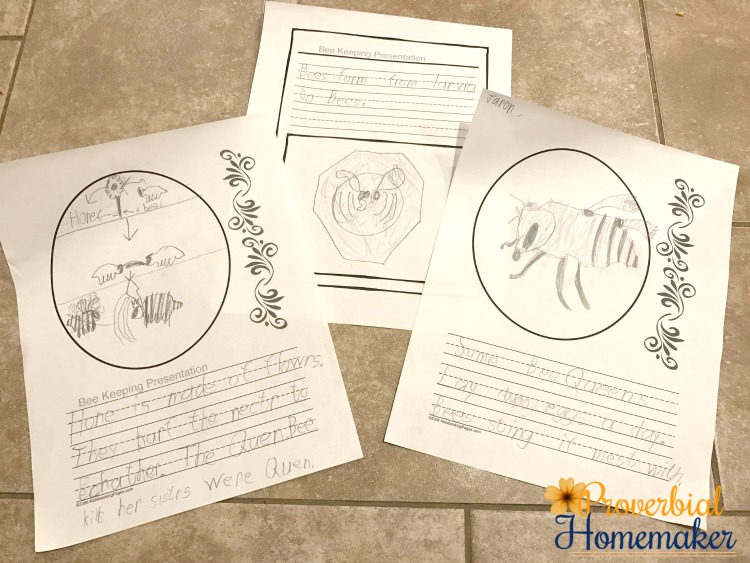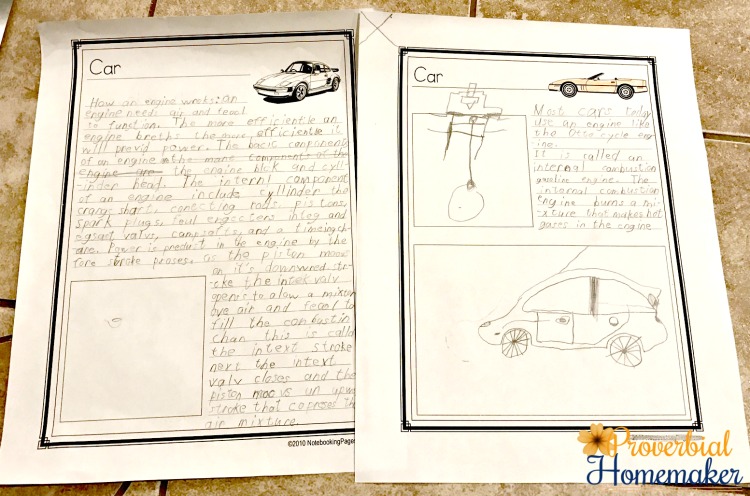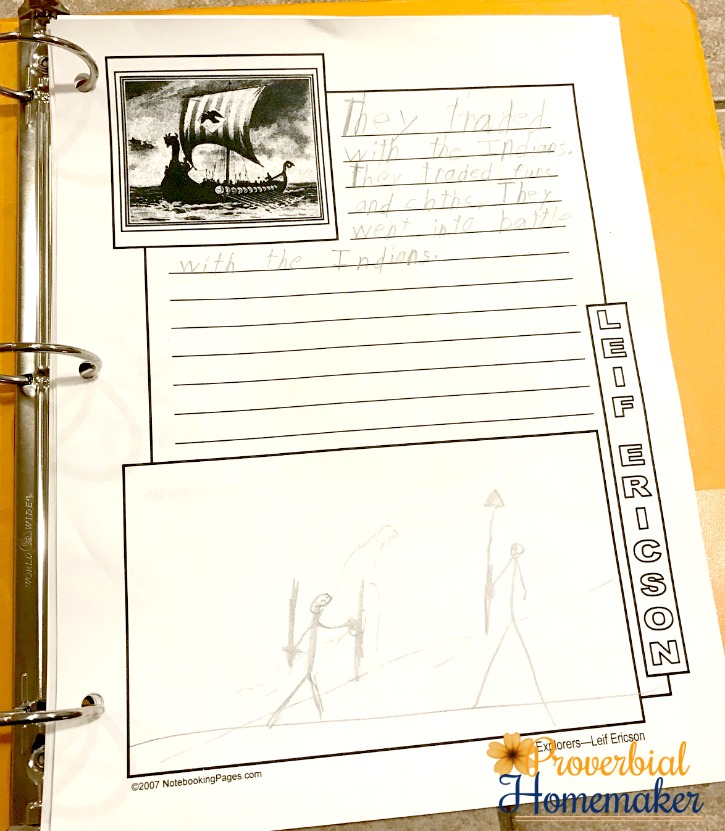 Here are some ways we use notebooking pages in our homeschool. I have used these strategies for some of our notebooking session but not all of them. I let them know ahead of time if we will be working on anything other than basic narration/notebooking during the session so they don't get frustrated.
Practice writing and penmanship: I let them copy a scripture or quote, or complete their notebooking page for whatever we're working on, and then had them correct any grammar or penmanship issues that need addressed.
Spelling work: We use a separate spelling curriculum but often will pause to work on a list I create from words I've noticed are often missed in their notebooking. I don't call that out – it just becomes that week's list!
Taking full advantage of various homeschooling opportunities: Once we went to a homeschool group meeting where a family did a presentation on their beekeeping activities! We checked some books out from the library afterward, got a copy of their slides, and did some notebooking on it! My son still remembers what he learned and wrote about honey bees. (Photos below – These are pages you can customize from NotebookingPages.com)
Geography: We do simple map work for our homeschool. Going back and working through basic state and country notebooking pages is a great way to reinforce that work and dig deeper into learning more about them.
Independent Learning: My oldest two do "inquiry," where they pick a topic and do independent research on it. Their work is entirely done with a library card, a few online videos and informational sites, and their narration and notebooking work. It is so effective!
Much more! Almost every subject can incorporate narration and notebooking. It cuts out busy work, helps enrich the learning process, and keeps things simple.
If you've been thinking about trying notebooking pages in your home or have been having a hard time getting started, make sure you get the FREE member resource center at ProductiveHomeschooling.com and go through the tutorial they offer. You will be blessed!
You Might Also Like…
7 Ways to Incorporate Charlotte Mason in Your Homeschool