Last year we decided to make the move to living books for history. It was a good move. A life-giving, sanity-saving, joy-infusing move, not only for my kids and their homeschooling but for myself as their teacher.
Using engaging stories and living books for history makes it so much more fun and memorable, drawing us in beyond dry facts and dates. That's what we want isn't it?
Naturally, I wanted to replicate this success in other areas of our learning! Geography was a perfect next step. Learning about the world and its cultures is something that instantly intrigues children, especially when it's told with beautiful and engaging stories!
This post is sponsored by Beautiful Feet Books. However, curriculum from Beautiful Feet Books is treasured in my home and this review, as always, is an honest one. I know you'll love it as much as we do!
Teaching Geography and Cultures with Living Books
Confession time: It took me a few years to realize that geography isn't just about drawing maps, or identifying capitols and whatnot. I thought the subject was rather dry and boring! But that's not the case at all.
Geography is actually about all of that, but more importantly, it's about the people — their cultures and their journeys in the context of history. It is far more interesting and meaningful than I had expected, and the best part is that it can be done quite well with living books!
Here are some tips for how to teach geography using living books.
Maps and Landmarks
First, get some good maps in place. You can use a globe, a wall map, some great map books, placemats with maps on them, printables, and so on. We have used all these and more but our dining room wall map is used most often. Having a handy go-to map helps so that when geography and culture topics arise you are able to look at a map and talk about them!
Learning basic landmarks, whether natural or manmade, is also a helpful approach. We have been particularly enjoying this map book that shows interesting features of each location drawn on the map itself. It has caused fantastic conversation and could be used as a lesson plan to explore each country.
Good Literature
If you're looking to start teaching geography, great picture books and literature are a perfect jumping off point. Of course, you will find that any source of information that talks about people and places (world news, textbooks, field trips, etc.) can lead you to great learning experiences, but living books are by far our favorite!
With living books like picture books, biographies, and other great literature, you can go along for a journey, walking in someone's shoes, or learn about the culture and features of a country in a more intimate way. It is a method that is far more memorable and engaging, which is exactly what your kids will remember most!
Here are some of the things you can explore as you read your fantastic literature and interact with your maps:
History – As you learn about a people group, it just makes sense to dip into their history a bit to learn about their past. An easy way to do this is to use historical fiction or biographies, since history lessons will often come along for the ride!
Animals and Environments – When you read a book set in Alaska, pause and take some time to learn about the animals there, the climate, the aurora borealis, and so on. Read picture books from the point of view of an animal and your kids will be captivated!
Culture – As you read your literature selection, take note of the people and their art, music, and food. For me this is where I have the most fun in teaching. We can learn about language, famous works of art, listen to music selections, and try out fun food! Learn about their folktales as well!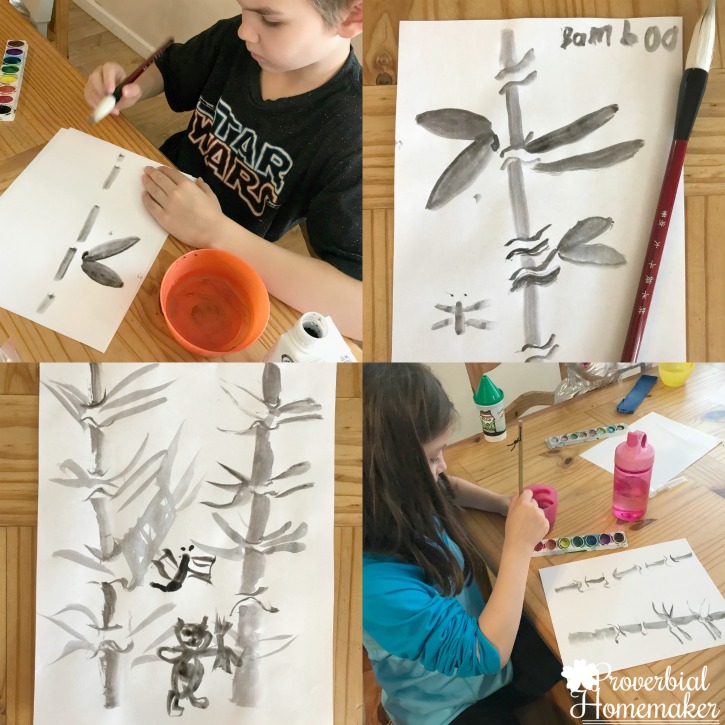 Narrate and Record
In our homeschool we've developed the the very Charlotte Mason habit of narrating as we go with our living books curriculum. It's an easy one to do with persistence! Have your children tell back to you what they heard or read during a lesson, gauging what they've retained from the reading.
Coloring pages and drawings of what they learned are also really helpful for us. If they're at the stage for it, they can do some simple notebooking to capture what most stood out to them, draw a flag or animal, or anything else that records what they learned in a memorable way!
Of course, you can do a lot of these activities on your own to learn about geography. However, one of my favorite curriculum finds this year has made it SUCH a fantastic experience for us!
Around the World with Picture Books
Around the World with Picture Books is a new study guide that walks children K – 3rd through gorgeous picture books as they learn about geography and culture!
Now, I really like Beautiful Feet Books curriculum already and we enjoy their American history series, but I absolutely LOVE the Around the World with Picture Books set! The books are really fantastic, including that maps book I mentioned to you before and all the other selections. Some we had already read before, like The Story About Ping, and some were new treasures, like Anno's China.
I have never gushed about a curriculum so much. My husband gave me a few funny looks as I kept telling him how amazing it was. Lol! Part II which will cover Europe and South America will be available summer of 2018, and it's definitely on my to-buy list!
Around the World with Picture Books Part I includes 70 lessons for between a semester to a year's worth of work, depending on your pace. Although it's K-3rd I use mine for pre-k -4th and it works great. You can simplify or extend as needed.
The lessons in Part I cover Asia (China, Japan, Thailand, and India), Africa (Morocco, Egypt, Kenya, Tanzania, and Ghana), Australia, and Antarctica.
Here are some reasons why I'm such a fan:
Gorgeous and engaging picture books (did I mention that? I think I did)
Helpful and interesting study guide with activity ideas, including easy ones we can do without much prep work, if any.
A lovely experience "visiting" each country and learning about food, music, art, history, and more.
The photos and layout of the study guide itself is really beautiful. For some reason this was a huge plus for me. I think I enjoy reading through it, looking at the photos, and doing the small amount of prep work just as much as my kids enjoy the lessons!
Wonderful suggestions and links for YouTube videos, more books to explore, etc.
A journal for simple notebooking and recording. There are sheets you can print off for coloring or for pasting into the journal.
Optional digital download of the study guide, which can be really handy for those links and printing off coloring or notebooking pages.
Watch a Replay of Our Recent FB Live Demo / Review
I answered a LOT of questions in the comments of this FB live video, so if you can, hop over there and browse through those! Someone may have asked the question you are wondering right now.
Some Considerations to Note
First, learning about geography and cultures is the perfect occasion to talk to your children about sharing the Good News about Jesus Christ, reaching other people groups with the gospel, and praying for those countries. Since the study guide doesn't really provide that you'll want to add it on your own!
Second, the whole set isn't cheap, I'll grant, but we've decided from experience that the Beautiful Feet Books selections are always so wonderful that they're worth the investment for a great library of living books.
Here are some other ways to reduce the prices:
Just buy the study guide and a few book selections
Buy the set and get the automatic $20 off and free shipping
Use their Lowest Price Guarantee offer on their packs. If you can put together their pack from a different seller and come up with a lower price, they'll match it and give you $10 credit off your order! Their pack prices really can't be beat.
If you already own 1-5 titles in the pack you can call them and they'll remove those books from your order, adjusting the price down.
You Might Also Like…
Our Switch to Living Books for History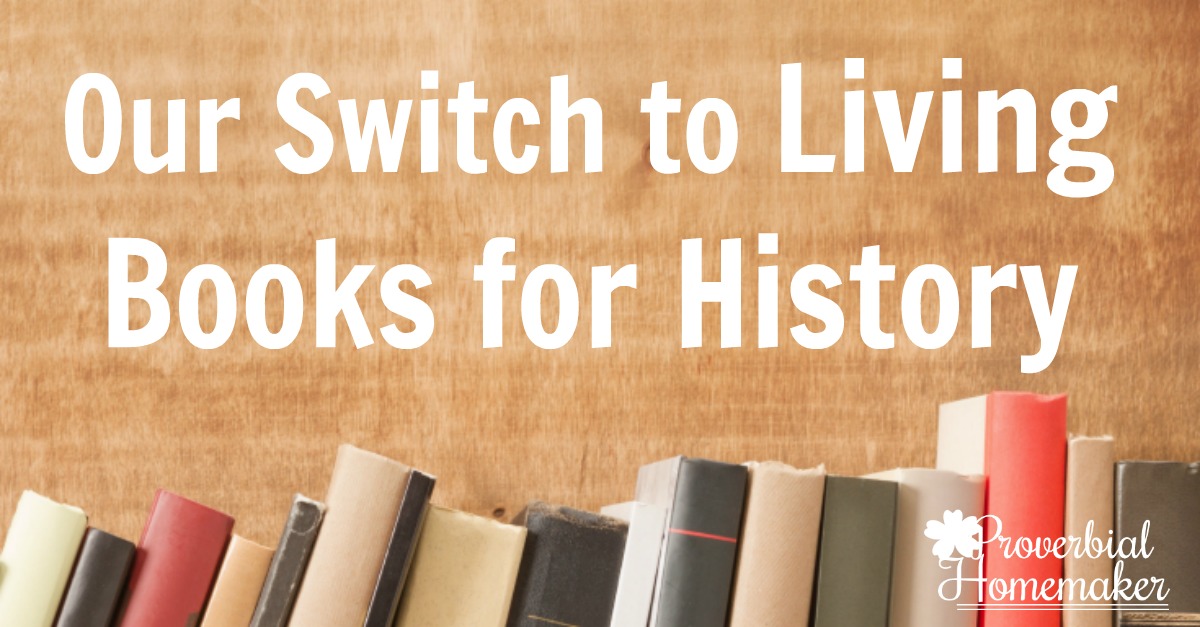 SaveSave
SaveSave
SaveSave