Geography can be such a fun learning experience. It can also be rather boring and dry. Which would you rather do? I know my kids respond so much better to my teaching when I use engaging and hands-on ways to teach a subject. Our latest victory: teaching with geography puzzles!
I'm sure if you're a homeschooler (or just a mom who loves learning toys) you'd purchased one of those big floor puzzle maps something similar. You can find many different geography puzzles to use with your kids. They love the challenge and learn something productive in the process! Plus it's a great afternoon activity when it's too hot or cold and rainy to play outside.
Disclosure: *This post may include affiliate links. As an affiliate, I earn from qualifying purchases. Read the disclosures and terms for more information.
What Do Kids Learn with Geography Puzzles?
Kids learn SO MUCH when they play with puzzles! Of course, there are some things any sort of puzzle will teach, such as problem solving, perseverence, fine motor skills, hand-eye coordination, congitive skills, and so on.
Geography puzzles have an added bonus of teaching geography in a hands-on way. They learn the relative size of continents and countries in relation to each other, location of countries, major bodies of water, and so on. Depending on the puzzle, you can also learn capitals and other facts.
Our Globe Puzzle
We've been using the Ravensburger XXL Children's Globe 180-Piece Puzzleball from Timberdoodle (you can buy it on it's own or as a part of the third grade curriculum kit) and found it was a great fit for our older kids, ages 7 and almost 9. I LOVE that it forms a 3D globe that can be used in the school area or a kids' room for a fun geography learning tool.
The globe puzzle also comes with with some bonus learning opportunities. For example, they can learn interesting features of different countries and bodies with the interesting pictures on the globe, such as elephants in India, or the Redwood forests in California. The puzzle pieces are a sturdy thick plastic that fit together perfectly. On the backs of the pieces are numbers and arrows for easy assembly for younger kids.
One feature I particularly appreciate is that the puzzle is designed to work for three different ability levels or age groups so that this learning tool can be used again and again! That's a great win for this frugal mom of many.
Here are the different levels of assembling the puzzle globe.
Assemble using the numbers and arrows to show the order and direction of each piece. My 8 year old did this twice and loved it.
Assemble the globe using a world map as a reference. A great step up in learning country locations.
Use as a refresher or challenge for older kids and have them assemble the globe without a map for reference!
The only downside to this puzzle is that it still is, in fact, a puzzle. Meaning a) creations can be destroyed (just ask a distraught 8 year old whose just-finished puzzle was annihilated by a wayward bouncy ball) and b) pieces can be lost. Be careful to keep them all in a bag after opening the box!
We have really enjoyed using geography puzzles in our homeschool and it has whetted our appetite for more fun teaching tools like that. The kids hardly know they're learning! 😉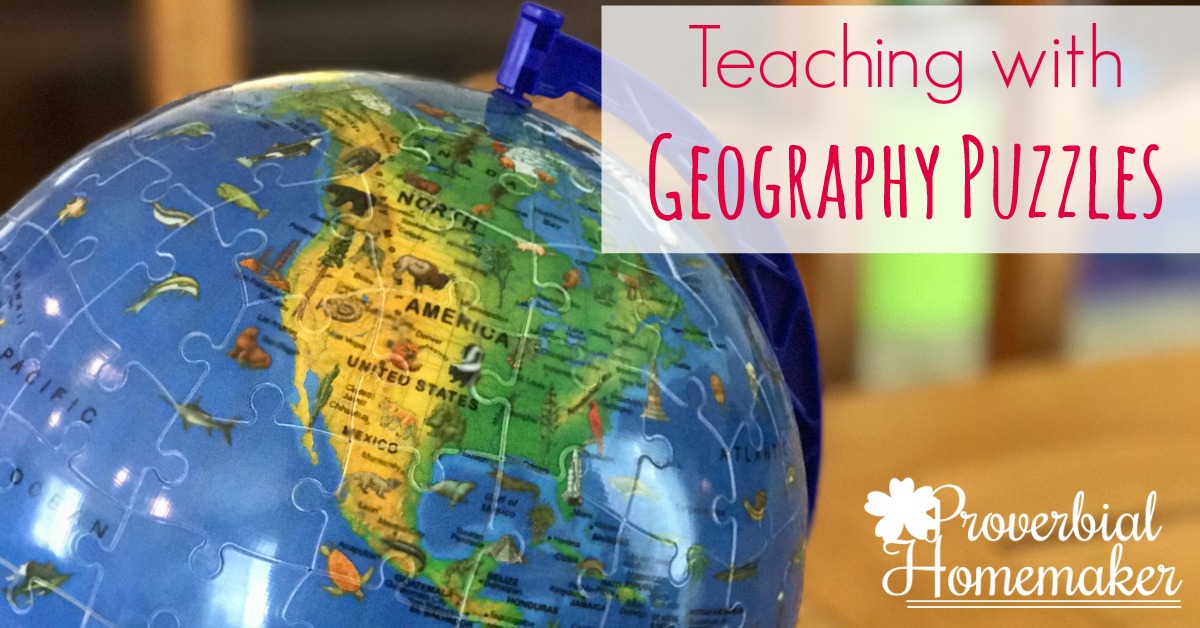 Have you tried geography puzzles with your kids? What other hands-on geography activities have you used?
Disclosure: I received this product in exchange for my honest review. All opinions are mine.
You Might Also Like…
U.S. States Cards (Free Printable Pack)