Many little boys and girls are fascinated by these huge construction vehicles that build the roads that we use to drive on. Our boys have spent hours outside playing with their big Tonka and John Deere trucks relocating sand, digging holes or moving rocks around the yard.
If you have any children who are into big trucks than check out this amazing Construction Vehicles printable pack specifically designed for those ages 2 – 9.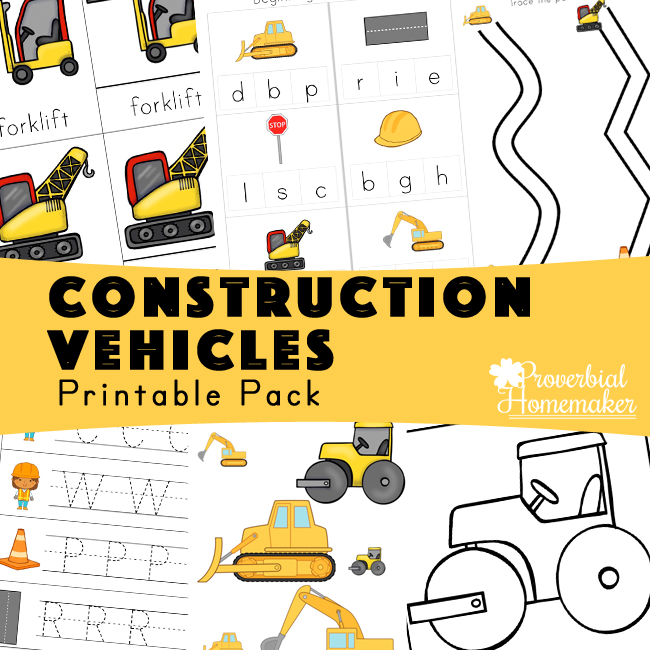 Disclosure: *This post may include affiliate links. As an affiliate, I earn from qualifying purchases. Read the disclosures and terms for more information.
This massive pack includes 88 pages of fun and learning!
There are many literacy activities:
3 Part Cards – Once printed out on white cardstock and laminated, these can be used in many ways, as flashcards, spelling cards, memory game cards and matching cards.
Beginning Letter Sound Cards – Again these cards are great when printed on white cardstock and laminated. Use a peg, pom pom, lolly or white marker to cover the correct answer.
Handwriting Practice pages – Learn how to spell the name of each construction vehicle while practicing forming the letters correctly.
Shadow Matching Cards – A fun way to match construction vehicles with their shadows
Colour Matching Cards – A fun way to practice colours.
There are also many math activities:
Counting practice – Practice counting and writing your numbers.
Simple addition – A fun way to practice adding items.
Simple subtraction – A great way to learn and practice subtracting items.
Size Sequencing Cards – Place the cards in order from smallest to biggest or biggest to smallest.
Finish the Pattern – A fun way to learn patterns.
While learning about Construction vehicles, we talked about the roads and pathways that they built and how we used them to drive and walk on. This led to talking about the path that we, as Christians, should follow. So, at the end of this printable pack, I have added four verses for your child to copy and memorise that relate to the correct path that we should follow. Each of these verses comes in two versions for you to choose from: the King James Version and the English Standard Version. These verses can be used as copywork and then dictation for those that are able to write.
The verses you will find in this pack are:
Proverbs 3:6
Proverbs 4:26-27
Psalm 25:4
Psalm 119:105
I hope you enjoy this Construction Vehicles Printable Pack!
Download the Construction Vehicles Printable Pack!
Get the Construction Vehicle Printable Pack!