Kids love to learn about space! Not only can you enjoy teaching your kids about all the aspects of outer space, but you can take advantage of their fascination with it as an opportunity to teach a space unit that focuses on God and His creation.
We have done a space unit with my kids a few times so far during our homeschooling years (I took some of the photos in this post 6 years ago!) and I'm sure we'll do it again. It's so much fun! Below you'll find a big list of great resources and ideas for YOU to try with your space-loving kids, as well as a free printable for ages 2-9.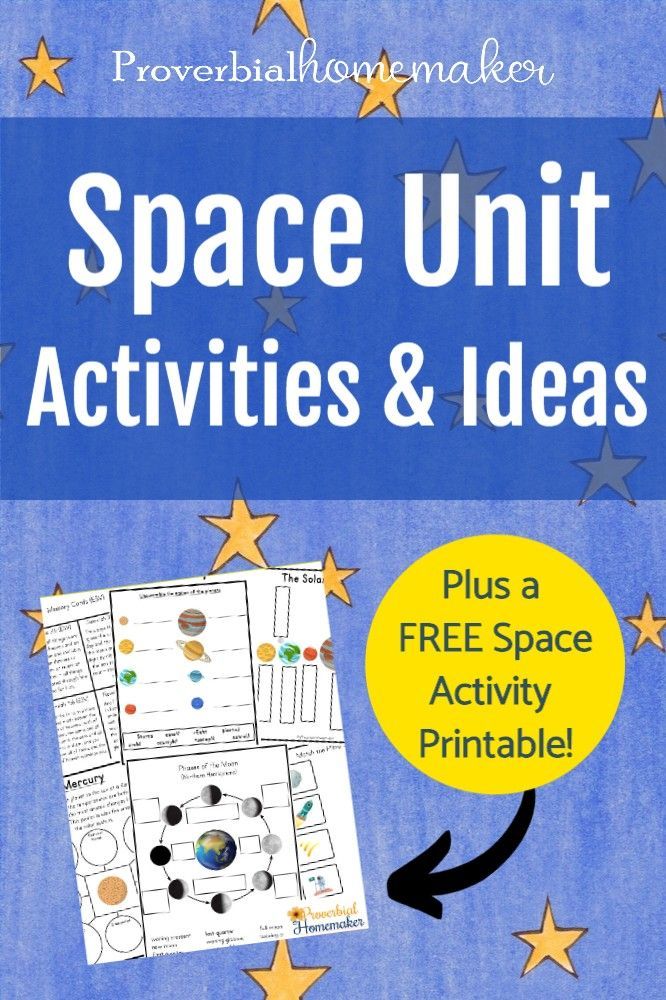 Disclosure: *This post may include affiliate links. As an affiliate, I earn from qualifying purchases. Read the disclosures and terms for more information.
Space Unit: A Short Bible Lesson
God created the heavens, including Earth, the sun moon and stars, everything in our solar system, our galaxy, and even in our entire universe! Isn't that amazing? It is all created by Him and sustained by Him. As we study space we are studying the creation of God. That's what science is: the study of creation. God made all of it to bring glory to Him and be a testimony to us of His nature. Let's learn about it together and give praise and thanks to our creative, holy, and all-powerful Father God.
Read each verse below and discuss how it explains that God created and sustains the universe, and how it brings Him glory. Have older kids search for more Scriptures that point these truths. Williams Bible Link or Open Bible are good tools to try. (Note: All the Scriptures below are also in the Free Space Printable Pack download at the bottom of this post, included in ESV and KJV as memory verse cards and copywork.)
God Created it All
"In the beginning, God created the heavens and the earth." Genesis 1:1
"By the word of the Lord the heavens were made, and by the breath of his mouth all their host." Psalm 33:6
"He set the earth on its foundations, so that it should never be moved." Psalm 104:5
God Preserves and Sustains His Creation
"Thus says the Lord, who gives the sun for light by day and the fixed order of the moon and the stars for light by night, who stirs up the sea so that its waves roar— the Lord of hosts is his name:" Jeremiah 31:35
""You are the Lord, you alone. You have made heaven, the heaven of heavens, with all their host, the earth and all that is on it, the seas and all that is in them; and you preserve all of them; and the host of heaven worships you." Nehemiah 9:6
All Creation Exists for God's Glory
"For by him all things were created, in heaven and on earth, visible and invisible, whether thrones or dominions or rulers or authorities—all things were created through him and for him." Colossians 1:16
"When I look at your heavens, the work of your fingers, the moon and the stars, which you have set in place, what is man that you are mindful of him, and the son of man that you care for him?" Psalm 8:3-4
"And I heard every creature in heaven and on earth and under the earth and in the sea, and all that is in them, saying, 'To him who sits on the throne and to the Lamb be blessing and honor and glory and might forever and ever!'" Revelation 5:13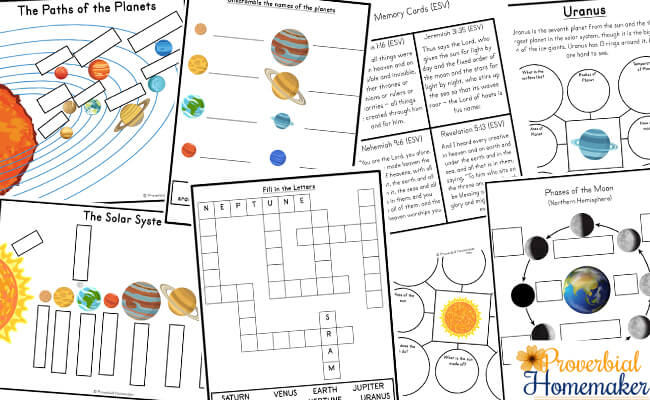 Start Your Space Unit With the Sun, Moon, and Stars!
Our kids can see the sun, moon, and stars from their windows, so I thought it was the perfect place to start! Choose a few of these great activities to do with your children.
Oreo Phases of the Moon – We've done this a couple of times and it's a ton of fun. Plus, you get to eat the broken ones 😉 #score This activity example is from How to Homeschool Your Child, and you can find other fun moon videos and activities there, too.
How did the Moon Get Craters? – This fun art activity and simple science lesson is a fun one from Gift of Curiosity.
Space and Moon Unit Studies – These are from Unit Studies by Amanda Bennett, which we always enjoy in our homeschool. You can get the bundle or buy them individually.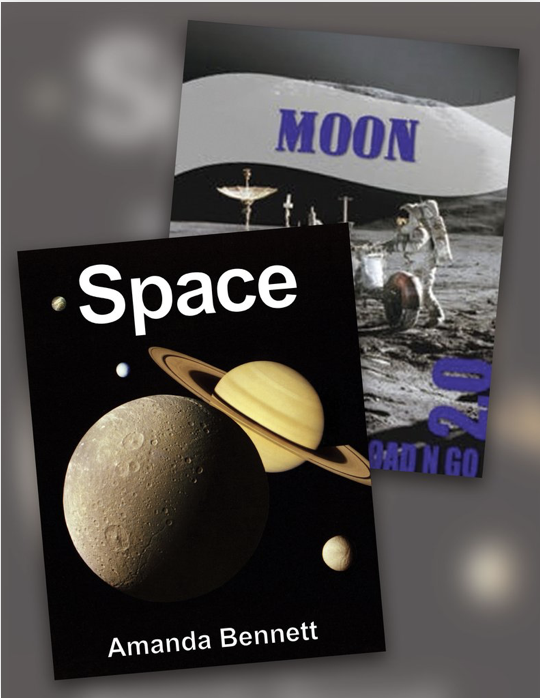 Astronomy Morning Time – This is a great Charlotte Mason morning time resource from The Homeschool Garden. Includes book lists, poetry, tea time, nature study, and more.
Spend More Time on the Sun – This roundup from Homeschool Giveaways of free printables and unit studies on the sun can be explored for a full week at least. Your kids will love it!
100 Science Activities About the Sun – This is a great list from iGameMom of fun science experiments all about the sun.
Star Books – We learned how to draw a simple 5-point star together and practiced for our star books, where we showed each type of star by color and how hot it is. We discussed how different star colors indicate how hot they are and made a little book to help them remember.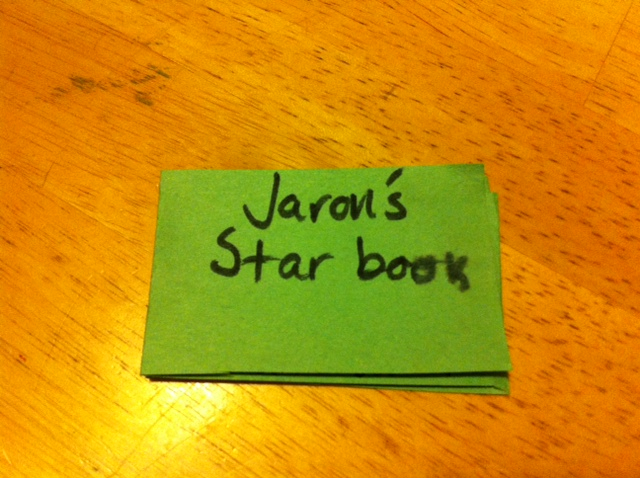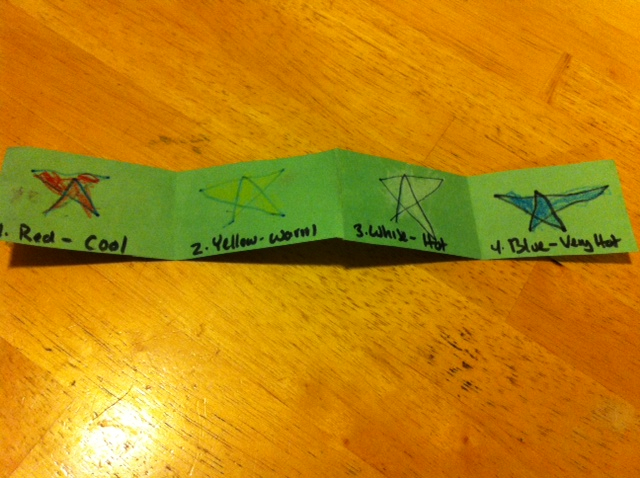 Marshmallow Constellations – Make your own constellations using marshmallows and toothpicks!
Exploring Stars – I found many ideas for activities and discussion about stars from this Star Stuff Kindergarten page. We talked about the air from helium balloons and how it makes balloons float. We talked about how stars are made of helium and hydrogen. We also watched the video Magic School Bus Sees Stars and discussed the lifecycle of a star.
Star Walking – If you have $5, check out the iPad app Star Walk. My kids really enjoy that and get a great look at the moon, stars, constellations, satellites, the space station, the sun, planets, and more. Very cool!
Galaxy Playdough – A fun activity from Mamma Pappa Bubba for kids where they can make star- or galaxy-themed play dough. It would be great pretend play with some space and astronaut figurines as well.
White Crayon Resist Constellations – A simple craft activity making constellations using white crayons and watered down black paint, from 3 Dinosaurs.
Kid's Constellations – Take photos of the kids in some pose on the floor. Then have your children use the photo as a guide to help them draw their own constellation! It's a fun idea I found over at Science Notebooking.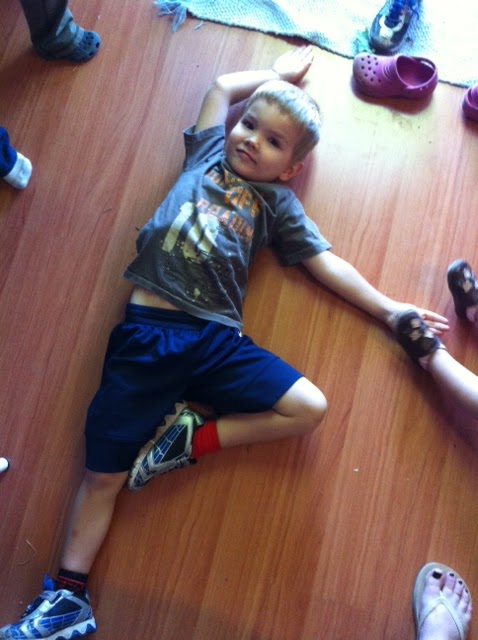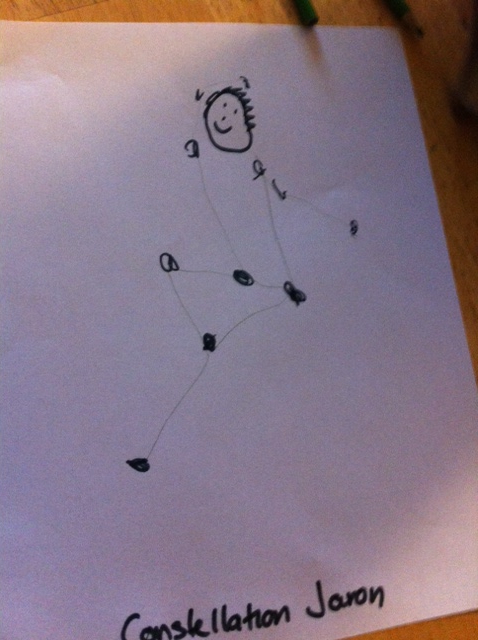 Explore the Solar System in Your Space Unit
A Few Bonus Scriptures – These are such sweet verses that focus on light (like the light God created the sun moon and stars to give). I just couldn't resist. 🙂 Talk about how God's Word is a light to our path, illuminating the way of Salvation and living for Christ. Discuss how Jesus is the light of the World! And also about how we are to shine for Jesus in this life.
Philippians 2:15.that you may be blameless and innocent, children of God without blemish in the midst of a crooked and twisted generation, among whom you shine as lights in the world,
Psalm 119:105.

Your word is a lamp to my feet

and a light to my path.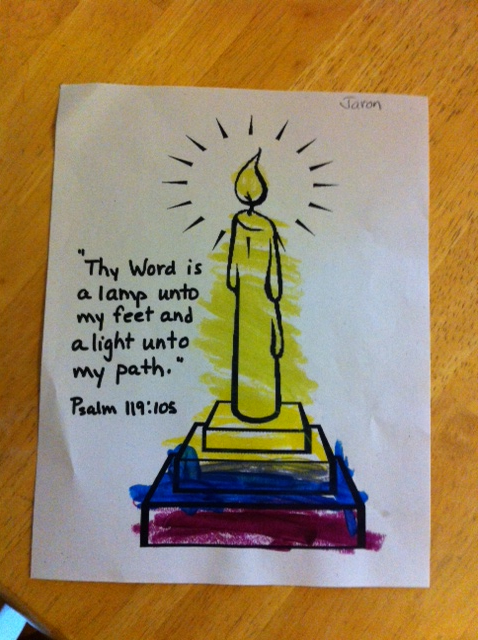 Learning Songs – We learned the solar system song mostly using the words suggested by Counting Coconuts. It's up to date (poor Pluto), simple, and pretty much the same one I learned when I was a kid.
(To the tune of "Ten Little Indians")
Mercury, Venus, Earth and Mars
Jupiter, Saturn, Uranus and Neptune
These are the 8 planets in our solar system
That travel around the sun
I also found this other solar system song and video on YouTube that I think is extremely creepy but the kids just LOVE! Why do kids love the creepy things and get creeped out by the normal things? I don't get it. Lol!
Solar System Hats – The kids loved making and wearing these fun solar system hats, an idea I found on Pinterest from Stickers and Stars. I cut a pieces of construction paper lengthwise in half and taped them together to form the bands. Then I printed blank planets from a google search for "planets printables" let the kids color them and tape them onto their bands. I taped a straw to the inside and attached a hand-drawn sun to the top. Then I used my bad handwriting to label everything, including an arrow pointing to the Earth with the text "lives here!".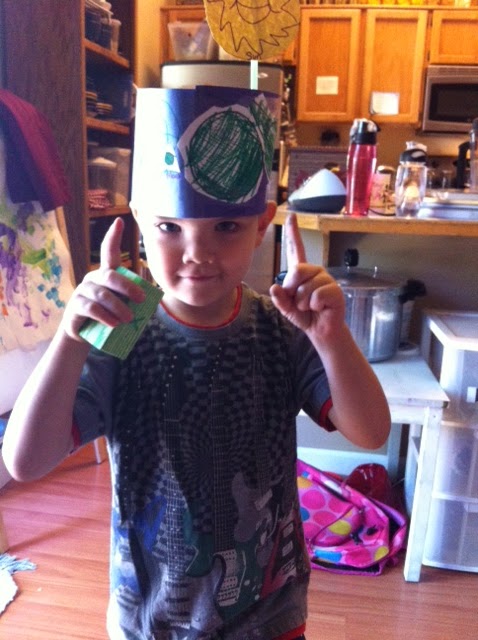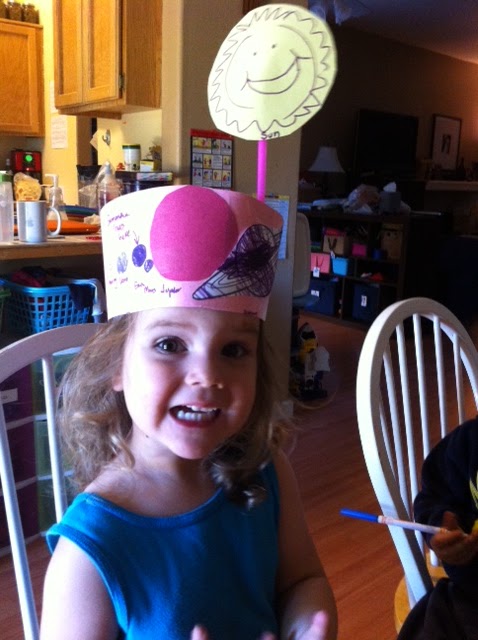 Solar System Mobile – We splurged a little and bought a (Amazon affiliate link) solar system kit for the kids to hang on their ceiling. Once again dressed in swimsuits, they painted each piece and waited for them to dry before glow-in-the-dark detailing was added.
Then Daddy and I tied the strings and small pieces and helped the kids assemble the mobile. They were SO excited to hang it up on their ceiling!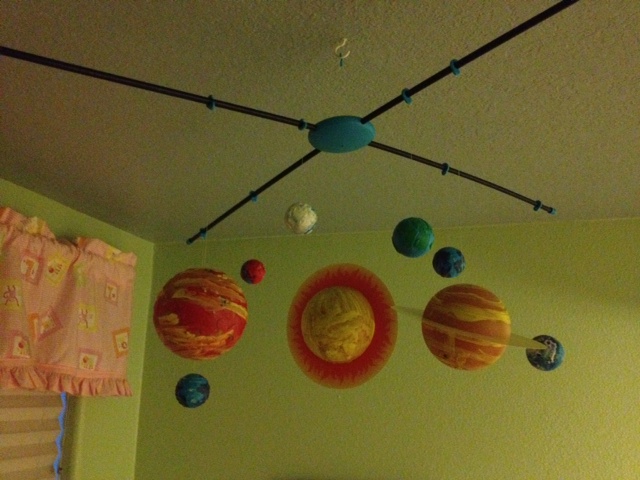 Space / Solar System Books – Pretty much anything about the solar system, astronauts, Hubble, constellations, stars, planets, etc. is a fun read aloud opportunity. Here are a few to check out (Amazon affiliate links). Of course, sometimes books and videos about space will include comments about the age of the universe or the big bang theory that you may want to skip or discuss with your child. So preview materials you use and/or be ready to discuss them if they don't align with your worldview.
Videos for Space / Solar System – More fun videos to learn about space and the solar system.
Space Unit Finale: Astronauts and Rockets!
This is always my kids' favorite part. They LOVE learning about astronauts and rockets!
Astronaut Puppets – Print these astronaut puppets from Mama Cheaps and glue photos of your kids' faces onto them. Mine loved it!
Space Tennis – I found this idea from Glitter on a Dime. I taped paper plates to unsharpened pencils and happened to have some nearly-deflated balloons on hand. Instant space tennis!
Jet Packs – The kids and I made jet packs using stuff we had around the house. They LOVE those things, even though they keep falling apart because I just used tape. 🙂 Got this fantastic idea from the blog Frugal Fun 4 Boys.
Space Dessert – The kids really liked this simple activity (got this idea from The Idea Box). I divided the contents of chocolate instant pudding into four plastic baggies. We put milk in our baggies and carefully mixed and smooshed them well, then stuck them in the fridge until after lunch. When lunch was over, we pretended we were in a rocket and counted down to launch and went into orbit. I brought the bags out and snipped off the corner for the kids to suck up the pudding.
Lego Robots – The boys especially thought that the idea of robots in space was hilarious. I had to explain to them a few times what those robots look like and do, and what robots actually are. Then we looked at the pictures in the library books. We pulled out our duplos and they got busy creating their own robots.
Looking for a Full Astronomy Curriculum Instead?
Apologia Astronomy Curriculum – We used this once as a group science study. It worked well as a read aloud and then we did some of the experiments suggested. You can also get a notebooking journal if you'd like.
FREE Space Unit Printable Pack!
To make this even more fun and easy for you, we've provided a free space printable pack! Your kids will not only be learning about the planets, moon, and sun, they will also be working on their math and literacy skills. The activities included in this 90+ page space themed pack are:
Mazes
Tracing the lines
Following the letters
3 Part Cards

I Spy Counting Activity
Tracing the words
Number puzzles
Size Sequencing Cards
What Comes Next?
Finish the Pattern
Creative Writing Pages
Count and Clip Cards
Spot and Dot the Letters
Alphabet Matching Cards
Dab a Dot Fine Motor Activity
The Solar System Posters
Label the planets on the solar system posters
Unscramble the names of the planets
Fill in the missing letters
Phases of the Moon Poster
Phases of the Moon fill in the blanks
Monthly Moon Tracker
Match the picture to the word
Bible Verse Memory Cards in both KJV and ESV
Bible Verse Copywork pages in both KJV and ESV
This pack also includes research pages for each of the 8 planets, plus the dwarf planet Pluto as well as for the sun and the moon. On these research pages, children will answer questions that include:
The surface of the planet, sun or moon
The mass
The radius
The temperatures
What the planet, sun or moon are made of
The orbit period of the planets
How many moons each planet has
Interesting Facts about the planet
What is a solar eclipse?
What is a lunar eclipse?
Download the Space Unit Printable below!
Enter your email address and the download link will be delivered right to your inbox! You'll be subscribed to the Proverbial Homemaker newsletter if you aren't already (don't worry – you can unsubscribe anytime and we never share your email address.)
I hope you enjoy studying space and the wonders of God's creation with your kids!
~ Tauna