God uses the metaphors of salt and light to describe how we can influence the world around us for His glory. When we lead Spirit-filled lives, our words and actions reflect the character of Jesus that has a profoundly positive effect on the people around us. When we live in a way that loves others and glorifies God, and when we use our words to share the good news about Jesus, people are drawn toward the Lord. How wonderful that God uses us in this way to reach others!
To help us pray and memorize Matthew 5:13-16 together, I've put together a custom illustrated pack of Scripture art prints, coloring pages, and cards in both ESV and KJV. I hope you enjoy it as you memorize this passage with your family!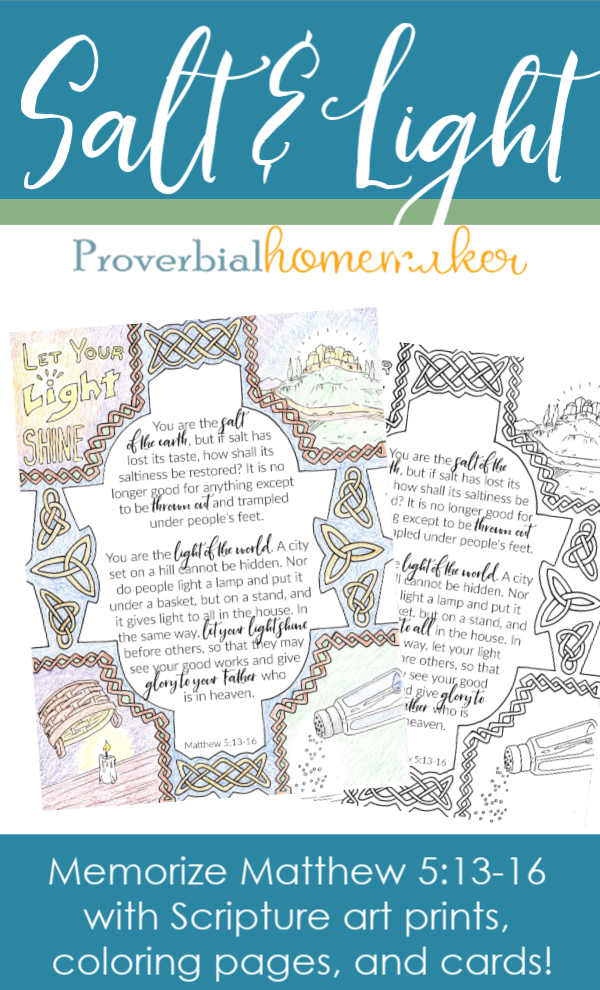 Disclosure: *This post may include affiliate links. As an affiliate, I earn from qualifying purchases. Read the disclosures and terms for more information.
Salt and Light Scripture
We are to be the salt and light of the world. What does that mean, exactly? There are different ways to think about it, but I like to think of it in terms of preserving and illuminating.
Just as salt is used to preserve foods and keep them from going bad, God's people are supposed to have a preserving and transforming effect on the world for God's glory. By being obedient to God, peacekeepers in the world, and doers of the Word, our impact on those around us will be on that moves them toward God rather than away from Him.
Further, the good works of God's people should shine like a light in the darkness, for all the world to see. It should be so illuminating that people see God in our words and actions. We should be pointing them to Him by preaching the gospel with our words and our deeds. Like a city on a hill we shine, not for our own sake, but to magnify the Lord and draw people to Him.
Pray Matthew 5:13-16
Pray through the salt and light Scriptures together as a family or pray them over your children as a bedtime blessing for a while. Ask the Lord for the words! You can use these ideas to get started.
Lord, let us be Your salt and light in this world.
Empower us by Your Spirit to live in obedience and faith.
Let our words and actions have a great impact on those around us, and use us to draw people to You rather than away from You.
Help us to be peacekeepers, wanting all men to be at peace with You in their hearts, and living in unity with other believers.
Give us grace to be doers of the Word and not hearers only.
May our lives shine like light in the darkness and attract people to Jesus. Help us to do good works with that aim in mind – to glorify You – and not to make much of ourselves.
Let our words and actions preach the gospel two all, magnifying the name of the Lord.
Love Through Matthew 5:13-16
Use this passage a launching pad to be salt and light in the world through your thoughts, words, and actions.
Study what the Bible says about salt and light in the context of this Scripture.
How can you build relationships in your neighborhood to grow your influence?
What acts of service can you do as a family to glorify God?
Are there certain attitudes and actions that are not preserving at all, but pulling people away from God and obedience to Him? Confess and repent of those things, and talk about ways you can be salt to those around you.
Write out a short explanation of the gospel and practice telling it to each other as a family so you are ready to share it in any situation.
Think of 5 people to pray for as a family that they would hear the gospel and come to Christ.
Memorize Matthew 5:13-16
Download the printable pack below and memorize Matthew 5:13-16! You'll find two custom illustrated Scripture art prints to frame or tack to your wall, memory verse cards, and coloring pages you can use to help you meditate on and memorize this passage together.
You Might Also Like…
This post is a part of our annual Read, Pray, Love efforts in the Proverbial Homemaker community. Check out past editions here.