We are busy moms and homemakers who are trying to juggle all of our many responsibilities. Sometimes it seems impossible to just catch our breath! But we know deep down that making time to spend in the Word and in prayer is critical.
If you want to be a woman of prayer who gets into scripture every day, prays it over her family, hides it in her heart, and lives it out in real life… you're going to love the Read, Pray, Love Scripture and prayer challenge!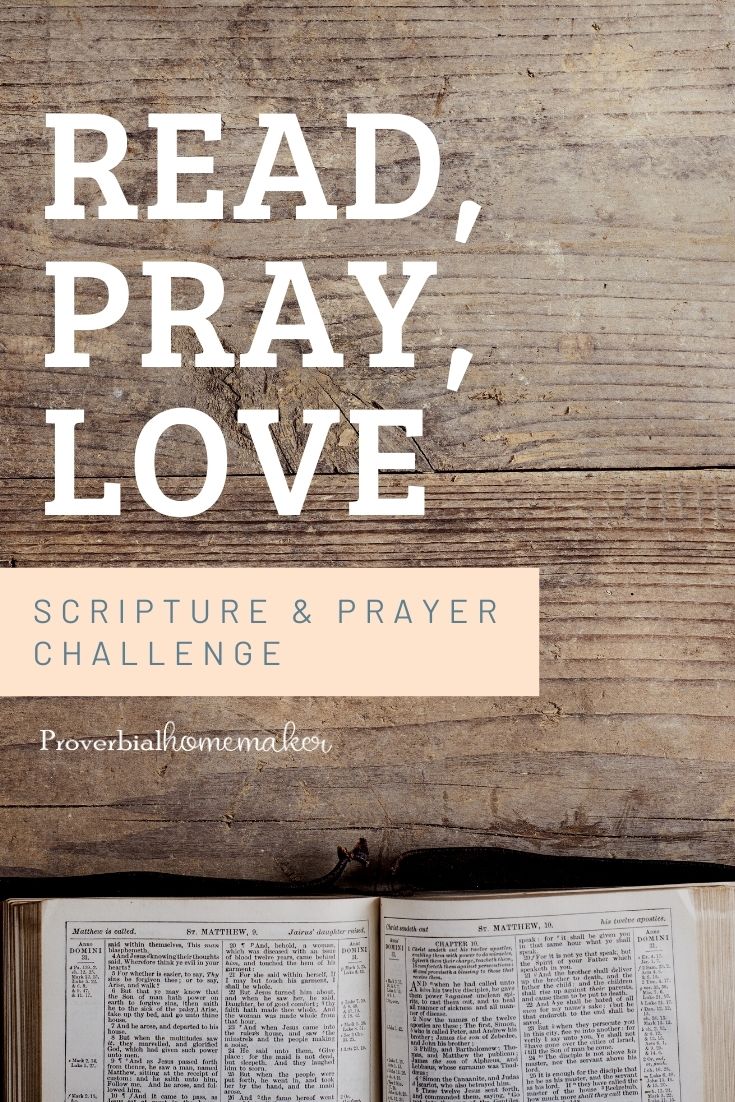 What is the Read, Pray, Love Scripture & Prayer Challenge?
Read, Pray, Love is a Scripture and prayer challenge that the Proverbial Homemaker community has been doing for years. Each year is a little different, but the main goal is to be more intentional in reading God's Word, praying through the Scripture, and putting it into action by loving God and others. Many of us also use it as an opportunity to memorize verses.
Getting Started with Read, Pray, Love
It's pretty easy to get started.
Download and print the Scripture and prayer challenge printable you want to use for the coming month (either the latest one or one from the archives). New RPL printables are delivered via email or you can download them from the pages listed below. Printables include an ESV and KJV version.
Use it to read Scripture, pray based on those verses, and memorize if desired. Then identify some practical actions the Scripture inspires you to love God and others – make those things happen!
Optionally, you can set up a Read Pray Love Scripture & prayer challenge binder to help you be more intentional in Bible reading and prayer. Instructions for that are below.
2021 Read Pray Love Scripture & Prayer Challenge
First, sign up for emails to make sure you get the monthly prayer challenge printables. This year, each month's printable will include 3 pages:
Scripture calendar – 30 verses to read in your Bible, pray through, and write out if desired. I like using these these spiral notecard packs to write the verse and my prayer each day. A main memory verse is highlighted. There's also a spot for you to record prayer requests you're praying for and a place to jot down practical actions the Scripture inspires you to do this month to love God and others.
Kid's journal page – Your kids can use this page to create a drawing based on the memory verse. There are also places for them to write down things they can thank God for, ways they can love others this month, and things they are praying for. I recommend posting it on the wall or fridge and helping them come back to it a few times during the month.
Coloring page – This year we're doing a Scripture doodle coloring page each month for you and your kids! You'll find one in ESV and KJV.
Next, go here to download all the available 2021 RPL Scripture printables. I'll be updating that page every month when the new download comes out. They're listed from oldest to newest, with the latest printable at the bottom!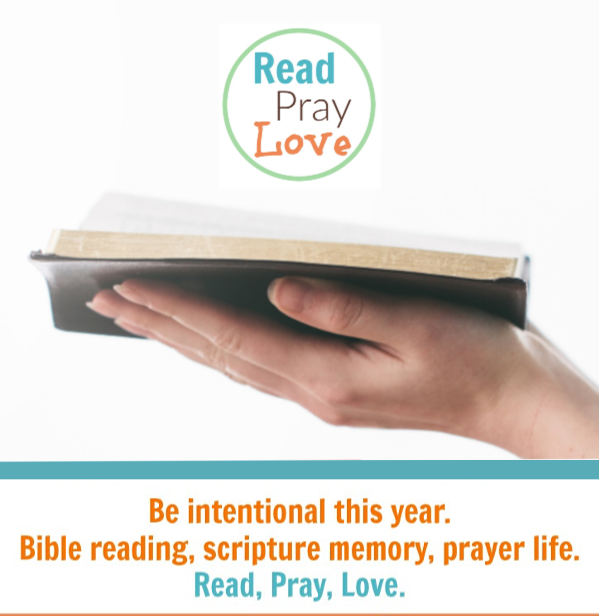 Want More? Browse the RPL Archive
Each year of Read, Pray, Love is a little different. But it can all be used anytime, so feel free to dip into the resources from past years.
(2020) Long Passage Focus – Focusing on long passages to read about, pray through, and take action on.
(2019) James Scripture Challenge – For 2019 we tackled the book of James! We focused on study, prayer, and memorization throughout the whole book and enjoyed it immensely. The entire set of 12 Bible study packs is now bundled and available in the store.
(2018) Long Passage Focus – For the 2018 Read, Pray, Love, we kept our scripture art prints, coloring pages, and cards, but have been focusing on longer passages & family scripture memorization. We also re-worked our binder system for a more efficient and sustainable approach.
(2017) Character Traits – In 2017 we focused on praying through 12 godly character traits and added to our printables with beautiful custom illustrated scripture art and coloring pages!
(2016) 52 Weeks of Key Scriptures – In 2016 I gathered 52 weeks worth of scripture that I wanted to pray over my children and created one long download of scripture cards and journal pages.
Set Up a Read, Pray, Love Binder
If you like, you can download the set of binder set up files below. These include everything you need for a system to simplify and be more intentional with Bible reading, prayer, and scripture memorization.
Scripture reading checklist – A simple card where you pick a book to read and check it off. You can also use your own reading plan if you already have one.
Daily Do and Loop-de-Loo prayer checklist – A looping system for covering all the people and areas in your life with prayer without falling behind.
Prayer Requests checklists – A simple checklist to record and pray for those specific prayer requests that come your way.
Praises and Thanksgiving pages – Praising God and giving thanks for the answers to prayer!
Scripture memory / prayer pages – Great for scripture writing, jotting down references to memorize, and adding your monthly scripture printables.
Praying for My Family cheat sheet – Fill out and post somewhere to pray for your family as you wash dishes, shower, fold laundry, etc.
Download the 2018 Read Pray Love binder files
*Your download link will be emailed to you and you will be subscribed to Proverbial Homemaker if you aren't already. Be sure to check your spam/promotions folder.
If you have any issues, check out this
troubleshooting guide
or feel free to
email me
!
Read, Pray, Love Demo Video
This was a demo of the binder that we did on FB Live back in 2018. It will give you a better idea of how it works!
I hope the Read, Pray, Love Scripture and prayer challenge are a blessing to you and your family!
~ Tauna
You Might Also Like…
One-Year Reading Plans & Resources for Kids