Disclosure: *This post may include affiliate links. As an affiliate, I earn from qualifying purchases. Read the
disclosures
and
terms
for more information.
Before we can experience the freedom and transformation that comes through the Spirit of God, we must turn our hearts to the Lord. Then the veil will be lifted and we will be able to truly see and understand the gospel! I have experienced this powerfully in my life, and want nothing more than for my children and loved ones to have that same experience! Will you join me in praying through and memorizing 2 Corinthians 3:15-18 together? I hope it is a blessing to you!
Remember that you can see all of the Read Pray Love printables in this series here.
Yes, to this day whenever Moses is read a veil lies over their hearts. But when one turns to the Lord, the veil is removed. Now the Lord is the Spirit, and where the Spirit of the Lord is, there is freedom. And we all, with unveiled face, beholding the glory of the Lord, are being transformed into the same image from one degree of glory to another. For this comes from the Lord who is the Spirit.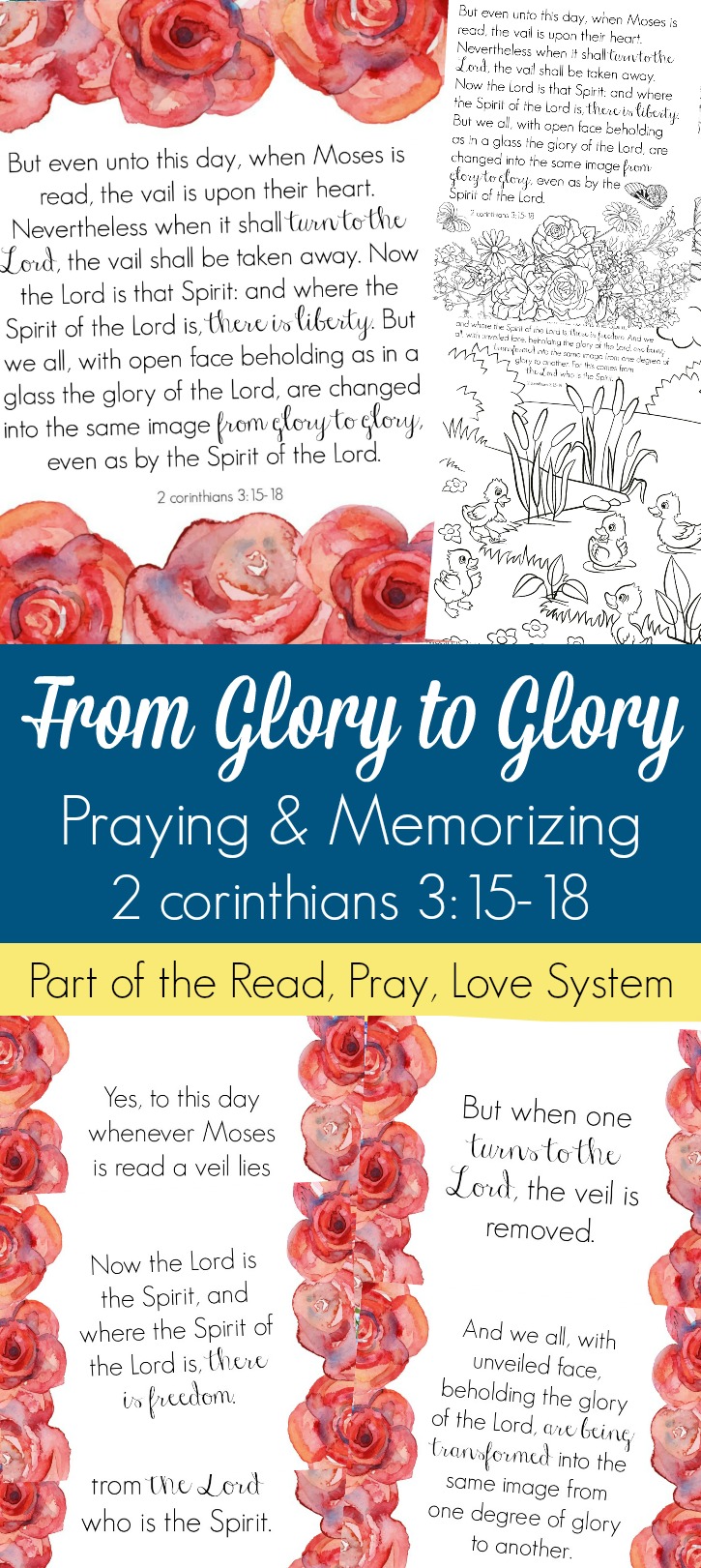 This scripture memory printable and prayer focus is a part of the 2018 Read, Pray, Love system (with comes with monthly printables and prayer binder setup files), but you can use it alone or jump in on our year-long efforts anytime!
As always, the scripture printables are available in ESV and KJV with coloring pages for adults and kids. Download the printable below and get started memorizing it with your family and praying through it! Below are some prayer prompts to get you started.
Don't forget to check out this post for more information on how to memorize scripture with your kids and how we are using these monthly printables to pray diligently for our families!
From Glory to Glory — Praying Through & Memorizing 2 Corinthians 3:15-18
(These notes and prayers are also available in the download file.)
Prayers and Devotions
The Bible says that before we turn to the Lord, our understanding limited and we are unable to see the reality of God in our lives. The truth of Christ is unfathomable, because our hearts are veiled from it. We cannot experience God, His love for us, or experience HIs transformation in this state.
BUT, when we turn to the Lord, we experience forgiveness of sins, a new understanding of God's truth, and the ongoing shaping and transforming of the Holy Spirit working in our hearts to make us more and more like Jesus every day. "Where the Spirit of the Lord is, there is freedom."
Friends, when I read this passage I am often brought to tears of gratitude, for this has been the powerful experience of my life. I also go to the Lord in prayer for myself, my loved ones, and all those who would know the incredible love and transforming work of Christ in their lives.
Will you join me? Let's memorize this passage with our children and pray through it together.
Praying the Verses
Lord, thank You for Your amazing love for us, that You would pursue our hearts through the work of Christ on the cross. We know that Your laws are good and true, and that You have purposed a way for us, Your deeply flawed and sinful people, to be reconciled to You through Jesus.
We pray for those who still have a veil over their hearts and cannot fully see the truth of who You are and the good news of their salvation. Please soften their hearts toward the gospel, and lead them to turn their hearts to You! May the veil be lifted from their hearts so they can know the freedom that we only have through Your Spirit. Give us discernment and courage to be used by You in any way that helps bring about this heart change in the lives of others.
Lord, help us to clearly and effectively communicate Your truth and love to our children, always pointing them to their need for a Savior. You know our mom's heart prayer… that our children will know and love You, and walk in genuine relationship with You
Thank You for the amazing freedom we have in Christ! Thank You that You have saved us and You continue that work in us until it is finished, transforming us into the image of Christ, from one degree of glory to another, by the work of the Spirit in our lives. We pray for this transformation in the lives of each family member.
Lord, we love You, and cannot ever fully understand the amazing love You have for us. As we learn this passage and hide it in our hearts, give us eyes to see You working in our lives and the lives of our children. Grant us a deeper experience of the freedom and transformation that comes through the Spirit.
Thank You for Your Word and unending love.
In the name of Jesus we pray,
Amen.
Download & Start Memorizing 2 Corinthians 3:15-18 (ESV & KJV)
You Might Also Like…
The Prayerful Homeschooler: Tools for praying diligently over 8 areas in your family and homeschool life.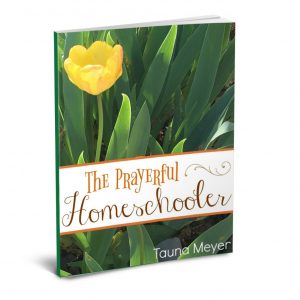 SaveSave
SaveSave
SaveSave
SaveSave
SaveSave