Even with young children, you can help kids memorize scripture. Starting early has many benefits. It creates a family culture that is saturated in the Word and feeds upon it for daily living. Even if our kids don't yet understand the complete significance of the scriptures, the Word of God is active, powerful, and living. It will do a work in their hearts even at this young age.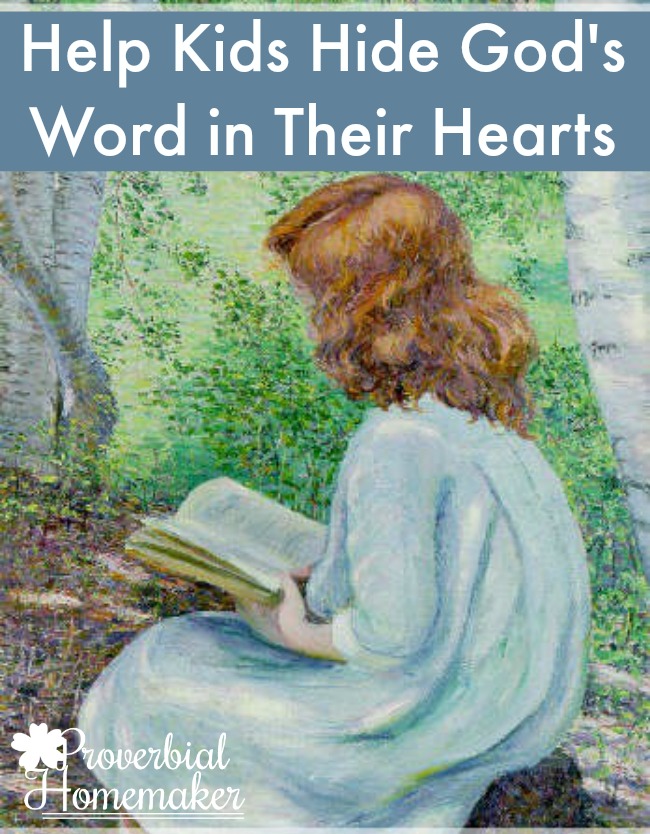 Disclosure: *This post may include affiliate links. As an affiliate, I earn from qualifying purchases. Read the disclosures and terms for more information.
Helping Your Kids Memorize Scripture
Here are some ideas for helping your children hide the Word of God in their hearts:
1. Memorize. Kids as young as two can memorize simple scriptures. Teach them the reference too so they know where to find it when they're old enough to do so. Our kids work on one scripture a week together. The oldest (almost 7) will memorize another scripture a week from our Bible curriculum, Bible Road Trip. Every day we review a set of past scriptures using the Simply Charlotte Mason index card method, except we use a 3-ring binder instead.
If you're just starting out, keep it simple. Choose one scripture at your child's level and recite it every day together. Start by having them repeat words or phrases after you. Then repeating the whole scripture after you. Finally, they should be able to recite it along with you and then on their own.
2. Music. Play scripture to music in the house or car. Use it to help your kids memorize scripture. Sing it when you're going about the day's work. Often you can find something on YouTube. Here are some of my favorite resources:
3. Visuals. Find or even draw a picture that captures the idea of the verse. Put in on the scripture card or hang it up and talk about it with your child. Look at it when you memorize the verse and encourage them to say the verse whenever they see that picture.
4. Motions. Find sign language or simple hand motions that will help with memorization. Come up with your own or search on the web. For example, my son learned John 3:16 by using the hand motions recommended on this Awana site.
5. Stories. Find movies, library books, and good children's picture Bibles to tell stories that support the scripture they are learning. Make up stories together that illustrate the point of the scripture. Even just putting on audio recordings of the Bible in the car or home as you are doing life is a wonderful way to hear the stories.
6. Contextual Reinforcement. Recite and talk about the scriptures they are learning during the course of the day when it applies to a situation. When they hit their sister, talk about Romans 12:10. When they disobey, talk about Ephesians 6:1. When they are afraid, talk about Psalms 56:3-4.
There are many things we can spend our time and energy teaching to our children. But most of that will not have the lasting impact that teaching them God's Word will. So find creative ways to make scripture a part of your family life!
The grass withers and the flowers fall,
but the word of our God stands forever." ~ Isaiah 40:6-8
Follow Tauna Meyer (ProverbialHomemaker.com)'s board Bible Lessons / Family Discipleship on Pinterest.
You Might Also Like…