Do you want regular-read aloud times to be a part of your family culture? It is an essential for the homeschooling family, but is also a wonderful part of any family's regular routines. However, without practice and forethought, read-aloud time can easily become a battle instead of a blessing. Here are eight tips for meaningful and fun read-aloud times.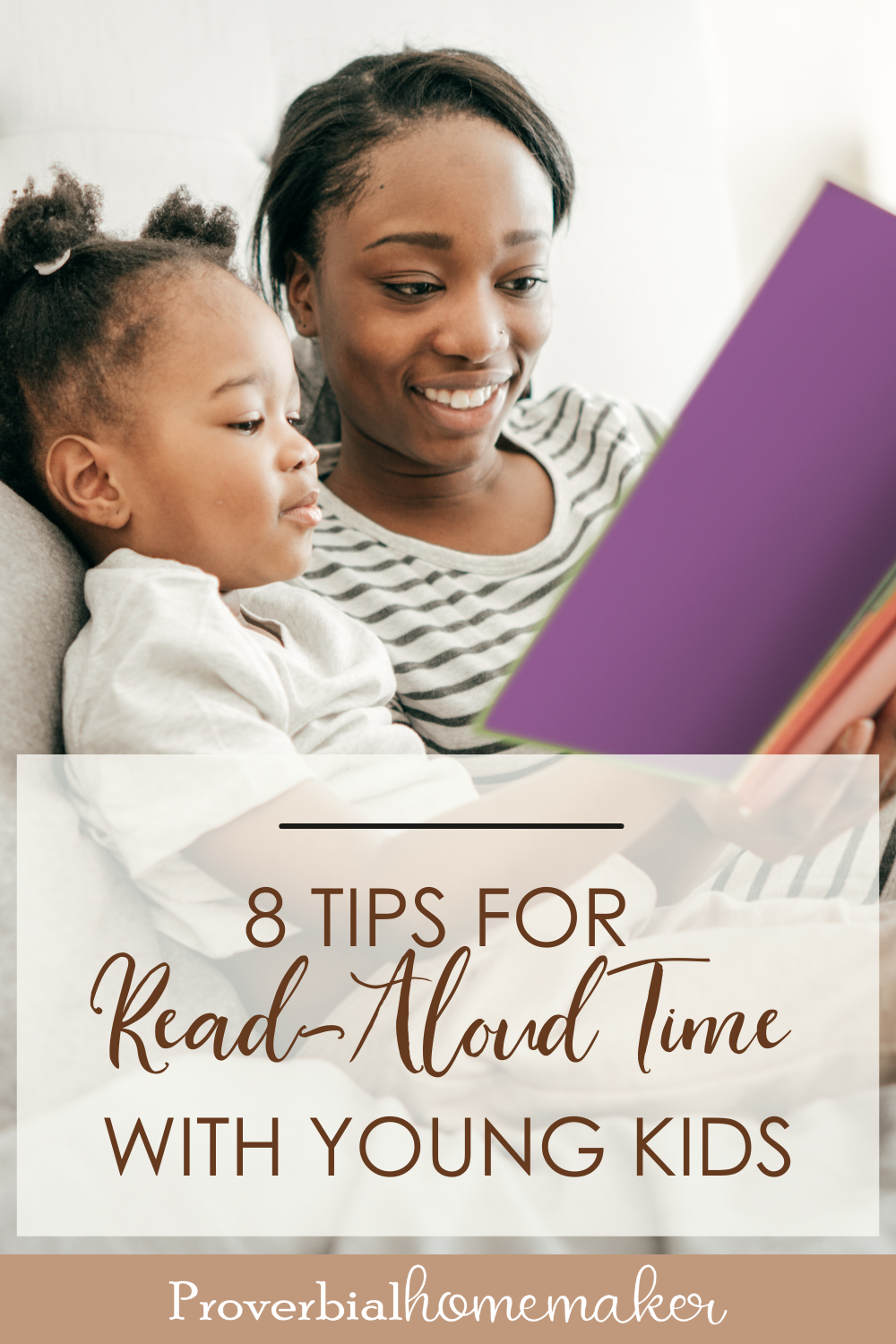 Disclosure: *This post may include affiliate links. As an affiliate, I earn from qualifying purchases. Read the disclosures and terms for more information.
Build a Habit
Read aloud time is a wonderful thing, but can take time to establish. Consider these ideas for getting started successfully:
Pick one or two set times that you read aloud together. Ours are during mealtimes and before bed. It doesn't have to happen every night, but making it a basic part of the routine will help the kids know what to expect and what their part is in it.
Start small with one or two books and build up from there. Kids need to build up their "sitting muscles" too! Set an alarm to start early enough so that the rest of the bedtime routines can be done on time.
If the kids can't hold still, try allowing them to quietly draw or play with blocks while listening. Here's a post from The Unlikely Homeschool with handiwork ideas kids can do during read aloud time.
If a child is being particularly disruptive, excuse them to a room/chair away from the group until they can come back and listen quietly. Initially, read aloud time may be a necessary character training opportunity. That's not a bad thing!
Invite Participation
Interacting with a book is much more fun than passively listening to it. This is true especially for picture books, but applies to all types. Here are some ways to invite your kids to participate:
Explore the pictures and characters, asking questions and encouraging observations.
Let them take turns turning pages.
For rhythmic or rhyming books, let them chime in and read the easy parts with you.
Allow a beginning reader to read the odd pages while you read the even ones.
Let them make silly voices or help you come up with some for the characters.
Have them act out parts of more familiar bedtime stories.
Continue the conversation later, pointing out things that remind of you of the story.
Choose Good Books
Finding great books to read enriches the experience. Make a list of your own favorites from childhood, ask friends and librarians for recommendations, and let your kids help pick out books at the library. There are also scores of book lists available for whatever genre, age range, or style you might be looking for. Here are a few to get you started:
Make Regular Library Trips
Not only will regular library trips help you stock up on good books often, your kids can become familiar with using the library and where different types of books are located. If the thought of taking all the kids overwhelms you, try taking one at a time. Show them how to find the books they want, where the audiobooks are, how to ask a librarian for a particular type of book, and so on. Take advantage of read aloud times at the library too!
Note: These days, it's good to make sure you're at least skimming the books before your child reads them or you take them home in case they contain content that doesn't match your family's values. I also recommend doing at least cursory research for any books your older kids will be reading independently. Plugged In Online is a good resource, or you can find some Facebook groups for Christian parent book reviews.
Put Books Everywhere
Have little reading hot spots all over the place so that your kids can easily grab one when the fancy strikes. We have baskets and bookshelves all around the house as well as book display shelves. Here are a few ideas for strategic book hot spots:
Near big chars and couches
In the toy area/room
In bedrooms
In hallways
In the car
Under coffee tables
In the bathroom (for potty trainers… wipe occasionally with sanitizer!)
Keep a Reading Log
Making a record of reading progress is especially motivating for early readers, but you can do it for pre-readers as well. We have done a simple grid printed and taped onto our wall. When we finished a half hour of reading time, the youngers put a sticker in a square. When 50 squares were filled in, they got a special treat or a at-home pizza party.
Another grid tracks the 6-year old's personal reading progress, and he must read 3 books aloud to get a sticker. Written logs are also good for older children, recording the title and author of the book and when it's completed.
Make it Fun
Make read aloud time fun and engaging!
Use funny voices for different characters
Make sound effects to go along with the story
Occasionally pick different places to read, like in the back yard, at a park, snuggled in bed, or in the sandbox.
Try simple extension activities after reading the book, such as pretending to be an animal from the story, acting out some of the scenes, making up songs to narrate the story, doing a craft, cooking a special dish, or drawing a picture.
Focus on Variety
My kids enjoy reading some of the same stories over and over, and I'm (usually) happy to do that for them. However, read aloud time is a perfect opportunity to spice things up and expose them to different types of literature.
Picture books
Wordless books
Chapter books
Non-fiction
Mysteries
Fairy tales
Poetry
Audiobooks
Age-appropriate biographies
Stories from around the world
It is worth the time and effort to make read-alouds a big part of your family life. They are educational, create great bonding times, and can make memories that last a lifetime.
If you have regular read-aloud times at your house, what do you do to make them successful?
You Might Also Like…
Our Favorite Bible Resource for Homeschool and Family Discipleship