So many new homeschool mamas are eager to get started when their little ones become preschool age. I know I was anxious to start homeschooling my oldest when he was a preschooler. As the mother of six children close in age, I've had a preschooler every year for the past four years. Over that time, I have developed a simple routine for preschoolers that works well for our family.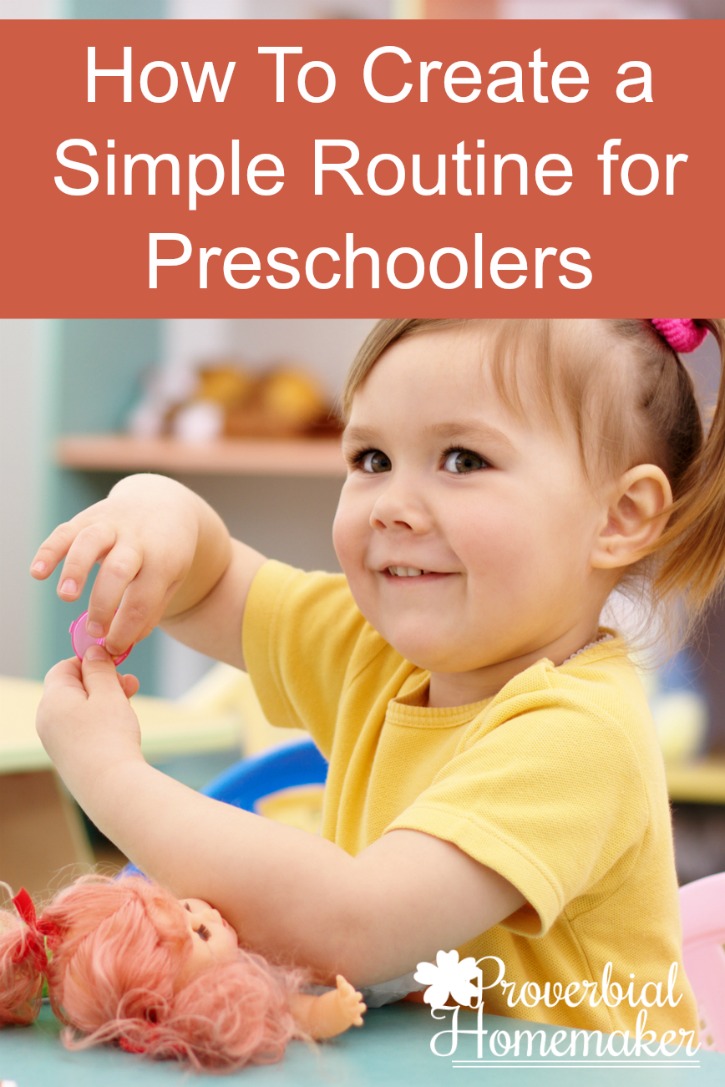 Disclosure: *This post may include affiliate links. As an affiliate, I earn from qualifying purchases. Read the disclosures and terms for more information.
How To Create a Simple Routine for Preschoolers
Morning Routine
I start by creating a morning routine for my preschooler. I want to build good habits in your child, and I also want to teach my child independence. The morning routine is fairly simple. I give one of my children our morning routine cards, and he is in charge of making sure everyone completes the tasks.
Here is what we do in the morning:
Make beds
Get dressed
Eat breakfast
Brush teeth
Comb hair
Begin school
Many young children want to know what they will be doing during the day. This is how they tell time. They want to know what's next. It can be helpful to post a schedule to let your child know the order of the day for your homeschool.
Homeschool Routine
Every day can be different, but I do tend to do our main activities in the same order depending on the day.
Calendar Time/Morning Board/Circle Time
Letter Introduction – Work on letter of the week
Fine Motor Activity
Gross Motor Activity
Snack
Arts & Crafts
Read-Aloud
Lunch
Outside Play
Rest Time
Each of these activities is fairly short and our entire day is done by lunch aside from our outside play and rest time.
You'll notice I did not put specific times on this routine. That is because I really do not like watching the clock in our homeschool. There are always distractions and things that come up that will throw off the "schedule," so we take a more relaxed approach and flow from activity to activity.
After nap time we run any errands that need to be done. For example, we may go to the library or run to the store.
Evening Routine
Once again, my kids pull out their routine cards when it is time for us to complete our evening routine.
Here is what we do:
Eat dinner
Clean up
Take baths
Put on PJ's
Go to bed
A Typical Day in our Home Preschool
Let's take a look at a typical day with my preschooler. I do homeschool older children, so I work with my preschooler in between the times I am working with my older children.
Morning Routine – We typically wake up around 7 a.m. and will do our morning routine.
Circle Time – This is when the entire family gathers around. I use our learning board to teach the calendar, along with our character trait, the weather, and a few other things. We usually sing the ABC song, too.
Read-Aloud – I usually give my preschoolers some undivided attention before I start the day with my older children. I choose a book from our preschool book list and read to them.
Letter Introduction – When I start independent work with my preschooler, we do a couple of sections from our Alphabet Book. We work on one letter per week.
Fine Motor Activity – I set up my preschooler with a fine motor activity. It may be a sequencing puzzle from one of our children's literature packs, or it could be a play dough activity or any other fine motor activity.
Gross Motor Activity – We do a gross motor activity to get the wiggles out. We could play a game, do the Hokey Pokey, or even Simon Says.
Snack Time
Arts and Crafts/Sensory Play – I plan an arts and crafts activity around two times per week. I do not typically have time to do it every day. Sometimes it's a focused activity, like painting a picture, other times it's just open-ended and the kids can make whatever they want.
Outside Play – The kids are free to play outside when we are finished with school work.
Lunch – Lunch can happen either before or after outside play depending on the time.
Rest Time
Evening Routine
My morning and evening routine cards are included in My Homeschool Preschool Planner, as well as a more detailed sample preschool schedule and information to plan your own homeschool preschool! Snag it for 25% off with code PHPRESCHOOL until 9/30/2017.
Download the Preschool and Kindergarten Pocket Chart Strips!
Here is your free Preschool and Kindergarten Pocket Chart Strips to help you get started building your own routine.
Preschool and Kindergarten Routine Pocket Chart Strips
Your download link will be emailed to you and you will be subscribed to Proverbial Homemaker if you aren't already. Be sure to check your spam/promotions folder. If you have any issues, check out this troubleshooting guide or feel free to email me!
Note: Signing up to download this form will subscribe you to ProverbialHomemaker.com and SimplyLivingMama.com.
Joanie Boeckman is a simple girl who loves Jesus. Her husband is her American hero and her six children are her world. Her goal is to help moms simplify life, home, and homeschool. She is the creator of My Homeschool Preschool Planner and loves to share tips and tricks for homeschooling little ones at Simple Living Mama. Take a peek into her life on Instagram, or follow along with the adventures on YouTube!