Welcome back to the Real lidaymeschoolers interview series! Join me in welcoming Karen from Tots and Me…Growing Up Together!
Karen is a homeschooling mom of 4 young children, ages 7 and younger. Lessons in her home have been relaxed and fun, bringing in elements of Montessori, learning trays and other hands-on activities. She loves to share activities, crafts, and snack ideas with other moms of young children. You can find her over at Tots and Me…Growing Up Together, where she has several different opportunities for you to share your ideas with her weekly linkups.
Our Homeschool:
Tell a little about your family and homeschool history.
My husband and I are blessed to be the parents of 11 children between us. We both  have older children who do not live with us anymore as they are all out on their own. Together we had 4 young children who we are homeschooling. The three girls are 7 1/2, 6, and 4 1/2. Our little guy is 2 1/2 years old.
One of my biggest reasons for homeschooling is because I have seen the disadvantages of public schooling first hand through my older children attending from preschool through graduation. I am determined to make sure that these little ones are not bullied and they will learn to read with appropriate comprehension. We also desire to have our children learn about God and not have their beliefs challenged until they are old enough to be grounded in their faith.
Do you follow a particular homeschool method?
At the moment we are eclectic, review homeschoolers. That is how I classify us as we use a variety of materials, mostly thanks to being a member of The Old Schoolhouse Review Crew. We are also quite relaxed and hands-on. When the children were younger I used different Montessori activities as I had worked at a Montessori Children's House for 5 years prior to having the younger children. Though I didn't agree with the entire philosophy, I had seen enough benefits to know I wanted to use it somewhat with the children.
While I enjoyed using Montessori for the early years, I don't have knowledge of how to implement it in the elementary years, so I knew I had to find some kind of curriculum. I was looking for something that is hands-on and focused on God.  While researching, I discovered Charlotte Mason. Once again, I found things I liked and things I didn't like.
When I stumbled upon My Father's World, I felt I had found the perfect fit: Biblical focus, Hands-on, Unit Studies, and a Charlotte Mason influence (using the aspects I had admired: narration, dictation, and copywork). However, because of our hands-on preschool work, the children were beyond in some areas, so we are supplementing where needed using materials received due to being on the Crew.
What is your basic daily routine?
To tell the truth, we are still perfecting this aspect of our homeschool. I am going to share what our day is supposed to look like, though it hasn't looked quite like this for the last couple of months. The plan is to get back to this after the Christmas break.
5:00- Mommy wakes up, starts laundry, has personal devotion time, exercises, and gets some computer/blog time in (if the computer/internet cooperates).
8:00- Children start waking up and getting dressed.
9:00- Breakfast and children's hair done
9:30- One of the older children does the breakfast dishes while the other has computer time. The younger children have play time.
10:00- Exercising and then story plus song time in the living room
10:30- Gathering time at the dining room table.
Prayer and Pledges (Pledge of Allegiance and Pledge to the Bible)
Songs (B-I-B-L-E, and This is the Day the Lord Has Made)
Calendar
Number of the Day
Bible Memory Work and Character Study
Occasional Craft and/or Snack
11:30- Older girls do their workboxes while the younger children use the WiiFit U and have preschool time.
12:30- Educational show time while mommy makes lunch.
1:00- Lunch
1:30- Older girls alternate dishes and computer time.
2:00- Younger children have computer time while I work with the older girls on language arts. Occasionally our little one will take a nap.
School time stops when mommy needs to make dinner, which is served between 5 (on days daddy works) and 7.
As I said, we haven't quite been following this schedule these last couple of months. School time hasn't been starting until 11 am or later, so workboxes don't get done until after lunch which cuts down on language arts time.
Encouragement
What is one piece of advice YOU would give to a new Homeschooler?
Enjoy your children, they grow up so fast.
What is your biggest challenge homeschooling?
So far my biggest challenge is staying organized, which isn't just a homeschool issue, but an every day life issue as well. I have always had problems with organization. This is something I am trying to work on, especially because I am hoping more organization will lead to less stress and an improved memory.
What is your favorite thing about homeschooling?
Having had my older children in public school, I would have to say that my favorite thing about homeschooling is having the children learn at home with me so I can be there to see their accomplishments. I love seeing when things "click" for the children.
Resources and Ideas
What is/was your approach for preschool and kindergarten? What curriculum do/did you use?
I touched on this already, but I would like to expand a bit. We did not use a specific curriculum for preschool. We used a combination of Montessori activities and Letter of the Week. The Montessori activities consisted of Practical Life tasks (spooning, pouring, tonging, sweeping). Though I did use some of the Language activities I learned as well (movable alphabet, phonemic awareness activities, sand paper letters). I came up with the activities mainly from my experience at work. However, I also found the following two books informative:
Mommy, Teach Me: Preparing Your Preschool Child for a Lifetime of Learning by Barbara Curtis and Mommy, Teach Me to Read: A Complete and Easy-to-Use Home Reading Program by Barbara Curtis.
I shared quite a few of our Montessori activities on my blog.
Additionally, we did Letter of the Week. Actually, we took 2 weeks per letter. I organized our lessons by using ideas from the Letter of the Week curriculum over at Brightly Beaming Resources. This is a free site full of ideas to put together a Letter of the Week curriculum. There are also a couple of curriculum for younger children and more advanced work for older children. She has a suggested lesson plan that we didn't quite follow. I mainly used the site for selecting our words of the week, poems, songs, books, and snacks. We did crafts shaped like the letters, letter/sound books, letter/sound collages, and made sensory letters. Fine-motor activities were a big part of our lessons.
Logistics
What are your strategies for homeschooling with littles underfoot?
Well, the younger children have always joined right in with their older siblings. Things were a bit tricky when I had nursing babies and we didn't get much done at those times. By the time Amelia was 1 she sat at the table with Tabitha and joined in at her level. I followed the same pattern with the other two children.
I did a series last year called 5 Days of Teaching Toddlers and one of those posts was titled, Teaching Toddlers While Teaching Older Children. I shared activity ideas to keep toddlers occupied. When I was at the Montessori I worked with the Preschoolers, but I also spent a lot of time in the Toddler room. I never questioned including the toddlers in our learning time, I just assumed that was where they belonged. I know what they are capable of and like to give them lots of exposure to the work we are doing, though they are never forced to do anything. There are times they just want to play with blocks or other toys, and that is fine as well.
Additionally, earlier this year I reviewed a book titled Preschoolers and Peace: Homeschooling older kids with success while loving the little ones at your feet by Kendra Fletcher. This book has many more ideas than I had ever thought of. It is a wonderful resource.
---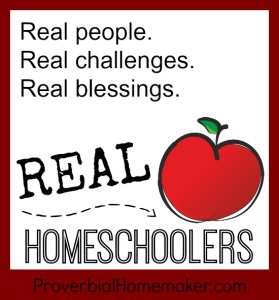 Check out all the interviews in the Real Homeschoolers series as well as a complete list of the questions that were asked. Not all the answers were included, but I have been careful not to change anything about their answers other than grammar and structure for the sake of presentation.