Disclosure: *This post may include affiliate links. As an affiliate, I earn from qualifying purchases. Read the
disclosures
and
terms
for more information.
Struggling to get your homeschool organized? If you're domestically challenged like me, it can seem like an impossible feat. But don't worry. You don't need to be ultra-organized to homeschool. You just need to be organized *enough* to be able to go about the business of teaching and training your kiddos with relative efficiency. Here are six strategies for homeschool organization from a homeschool mom who has been there. 🙌
🎉🎉🎉 Hey! There's a $460+ homeschool GIVEAWAY at the bottom of this page you won't want to miss! Click here to jump straight to it. 🎉🎉🎉
If you've been part of the homeschool community for any length of time, you've probably noticed that some mamas who are natural homeschool organization rockstars with all their neat rows and brilliantly white school rooms. The rest of us ooh and ahh over all the shininess and then get back to looking for that math book we've been trying to find for over 15 hours.
It's ok, friend. I am your people.
Homeschool Organization: Six Strategies to Calm the Chaos
I'll say it again: you don't have to be a super organized, "Type-A" mom in order to homeschool your children successfully. But it would be nice to know where the math book is, right? Organizing your homeschool to some degree is necessary because it helps you keep track of your stuff and get more done. It doesn't need to be any more complicated than that. No need to alphabetize your books or break out the label maker.
Check out the six strategies below. Even us "Type-B" homeschool mamas can swing them. 😉
Tip #1: Keep the Items You Use Every Day Within Reach
Homeschool organization needs to be functional, above all. Wherever you "do school," keep the items you need right there within reach. Or at least, close enough that the effort to go get it isn't more than your motivation to get that lesson done. 😆 I know I can't be the only one.
For example, we do most of our school at the dining room table. Here's where I put things so they are close enough:
I always sit at the same spot at the table.
At my right I have a shelf with all the binders, some basic art supplies, and the giant dictionary.
On the left we put another small table that holds the Bibles, memory work box, pencils, sharpener, math flash cards, some totes with supplies, and usually stacks of books we're using daily.
Under that table are bags with the All About Spelling and All About Reading supplies for multiple kids, plus a few extra things.
Behind me on the wall is the map, the calendar, and the loop scheduling checklists we use.
Nearby in the living room is a bookshelf with the books the kids will need to grab for school as well as our books for leisure. (Note: sometimes that's too far, so the things I really need daily are on the two tables near me.)
Keeping all the things we need each day easily within reach has been very helpful for our overall homeschool organization. So, figure out how you can do the same in your own spaces!
Tip #2: If You Can't See It, You Won't Use It
This is probably not something people usually say about homeschool organization, but here it goes:
Don't keep things in closed containers if you plan to actually use them. Of course, this is just if you're like me. If I can't SEE something, it essentially ceases to exist. Sometimes, I can even stop seeing things that are there. My powers are astonishing like that. 😆
What that means, is that those beautiful cloth bins, closed boxes, closed drawers, and zipped bags we see in the pretty homeschool rooms? Those don't work for me. They make me LESS organized, because I will completely forget what's in there anyway. More often, I'll just shove a whole bunch of random stuff in there and close it so it looks tidy in a hurry when guests are coming over for dinner. (Ahem… this is turning into homeschool mom confessions. Lol)
Keep the things you need every day and week not only within reach, but visible. Don't tuck them into bins, boxes, and drawers. Yes, that means things may not look as tidy, but you'll get more done and not loose as many math books.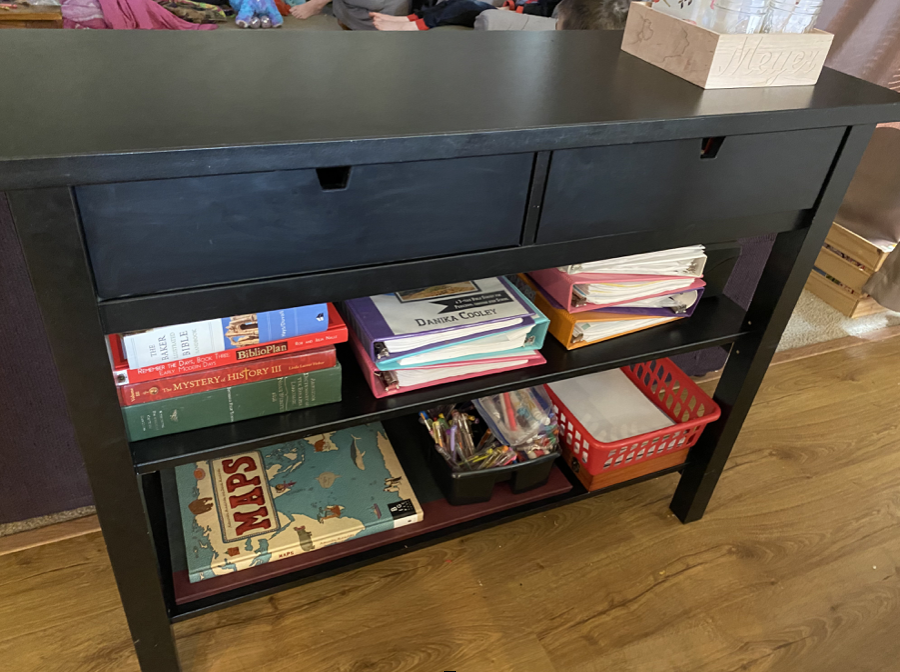 Tip #3: Keep the Extra Stuff to a Minimum
Lol! Ok, well, it's easier to say than to actually do, I know. I have to be honest, I'm no minimalist, especially when it comes to books or curriculum. I mean, I've been known to hug a book or two. And for a homeschool mom, aaalllll the books spark joy! ((group hug!))
However, an important homeschool organization fact is that the more homeschool stuff you keep the harder it will be to find what you need. For everything that you don't use every day or week, take some time to thin things out.
Schedule a decluttering day and do the following tasks:
Donate some things you don't need. Pick 10 things, or go through the curriculum that's 5 years old, or whatever. You don't have to do it all right now and you don't feel guilty for not going all Marie Kondo on it.
Put things you might need later in plastic tubs. If you won't need it in the next couple of years, but you aren't ready to get rid of it just yet, put it in a plastic tote for storage. I have two in a closet upstairs just for that purpose.
If you plan to do this once a month (make a reminder on your phone, maybe?) it will make a bigger dent in your homeschool organization efforts than you think.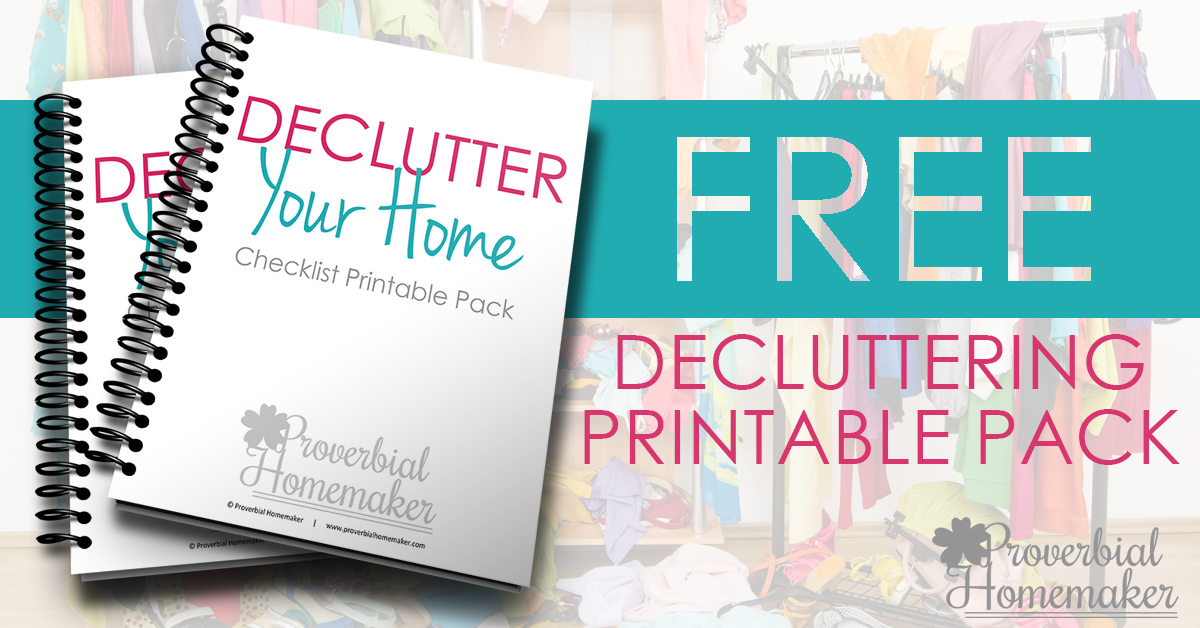 Tip #4: Give Everything a Home
Work on finding a place for each type of homeschool item. Use the spaces and organizational tools you already have on hand. Here's how:
Pick a type of item. Let's say, scissors.
Ask yourself, where would I look for scissors if I needed them? (I heard this tip from A Slob Comes Clean. It totally works.)
Create that spot and make it the scissor spot.
Declare the scissor spot to your household. Label if you must.
"Uh oh, where do the scissors go?" *cue eye twitch* "That's right, let's put them back where they belong."
When you see that an area is becoming cluttered with homeschool things, practice this homeschool organization process on those items and put things in their place. Once they have a place, you and your kids are MUCH more likely to actually put them there eventually.
Over time you'll change things as you observe what works and what doesn't, the flow of your tasks or layout, and what is still getting lost or cluttering things up. And you'll organize homeschool supplies a little bit more. It's a work in progress. Keep at it!
Tip #5: Start Teaching Kids How to Manage Their Things
Even when you have your most-used homeschool items visible and within reach, and have thinned out your homeschool stash, and have a place for everything… there can still be struggles over the kids managing their own things.
Here are some ideas you can try that will help your homeschool organization efforts:
Charge them 25 cents every time they loose a book. I thought this was brilliant, but it backfired because I had to pay when I lost a book, too. 😆
Make one of their regular chores tidying up one of the homeschool spaces so they can practice putting things in the right places.
Let them choose a spot to keep their own independent work materials. I have a daughter who came up with this idea and it works beautifully for her. She picked a spot in the living room (I had to let go…) and set up a tiny briefcase, backpack, and pencil pouch with her things.
Build routines and habits into your day that help them stay organized. (See Tip #6 below)
But keep your head about you, dear mom, and don't go grumping. This isn't only about making life easier. It is about instructing them about life consequences, as well as helping them understand the value of time and the importance of being good stewards of their resources.
As homeschool families, we can learn these things TOGETHER. (Thank goodness.)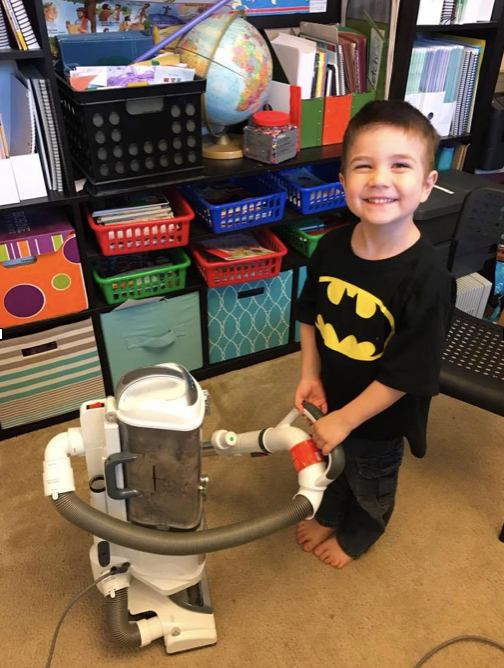 Tip #6: Remember the Reason for Staying Organized-ish
Are things always organized and tidy in my homeschool? No
But am I doing my very best to keep them that way? Also no. 😆
The goal behind homeschool organization isn't to keep up with our super-organized friends or the bloggers on Instagram. Let go of comparison and unrealistic expectations. It's ok to not be the most organized person on the planet. Really. You can still homeschool successfully.
We only have so many hours and brain cells in the day. Our mission here should be to keep things clean and orderly *enough* to go about the business of homeschooling and enjoying time with our families.
We work on staying organized-ish in our homeschools in order to:
Keep our sanity as much as possible
Avoid frustrations in our day
Efficiently teach our children
Model stewardship and orderliness
Enjoy the homeschooling journey with our kids even more
You can do this, mama! Work with what you have and aim for progress, not perfection. ❤️
GIVEAWAY: $460+ Value Back to Homeschool Bundle!
To bless your homeschool this year, these fabulous vendors have generously offered these resources for one winner!
IQ Weather Video-Based Science 1-Year Subscription ($250 value)
"
IQ
Weather
is the ultimate high definition video-based science/
weather
unit designed to reflect a homeschool family's values. We teach real science based on years of experience in forecasting
weather
and applying the scientific method. Parents can use it as a stand-alone course, or a supplement to a science course.
IQ
Weather
incorporates
physics, chemistry, geography, geology, astronomy and oceanography
into our information-rich 28-lesson product.
IQ
Weather
contains information you won't find in other science/
weather
courses and is designed to build lasting knowledge that can be applied across other spectrums of science.
All ages enjoy and benefit from

IQ

Weather
, although it was written to target grade levels 6 thru 9, older and younger students find value in the lessons.
Each lesson module provides downloadable, and printable Teacher Guides, Lesson Resources, Quizzes and detailed answers. There are 4 hands-on experiments you can do at home, and 4 big experiments that are fun to watch and learn from.
IQ
Weather
was written by a professional meteorologist with over 45 years of experience, and produced by an Emmy award winning video producer and videographer, and has been produced so it does not lose quality even when displayed on large video monitors."
Homeschool Planet 1-Year Subscription ($69.95 value)
"Homeschool Planet is giving away one annual subscription to the extremely popular Homeschool Planet Online Planner. Homeschool Planet is an easy, flexible, full-featured online planner that doesn't require hours to learn. Just launch, click on the calendar, and start adding classes, assignments, appointments, and even professionally created lesson plans that align with your curricula of choice!
The Homeschool Planet Marketplace hosts a vast lesson plan library created by some of the most popular curricula publishers exclusively for Homeschool Planet members. New publishers are adding their lesson plans every day. Why waste time planning, when you can do more of what you love and spend more time with those you love? Let Homeschool Planet simply and seamlessly make planning for your home and homeschool fun again."
(I recently did a full review of Homeschool Planet Online Planner and it's really amazing! Read it here.)
Jump In: Middle School Composition set by Sharon Watson ($50.00 value)
Our family enjoys using Jump In for our middle school homeschool students. It's easy-to-use and our kids enjoy it. Definitely recommend! Win a complete set including the student and teacher books.
"Jump In, 2nd Edition is the writing curriculum your middle school student will use! Easy, bite-sized lessons guide your student through the complexities of writing essays and the finer points of writing.
Students will learn nine types of essays, a research report, story writing, poetry, and more in 98 daily lessons. They'll practice topic sentences, a main idea (thesis statement), in-text citations, and other essential building blocks of composition. The text is incremental, the tone is light with a sprinkling of humor, and the assignments are very achievable."
Journey Through the USA: A Hands-On Exploration of American Culture by Heather Gonzales ($30.00 value)
Journey Through the USA, your middle school child will explore the culture of the unique regions of the United States. The best part of this curriculum is that there are no boring textbooks, tests, or busywork. Instead your child will:
Read exciting living books
Learn to plan a trip and use a map
Develop kitchen skills
Practice backing up their beliefs and thoughts with evidence
Get to interview people living around the country
Learn to plan and and create projects in various forms
Not only will Journey Through the USA cover a whole year of social studies, it also covers language arts through reading, writing, and speaking activities. That means you get a curriculum to cover TWO subjects for the price of one!
Note: This is a digital download curriculum.
TechnoLogic: How to Set Logical Technology Boundaries and Stop the Zombie Apocalypse by Lee Binz ($14.95 value)
TechnoLogic provides parents with practical help and steps to take if your teen is addicted to the internet.
"Parenting has always been challenging, but these days the hardest parts of parenting teens involve finding solutions to technology overuse. Whether dealing with phones, tablets, computers, social media, or video games, parents need help managing this new electronic environment. Like brushing their teeth and eating their vegetables, kids need to know why healthy media habits are important.
Internet addiction disorder is a real and present danger that can lead to a zombie apocalypse in your home. This eye-opening book offers hope for parents battling the technology monster. Learn the definition of technology addiction and how to deal with the harsh reality of technology misuse in your home. Then, learn how to successfully set technology boundaries for healthy and happy children and teens."
Homeschooling Middle School With Powerful Purpose by Lee Binz ($7.95 value)
Homeschooling Middle School With Powerful Purpose provides expert strategies for homeschooling Junior High students!
"Middle school is a time when homeschool parents often get frightened and quit. But now is no time to panic! Middle school can be the sweetest, most rewarding time to homeschool! Learn strategies for gently guiding your preteen through the physical, intellectual, and social changes that come with this age. You will be able to reconnect with your child and be encouraged and energized to prepare them for high school and beyond.
In this book, you will learn:
the purpose and benefits of homeschooling middle school for both student and parents,

why teach middle school to your homeschooler,

sensible junior high strategies for getting the work done,

how to teach middle school students English, math, science, and other subjects, and

how to prepare yourself to succeed at homeschooling high school."
Student Work & Habit Tracker from Proverbial Homemaker ($14.00 value)
The Student Work & Habit Tracker is a simple tool that helps students from about 3rd-12th grade to manage their time and stay focused. They will craft meaningful goals, manage their weekly and daily work efficiently, and build in important habits. Most importantly, the Tracker will help them keep God's Word at the center of their daily life, doing all in the name of the Lord.
The following pages are included in the Student Work & Habit Tracker.
Attendance Log
Monthly Calendar
Weekly Plan
Book and Media Log
Field Trip Log
Project/Inquiry
Goals and Habits
Bible Reading
Scripture Memory Log
Bible Bookmarks
Praying for Character Bundle from Proverbial Homemaker ($27.00 value)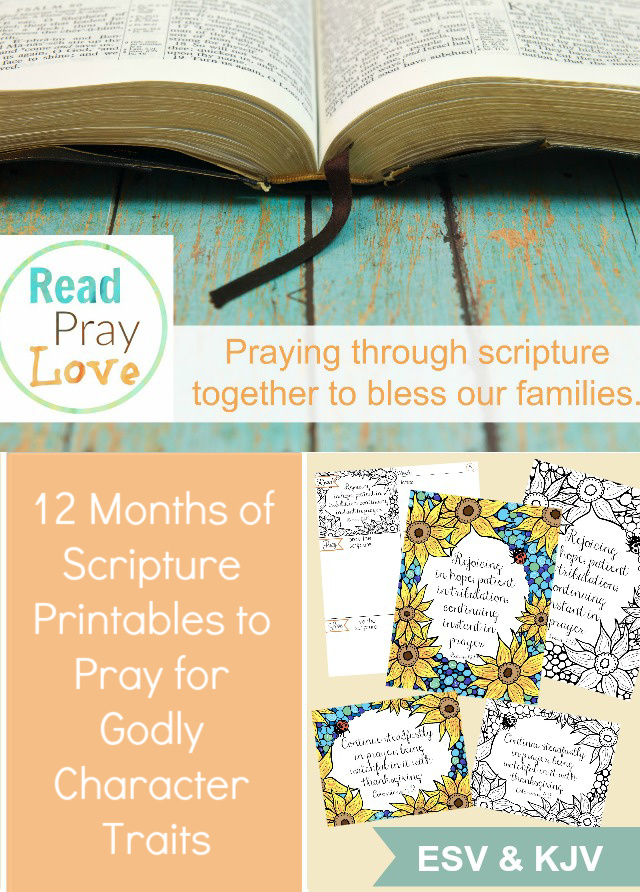 The Praying for Character Bundle helps you pray through different godly character traits for your family. The 12 packs each focus on a different character trait and include custom illustrated scripture art prints and coloring pages, memory verse cards, and journal pages to help you read, memorize, and pray through these beautiful scriptures.
This product includes the Read, Pray, Love setup files that contain prayer and scripture reading tools.
Obedience
Compassion
Joy
Humility
Integrity
Patience
Contentment
Teachable
Courage
Self-Control
Gratitude
Generosity
ENTER TO WIN THE GIVEAWAY!
Enter below! Must be 18 years of age or older to enter. Giveaway ends September 16th at 11:59pm PST. Vendors are responsible for delivery of the prizes. Winner has 48 hours to claim prize before another winner is chosen.
You Might Also Like…
Loop Scheduling Templates for Homeschooling, Homemaking, and More!